6 Essentials You Need to Have When You Move into A New Home
|
6 Essentials You Need to Have When You Move into A New Home
Moving into a new home is very exciting! However, there's a lot of planning that comes into moving house. It can be very stressful, so be sure to plan very carefully and be fully equipped when your moving date arrives. Below we've come up with a few items we believe to be essentials once you've moved into your house. Be sure to read on to be sure you're completely prepared! If you are yet to move home, be sure to grab a moving home checklist there are plenty of resources online.
6 Essentials You Need to Have When You Move into A New Home
When moving house, you tend to use a lot more energy than usual. You might have upgraded to a larger property or simply leaving lights on for longer as you organise your belongings in your new home. Pre-pay meters from JSG (jsgsolutions.co.uk) are brilliant, especially when moving house, as you don't have to worry about a building energy debt. You'll be able to keep on top of how much you spend and take control about how energy you use.
Having a toolbox to hand is essential when moving house. You may have to disassemble and reassemble your furniture in order to make it fit through your doorways. To achieve this, you'll need your trusty tool box. Make sure your tool box is fully equipped with screws, screwdrivers, hammers, raw plugs, etc. This will ensure you have all the tools you'll need on moving day!
One essential most of us are aware of is having the bed intact. This should be one of first thing you ensure to assemble. Although all your boxes won't be unpacked in a day, you need to make sure you have the bedroom intact ready for your first night in your new home.
The kitchen is the most used room in many houses. Therefore, you need to be sure you have all the kitchen essentials when moving house.  Make sure you have the following kitchen supplies;
Food!
Cutlery
Pots & Pans
Plates
Bowls
Kettle
Can opener
Microwave
Having these essentials unpacked as soon as possible when you move into a new home, will ensure you're able to cook a good meal once the day is over.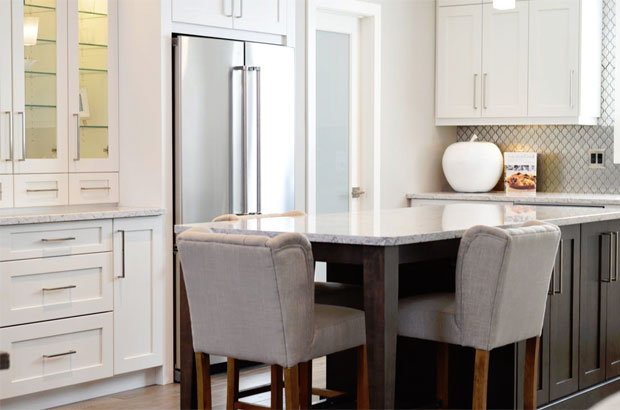 Having a fridge freezer set up and working as soon as possible is crucial when moving home. Once you've moved into your new home, you'll probably have a load of shopping being delivered to your doorstop. If so, make sure to have your fridge freezer running. This will ensure that any food that needs to remain cool or frozen, will.
The last essential on our list is the sofa. This is usually the first item which is brought into your new house. Be sure to re-assemble your sofa as soon as possible, and find the perfect place for it in your living room. Then you can begin to find new homes for other pieces of furniture.
Conclusion
Moving house is very exciting yet stressful all at the same time. Be sure to have the correct tools for the job, and unpack in the right order. This will ensure your moving day is as stress-free as possible!
Guest Article. Contains a sponsored link.