Adar & Gwenyn Freehand Bibs & BibeeBow Dribble Bibs Review
|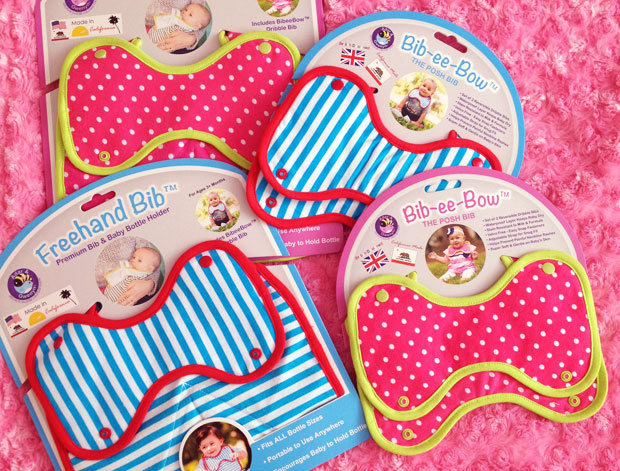 Adar & Gwenyn Freehand Bibs & BibeeBow Dribble Bibs Review
This post is about a product that I'm sure many mums and dads have dreamed of for a long time. It's about a product called the Freehand Bib and as the name suggests it lets you feed your baby without the need to hold the bottle. This is amazing!
The bib is a premium, waterproof bib that has been cleverly designed to hold your baby's bottle, letting your baby feed himself. The bib is made from super soft cotton and lined to keep your baby dry and comfortable.
Of course, it's lovely to sit and feed your baby but sometimes hunger strikes at the most inconvenient times such as when travelling or when you have an important task to do. Then this bib will help your baby drink his milk while on the go or in his chair while you do what you need to do. You never leave your baby unattended, you just have your hands free. They can also be really useful when feeding your baby in a café or restaurant so that you can have your hand or hands available to feed yourself too.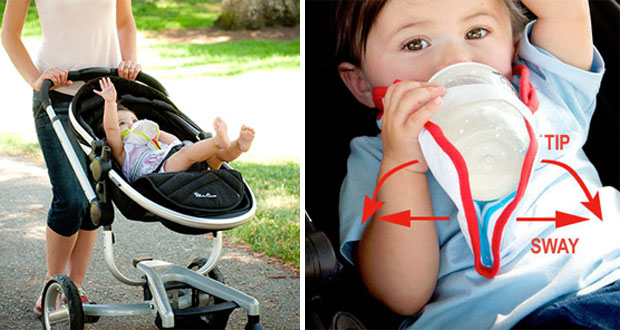 Naturally, these bibs are brilliant if you have twins and need to bottle feed two babies at the same time.
We mainly breastfeed straight from the breast but offer expressed breast milk in a bottle a few days a week and this bib definitely comes in handy then as my baby girl always seems to want her milk when I'm trying to cook dinner or eat my evening meal.
The design is so clever and the bibs can hold any kind of bottle by any brand — even glass ones. Check out this video for a demonstration and more information.
I also love how soft and comfortable the bibs are and that they wash so well. They seem impossible to stain. The bib is suitable from 3 months onwards. Buy yours from Amazon.co.uk.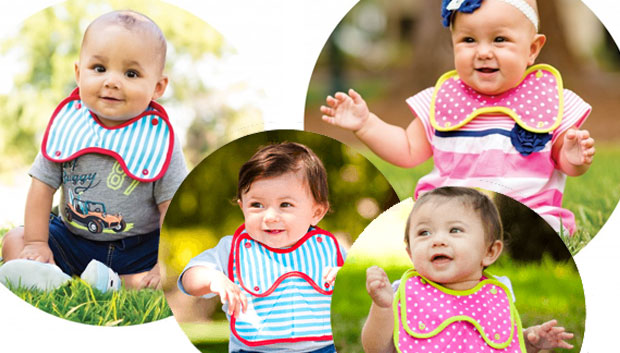 Another product by the same company, is the BibeeBow Dribble Bib which is a double sided, waterproof bib in a cute bow design. It's really soft and designed to be comfortable for your baby to wear, to keep him or her dry and to look cute too!
The Freehand Bib comes with a BibeeBow Dribble Bib attached to it to increase uses between washes.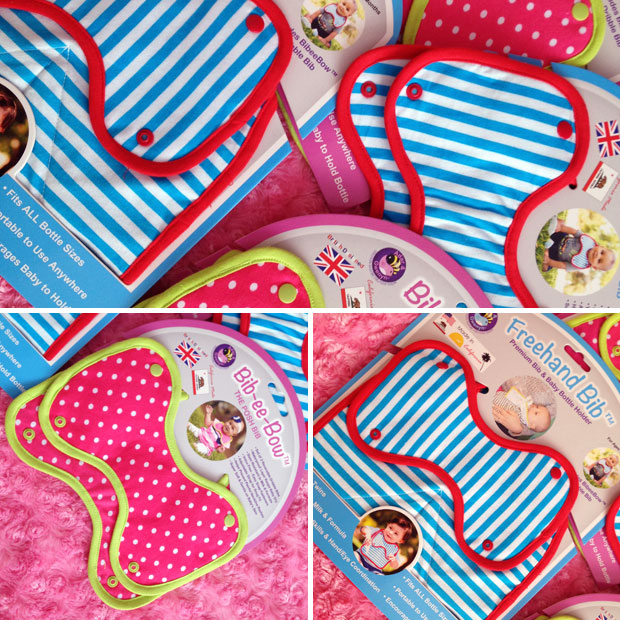 We use the BibeeBow Dribble Bib to catch the huge amounts of drool that my baby is producing but also use it as a bib for weaning. I can't believe how well food washes out of the bibs. My baby has dribbled out all kinds of fruit and vegetable that usually stain things permanently but so far everything has washed out at 40 degrees. They dry quickly to which is a must for me.
They come in a pack of two. Buy yours from Amazon.co.uk.
People always comment on how cute these bow bibs are! I have passed on a few samples of both these bibs to my friends who have babies and they love them too and are really impressed with the quality and the functionality. The Freehand Bib is definitely a must have for bottle feeding!  
Read more about both bibs on the Adar & Gwenyn website.
We were sent these bibs for this review. As always, all my reviews are 100% honest and all thoughts and opinions are my own.