Baby Weaning Essentials – Our Top Choices After Weaning 3 Babies
|
Baby Weaning Essentials – Our Top Choices After Weaning 3 Babies
We are all done with weaning in our family – our youngest is now three years old and we're not having any more children. This means that we've weaned three babies now and have quite a bit of experience on the subject. In this blog post, I'll share some of our favourite baby weaning essentials. If you're about to wean your little one, you'll hopefully find this list helpful.
First, you will need a highchair so that your baby has somewhere suitable to sit. We have tried a few different types as part of my job as a product review blogger and have purchased a few ourselves too.
Overall, I would say that the Hauck Alpha Wooden Highchair was the best one (read my full review here) but the IKEA Antilop highchair is great too and is what we used with our youngest.
A highchair with a tray is the best option as it means any weaning mess will not reach the table!
Bibs are great for protecting your child's clothes from getting stained and the full-coverage type with sleeves are the ones that worked best.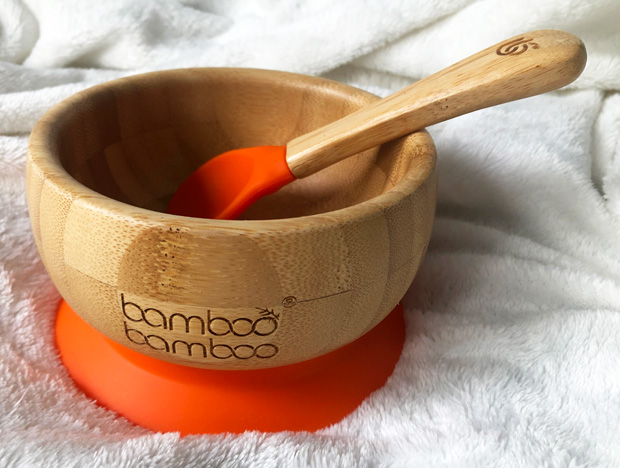 Tableware: Bowls, Plates & Spoons
Tableware naturally comes in handy for weaning too. Bowls and plates with suction like the Munchkin Stay Put Suction Bowls with Strong Suction or OXO Tot Stick & Stay Suction Plates help minimise the mess.
When it comes to spoons, some long ones to use for purées are great. The best ones we had were from Sweden so I can't link to them, but IKEA do one that's a bit similar called BÖRJA. Long and angled to make it easier for the parent to feed their baby. The IKEA set also includes a spoon for the baby to hold to learn to feed themselves. Chunkier handles are easier for little hands to hold. For a plastic-free option, check out Bambu Baby Feeding Spoons and Bambu Child's Spork.
A free flow baby beaker is also good to have now that your baby will start drinking water with meals.
We did a mix of bought baby food, homemade baby food and baby led weaning for all of our children. For the homemade food, small baby food containers are very useful. I especially love our Wean Green glass containers with clip on lids. Brilliant quality and they can be microwaved without any concerns of potentially harmful chemicals. Kilner Kids glass jars are a great alternative. We still use our Wean Green containers now for storing small amounts of leftovers or for snacks for the kids. They still look brand new even though they've been in constant use for eight years!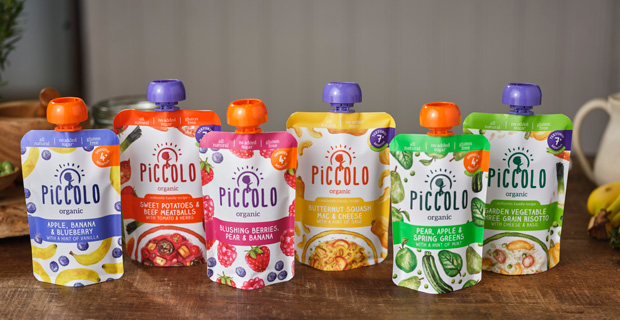 To make your own baby food, you need good quality ingredients and some kind of blender. A hand blender or mixer is usually fine.
When it comes to bought baby food, my favourite brand is Piccolo – they tick all the boxes! Their baby food is organic, contains ingredients in combinations that you don't usually find in the baby aisle and ingredients that are more interesting like figs, leek, kiwi, and kale. Many of the pouches have a high veg content which is another thing that was important to me when choosing baby food as I didn't want my kids to only like the very sweet and fruity options. A mix of vegetables and fruits in each pouch instead of single fruits or veggies is another thing that I always prioritised.
Piccolo also make other baby food essentials like baby past and now also have a gluten free baby pasta option suitable for 6 months+ which is great.  
Last but not least, weaning is messy, and you'll need to clean your baby, the highchair and the floor surrounding it several times each day. Reusable baby wipes and reusable cleaning wipes are so useful for this! They're eco-friendly and do a much better job than the disposable kind. Plus, they save you lots of money too!
Features a gifted sample of Piccolo Gluten Free Baby Pasta.