Book Review & Giveaway: All My Secrets by Sophie McKenzie
|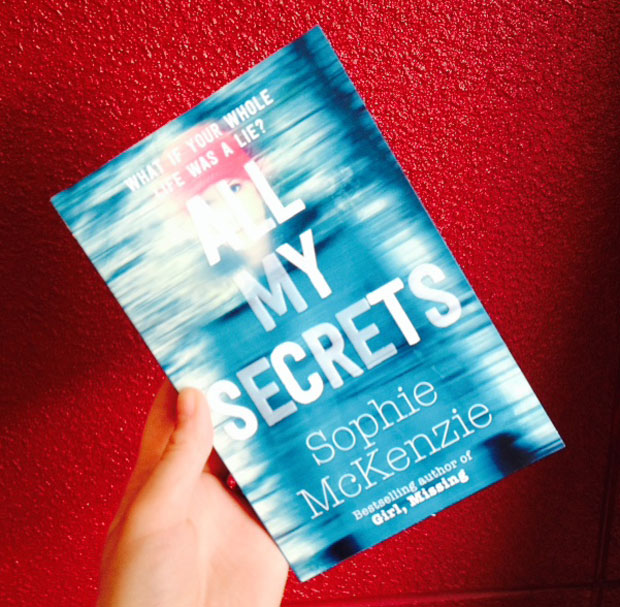 Book Review & Giveaway: All My Secrets by Sophie McKenzie
This is the brand new book for young adults by bestselling and award winning author Sophie McKenzie who has written loads of popular books since her multi-award winning debut novel Girl, Missing in 2006. Her other books include Blood Ties and sequel, Blood Ransom, The Medusa Project series, and the Luke and Eve trilogy. She's also written psychological thrillers for adults, among them Close My Eyes and her very latest novel Trust In Me.
All My Secrets is about Evie, a 15 year-old girl who one day gets a visit at her house with some amazing yet devastating news. She's told that in a few months' time, on her 16th birthday she will inherit ten million pounds. The devastating news is that the money is from her biological mother who died years ago and who Evie never even knew about. Evie thought the woman married to her dad that she knows as "mum" was her real mother but it turns out her dad and "mum" have been lying to her for her whole life.
Her dad refuses to tell her much about her birth mum but Evie needs to know more about her. The fact that her dad is so quiet about the whole thing just intrigues her more. What is he hiding? Who was her mum?
Evie manages to find out some information about her online and tracks down her birth mum's brother Gavin, Evie's uncle, and runs away to visit him in Scotland. After being collected by her dad and being at home for a while, her uncle comes to visit. Together they decide that she should go to a kind of youth institute on the island of Lightsea, a place for troubled teenagers. Evie agrees to this to try and sort out her feelings and thoughts about the news she's had.
The island is mysterious and there's a rumour saying that it's haunted. Evie can feel a presence and her gut feeling tells her something is not right… What's going on on this island?
I really enjoyed reading this book even though it's aimed at a much younger audience (12+)! I feel that you can tell that Sophie McKenzie writes for adults too because it feels a bit more grown up than most YA books. The book is an entertaining page turner and it's fast-paced and exciting with lots of creepy and shocking twists all the way through. I highly recommend it to young adults and older adults who fancy a quick and exciting read.
You can buy All My Secrets from Amazon.co.uk and other good book shops.
"On 2nd June we launched a search for Sophie's #1 Super Fan on Facebook. Each week we'll be posting challenges on our Hashtag Reads page, inviting fans to share artwork, reviews, videos, social media posts etc. relating to the themes, and tagging any content with www.facebook.com/sophiemckenziebooks and #allmysecrets. Each week one winner gets a signed advance copy of All My Secrets, but the fan that demonstrates the greatest love for Sophie throughout the competition will be crowned Sophie McKenzie's #1 Super Fan, have a character named after them in her next book and win a year's subscription of fantastic new books from Simon & Schuster. Award-winning blogger and self-confessed Sophie McKenzie super fan, Vivienne Da Costa of Serendipity Reviews, will be judging the entries."
Win a copy of All My Secrets
For a chance to win a copy of this book, enter via the Rafflecopter below. Terms & Conditions apply. The competition ends on the 27th of July 2015. UK entrants only.
I was sent this book for this review. As always, all my reviews are 100% honest and all thoughts and opinions are my own.