Book Review & Giveaway: Kids Don't Come With a Manual
|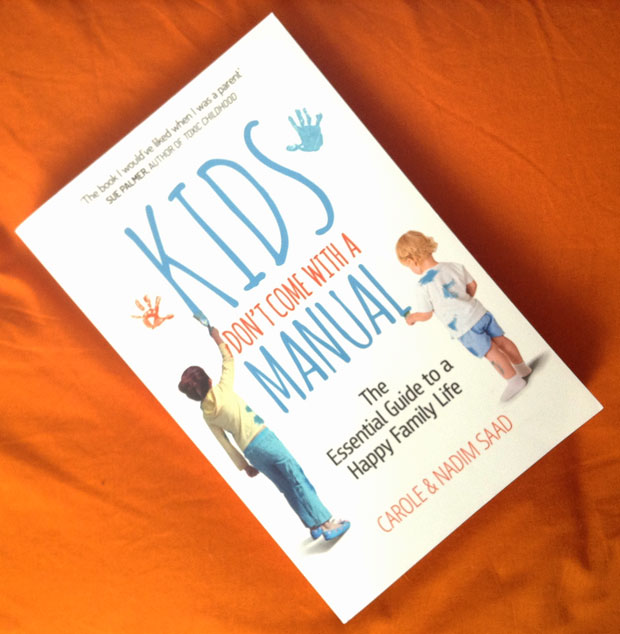 Book Review & Giveaway: Kids Don't Come With a Manual
Kids Don't Come With a Manual – The Essential Guide to a Happy Family Life by Carole and Nadim Saad is a guide for parents who wish to help their children grow up to be happy, fulfilled and self-reliant adults. The book helps you to deal with everyday challenges that you face as a parent (without confrontation or anger) and shows you how to maintain a strong and loving connection with your children and at the same time raise them to be well-behaved. The book also deals with how to parent together with your partner to agree on a balanced approach to parenting.

Carole and Nadim Saad have used their own experiences of working in early childhood education to write this book. They are also parenting coaches and parents themselves! Their practical tools have already helped thousands of parents and with this book they'll reach even more of us and help us parent without nagging and yelling.
I found the book easy and enjoyable to read. It's the kind of book that you can dip in and out of and read the chapters that are relevant to you at the moment. The layout of the book is very clear, with the tools and their uses labelled at the start of the page and then a step-by-step guide of how to use the tool and why it works. There's always a summary at the end of each chapter and there are plenty of real life experiences and practical tips in easy to read lists.
Many of the tools are suitable from age 3-4 so not everything is relevant for me at home yet with my 15-month old but we'll soon get there and I like to be prepare and to plan how I want to parent at later stages, too. I also work with children that are older so many tips can be used in my work life. My favourite chapters are chapter 4 and 5 which are called How To Listen So Children Will Want To Talk and How To Talk So Children Will Want To Listen. Those two skills are so important when it comes to your relationships with your children.
The book covers so many important areas of parenting and provides you with lots of useful advice and inspiration for happy parenting. I highly recommend this book to all parents with young children.
You can buy the book from Amazon.co.uk or via Best Of Parenting for an even better price. Alternatively, you can enter my competition below to win one! I have one book to give away. UK entrants only, Terms & Conditions apply. Giveaway ends on the 14th of May 2015. Good luck!


We were sent a copy of this book for this review. As always, all my reviews are 100% honest and all thoughts and opinions are my own.