Dermalogica Samples From PureBeauty – 5 Mini Reviews
|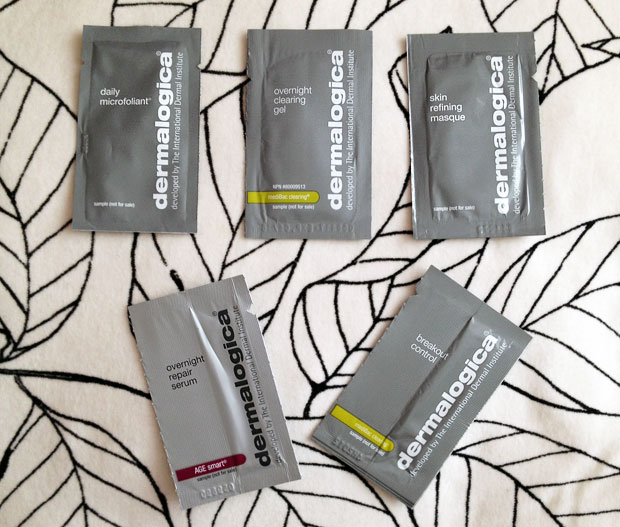 Dermalogica Samples From PureBeauty
Recently I was sent some samples of Dermalogica products from a website called PureBeauty that specialises in products from Dermalogica and Decleor. They have a huge range of products and lots of samples that you can order.
By ordering samples, you can try out the products before buying the full sized ones. Sometimes products just don't agree with you — you might not like the texture or the scent, or it might irritate your skin or not give you the results you want. By trying a sample before you buy, you take that worry away. If you don't like a sample, it's not a big deal.
The samples that I chose were:
Dermalogica Skin Refining Masque
Dermalogica Breakout Control
Dermalogica Overnight Clearing Gel
Dermalogica Daily Microfoliant
Dermalogica Overnight Repair Serum
All but one are completely new products to me. The only one I've tried before is the Overnight Clearing Gel but that was years ago and my skin has changed a lot since then so I wanted to see if I still liked it as much. All the products sound useful for my acne prone skin to help prevent breakouts and help heal and fade old acne marks and scars.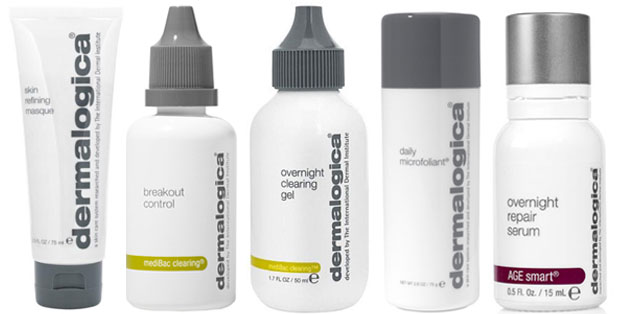 I received 3 of each product so that's enough to try the products' short term effect and see how I get on with them.
Dermalogica Skin Refining Masque is a mask designed to clarify your skin and absorb any excess oils with the help of Kaolin and Bentonite clays and Zinc Oxide to help remove impurities and refine the skin's surface. The mask helps reduce oily skin and breakouts and also calms and soothes the skin with botanical extracts of Mallow, Arnica and Cucumber that also reduce inflammation. Other ingredients include Watercress, Lemon and Ivy that are purifying and help revive dull and tired skin.
It's simple to use and not very messy. You apply a thin layer on clean skin and leave the mask on for 10 minutes before washing off. It feels very gentle and soothing and leaves my skin looking fresh and happy. My skin does not feel tight and a light moisturiser is enough to follow up with.
Dermalogica Breakout Control is an invisible treatment to help clear and prevent breakouts. It's suitable for acne and spot prone skin. It's a gentle yet effective formula designed to help clear your skin without causing any irritation. It absorbs quickly and starts eliminating acne-causing bacteria straight away. It contains oil-absorbing sponges to control excess sebum and natural botanical ingredients to help soothe the skin. The active ingredients are Lactobacillus Ferment which is an anti-bacterial that helps fight breakouts, Azelaic Acid Derivative that helps regulate sebum production without drying the skin, calming, soothing and anti-bacterial Tea Tree Oil, Zinc Sulfate to reduce irritation and Colloidal Silver to eliminate bacteria and control breakouts.
I really like the feel of this and it's great to find acne fighting products that are really gentle and do not cause any irritation at all — perfect for sensitive skin. You simply apply this to any problem areas after washing your face and allow it to dry before moisturising. It should not be used on broken skin due to the silver.
Dermalogica Overnight Clearing Gel is an overnight treatment designed to clear congested skin and help prevent future breakouts. It contains a Vitamin B complex of Niacinamide and Biotin combined with Zinc Gluconate, Yeast Extract, Caffeine and Nordihydroguaiaretic Acid and is a combination that soothes irritation, balances sebum production and purifies your skin. The gel also contains Rosemary and Spiraea extracts that help inhibit the growth of acne-causing bacteria and stimulate the skin's natural antimicrobial agents for clearer and healthier skin. An important ingredient is Salicylic Acid that is a great spot fighter that removes pore clogging skin cells to prevent breakouts. Other ingredients are Tee Tree Oil which is anti-bacterial and helps heal skin, soothing Green Tea and hydrating Hyaluronic Acid.
You apply the gel to your clean face before going to bed and then wash it off in the morning. I really loved this a few years ago and I still do. It's a treatment that really works and it does not irritate my skin at all. People with very sensitive skin might not get along with Salicylic Acid and products containing it should not be used during pregnancy and breastfeeding.

Dermalogica Daily Microfoliant is a very unique product! It's a Rice-based enzyme powder that you mix with water to activate it. At that point, it releases Papain, Salicylic Acid and Rice Enzymes to smooth the skin and accelerate cell renewal. It contains a skin-brightening mix of ingredients including Bearberry, Aspergillus, Grapefruit and Licorice to help balance uneven skin colouration. The micro-exfoliator gently removes dead skin cells at the same time as it helps regulate melanin production. It's efficient yet calming for the skin with a soothing mix of Green Tea, Ginkgo and Colloidal Oatmeal. This can be used every day to achieve an extraordinarily clear and refreshed complexion.
Everybody should have this in their bathroom cupboard! It's a wonderful product that is suitable for all skin types. It removes dull, dead skin and reveals smooth and bright skin and helps stimulate skin renewal. It's very gentle but leaves my skin so soft and much more even. I can now understand why this product is so popular with models and beauty bloggers and why I keep seeing it in magazines and on blogs.
After cleansing your face, rub half a teaspoon of the product between wet hands to create a creamy paste then scrub your face in circular motions staying clear of the eye area. Keep massaging for a minute or so then rinse thoroughly and admire your new skin. Moisturise with your regular moisturiser. Do not use on broken skin.
Dermalogica Overnight Repair Serum is formulated to maximise night time skin repair to help minimise fine lines and to increase luminosity. It can be used on its own or mixed into your regular night cream for a boost of dramatic age-fighting benefits. This serum is supercharged with peptides to stimulate collagen production to firm skin and renew resilience. It also contains Argan oil and Rose oil to hydrate, smooth away fine lines and make your skin glow. Other ingredients are Alaria Esculenta which is a seaweed that contains essential fatty acids that are great for the skin, Sunflower Seed Oil, Carrot Seed Oil, Jasmine Oil — all great for dry skin that need softening and soothing, Rosemary Leaf Extract, Curry Leaf Oil, Cinnamomum Leaf Oil and Sesame Oils that are natural antimicrobials that preserve the serum. It's suitable for dry skin and ageing skin.
You apply it nightly after cleansing, let it absorb for a minute and then follow with your moisturiser.  I found this to be more of a facial oil than a serum. It's mainly made of oils and feels and acts like my other facial oils. It's greasy and takes long to absorb but that's fine as it's a night time treatment. It's very hydrating and soothing and my skin feels very plump and soft in the morning. It is an oil though, not what I would call a serum.
Overall, a lovely collection of products! My favourites are the Overnight Clearing Gel and the Daily Microfoliant and I will happily purchase the full size versions of these products.
Go to pure-beauty.co.uk to order your own samples or full size products!
I was sent these samples for this review. As always, all my reviews are 100% honest and all thoughts and opinions are my own.