Gift Ideas for the Home & the Family | a Christmas Gift Guide
|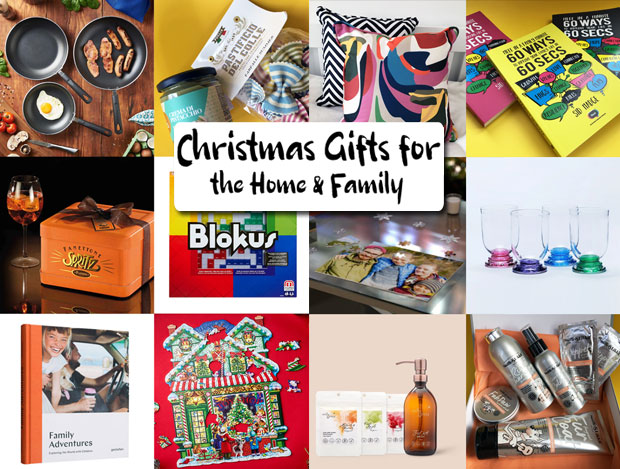 Gift Ideas for the Home & the Family | a Christmas Gift Guide
Christmas is all about spending time with your loved ones so in this Christmas gift guide, I have focussed on things that you can get for the family to make the Christmas season more fun, enjoyable and comfortable. These are all gift ideas for the home and for the family to enjoy together.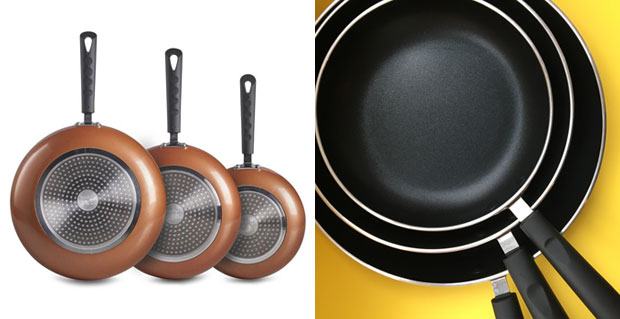 VonShef Copper 3 Piece Aluminium Pan Set
A big part of the Christmas season is enjoying lots of delicious home cooked food with your loved ones. A new set of pans like this Copper 3 Piece Aluminium Pan Set from VonShef will ensure you have enough pans and make the cooking process more enjoyable. They look great too!
The pans are made from high-quality aluminium for even heat distribution and have a non-stick coated interior for easy cleaing. It can be used on all types of hobs. The set includes the sizes 20cm, 24cm and 28cm which are handy for lots of different dishes and all your frying needs.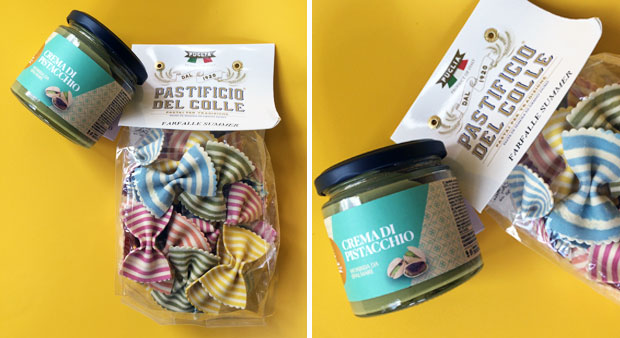 Yummy treats from Sous Chef
In the run up to Christmas, stock up on some yummy treats to enjoy with your family. Sous Chef is a great place to shop for interesting food items from all around the world. We've been enjoying their Pastificio Del Colle Rainbow Striped Farfalle and Fiasconaro Pistachio Cream which are both fun and delicious — they'd make great stocking fillers too.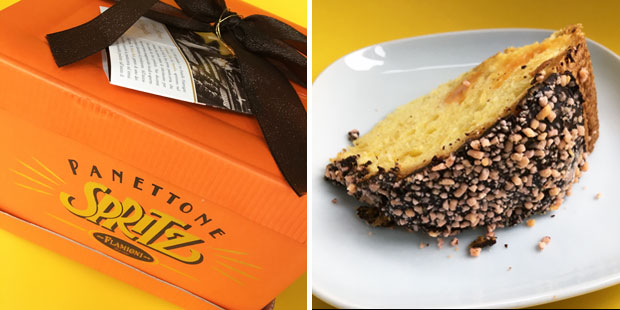 For a luxurious family treat, check out the large selection of Panettone cakes available from Sous Chef. Here you can see the Flamigni Spritz Panettone.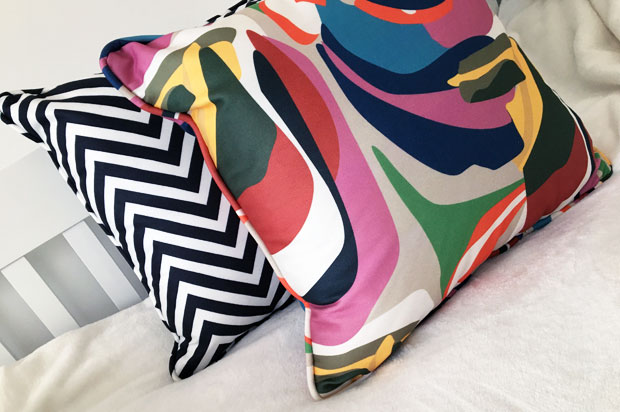 Stylish comfort from Yorkshire Fabric Shop
Make sure the family is comfortable when relaxing over the holiday season with some new plump cushions from Yorkshire Fabric Shop. They are an online retailer of high-quality upholstery fabrics and have a wide range of fabrics suitable for sofas, chairs, cushions, curtains and beds. You can choose from lots of different fabrics to create cushions that suit the style of your home. Here, you can see the gorgeous Freedom Printed Velvet Fabric Black White Chevron Stripe Pattern and the Freedom Printed Velvet Fabric Modern Full Colourful Artistic Pattern.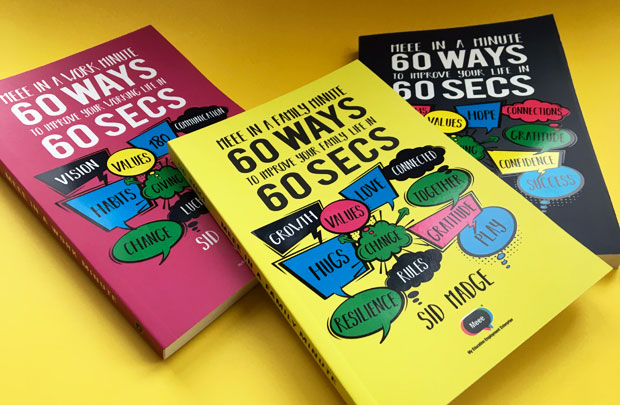 Take time for self-improvement with Meee in a minute books
When you have a bit of free time, like you will hopefully have over the Chirstmas holidays, it's a good opportunity to do some self-improvements. We all have things about our lives that we'd like to change and improve. The Meee in a minute series of books consists of three books with 60 ways to improve your life in 60 seconds. Choose from Meee in a minute, Meee in a work minute or Meee in a family minute and learn lots of tips and strategies to improve these areas of life. The family one is extra useful over Christmas!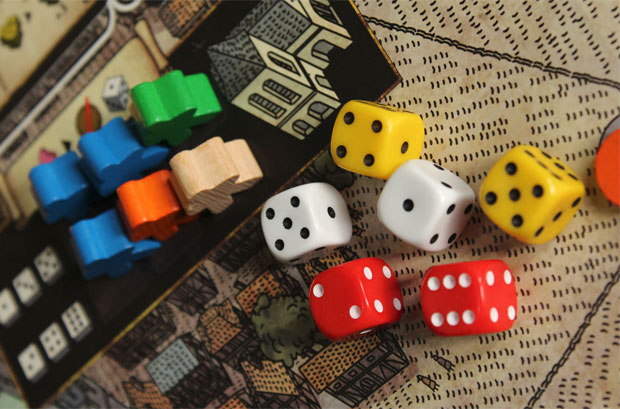 A new board game for screen free entertainment
Christmas is a time to put away your phones and tablets and connect with your family by doing fun things together. Playing board games together is a great way to spend quality time together and having fun in a screen-free way. I highly recommend the game Blokus if you haven't checked it out yet. It's lots of fun and a family favourite or ours. We had to search all over Stockholm to find it in Sweden but here in the U.K., it's readily available from Amazon.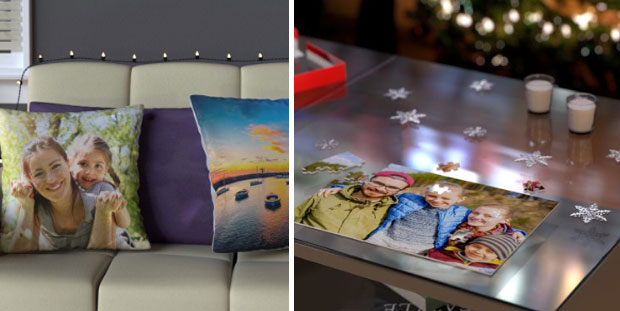 Personalised family gifts from ASDA Photo
Personalised gifts are always extra special and ASDA Photo make it easy and affordable to personalise all kinds of items for the home and for gifts for loved ones. Browse the range on the website where you'll find lots of items like calendars, cushions, mugs, prints of different kinds, jigsaws, tea towels, blankets, magnets and more — all of which can be personlised with any of your own photos to remind you and your family of special memories. They make great gift ides for the home and the family.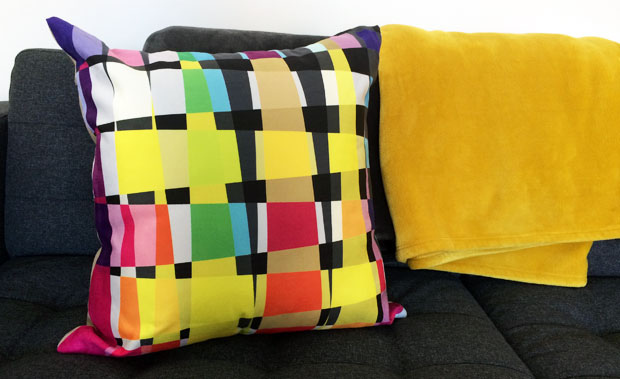 I've made a personalised cushion with a pattern that is my own design and have also created some personalised jigsaws which have been a huge hit with the family.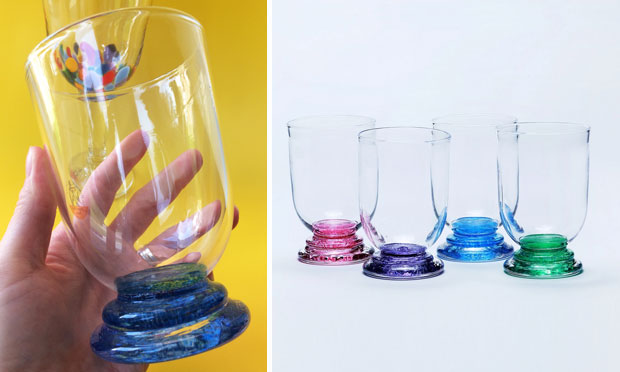 Handmade coloured beakers from Jerpoint Glass Studio
Here's another update for the family kitchen — gorgeous new drinking glasses from Jerpoint Glass Studio. They're handmade and so beautiful! Why not go for different colours as that will make it easy to keep track of which glass is whose which means less washing up! These coloured beakers are a great size and lovely to drink from. They're suitable for lots of different types of drinks.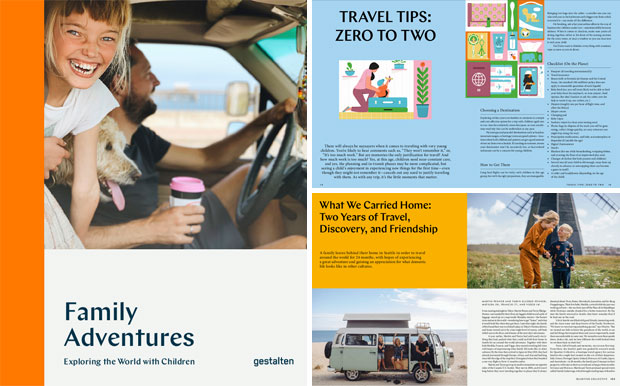 Plan your next trip with Family Adventures
This year, many of us have had to cancel our travel plans due to the Covid-19 pandemic. The wonderful book Family Adventures by Austin Sailsbury (published by Gestalten) is a travel guide for families with young children. Travelling with children can be an amazing experience for both parents and children and will create memories that will last a lifetime. This beautiful book full of stunning photos provides lots of inspiration and advice for travelling with children of different ages as well as stories from other families. Plan your next family adventure after reading this book — maybe we'll be able to travel again next year?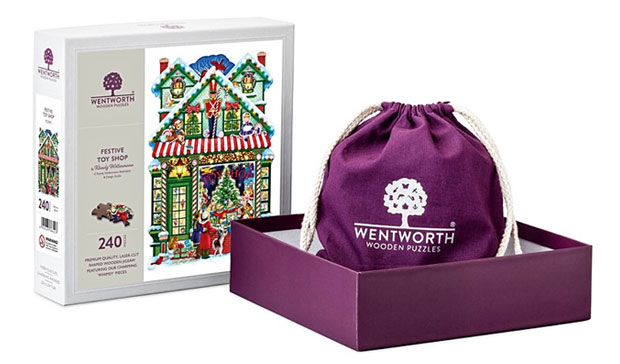 Wooden Christmas jigsaws from Wentworth Wooden Puzzles
Building jigsaws is a great acitivity to do together over the Christmas holidays (and any other time of the year) and Wentworth Wooden Puzzles make the best jigsaws. They are high-quality laster-cut wooden jigsaws with shaped and whimsical pieces in lots of designs and sizes. Jigsaws make great gifts for the family to enjoy together.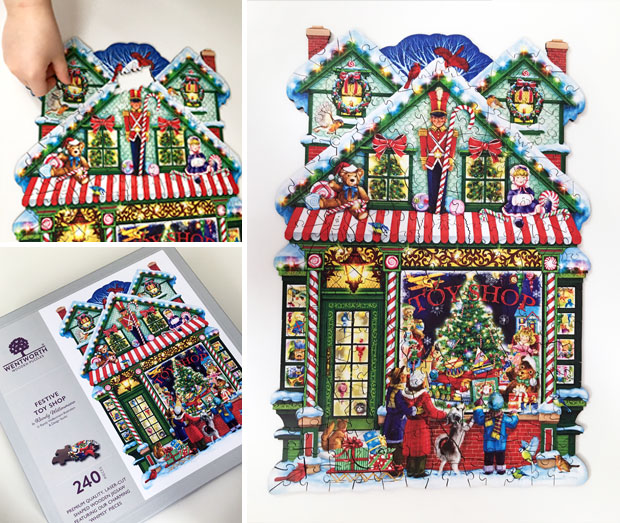 They have seasonal jigsaws and currenlty have a wonderful range of Christmas jigsaws. We have Festive Toyshop Puzzle that you can see above. It's a shaped jigsaw with a Christmas theme and it's perfect for building over the holidays.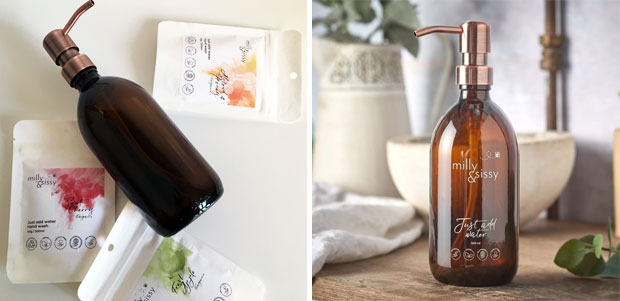 Keep hands healthy with a beautiful zero waste hand wash gift
MettaLife is a platform that is home to lots of vegan and ethical brands. Via MettaLife, you can find lots of wonderful items that would make great Christmas presents, while also supporting small and sustainable brands.
Currently, hand washing is even more important than ever and we're all washing our hands even more than usual. Treat the family to this Hand Wash Trio & Refillable Glass Bottle Gift which will allow you to make your own low waste liquid hand wash at home. The set includes three zero waste hand wash compostable sachets: Almond & Honey, Sweet Cherry and Fresh Apple. You also get a stylish British-made reusable 500ml glass bottle with bronzed pump to use with your hand wash. A beautiful and eco-friendly gift for the home and the family.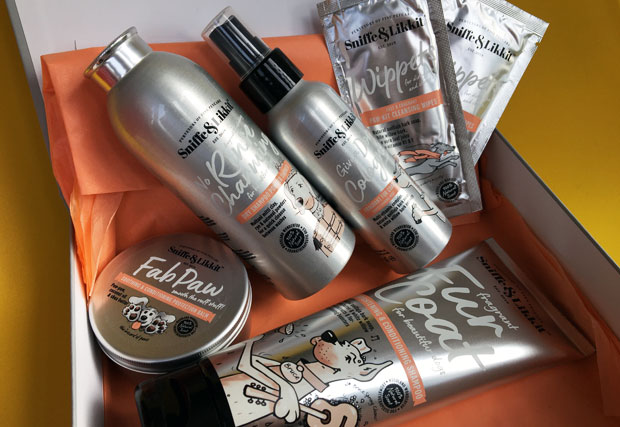 Something for the furry family member
Last but not least, if there's a dog in the family, treat them to some lovely Sniffe & Likkit aromatherapy oil scent based grooming products for dogs. The new range includes luxurious shampoos, fragrances, balms and wipes that are gentle and scented naturally. It even includes a dry shampoo for dogs! All products are vegan friendly and available from Ocado, Fetch.com and independent pet shops around the country and sniffeandlikkit.com.
Hope this gift guide with gift ideas for the home has given you some inspiration.
Collaborative post. This gift guide features gifted PR samples. All items have been chosen by myself to be in this guide.