InstaNatural Advanced Repair Scar Gel Review
|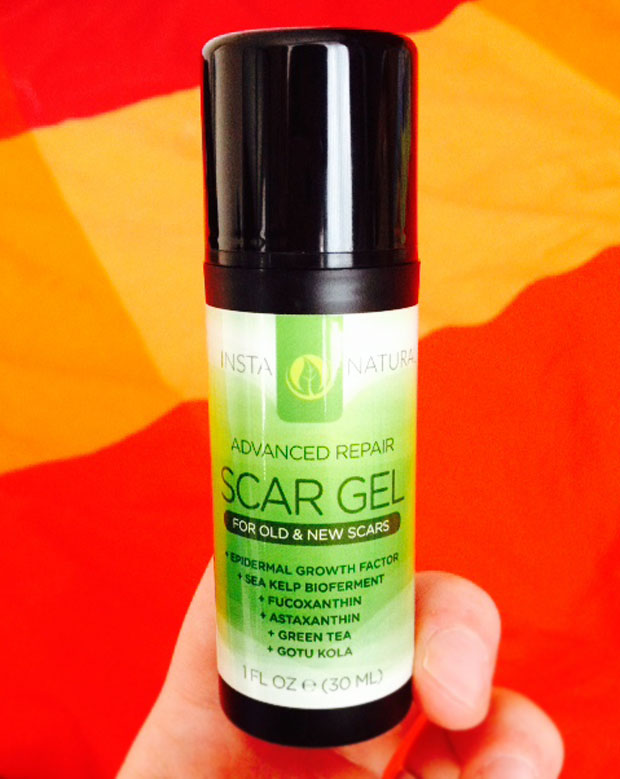 InstaNatural Advanced Repair Scar Gel Review
This is a skincare product that is designed to help soften the texture and colour of scars. It's a formula that contains powerful but natural ingredients, including a natural-occurring protein called Epidermal Growth Factor, to speed up your skin's healing process.
Other active ingredients are Gotu Kola to help restore skin and antioxidants from Green Tea, Fucoxanthin, Astaxanthin and Sea Kelp to help strengthen damaged skin.
The gel is moisturising and leaves skin healthier and more uniform, fading old and new scars gradually.
You apply the gel twice a day onto the area you wish to treat. Just use clean hands and apply a thin layer. You can continue to use the gel for as long as you need, until your scar has lost its red colour and flattens. The length of treatment depends on the severity of the scar and how new it is.

The gel comes in a practical pump bottle that is small enough to carry in your hand bag if needed. The gel itself is a golden thick liquid that smells very natural. To me, the scent is fruity, like dried prunes. It's quick to apply and absorbs really fast!
I've been using the gel for a couple of weeks now and though it's only the start of my treatment, I can already see a difference in my skin. My problem area is my jawline and lower half of my cheeks where I have red and pink marks from old and new breakouts. I've applied the gel twice a day and can see a reducement in redness and my skin feels smoother too. I'm also treating my two small stretch marks that I got on my belly at the very end of my pregnancy last year and I can see the same result there. They are older than the marks on my face so they were already paler but now I can't even find them.
I'll continue to use this on my acne scars until they hopefully fade away completely and I will remember to use this on any stretch marks in the future too.
InstaNatural's Advanced Repair Scar Gel costs £22.95 and is available to buy from InstaNatural's website or from Amazon. InstaNatural offers a 100% satisfaction guarantee too, so in the very unlikely event that you are not happy with your product you will be fully reimbursed.
I was sent this product for this review. As always, all my reviews are 100% honest and all thoughts and opinions are my own.