Skin Salveation Skin Care – DermaSalve Creams Review
|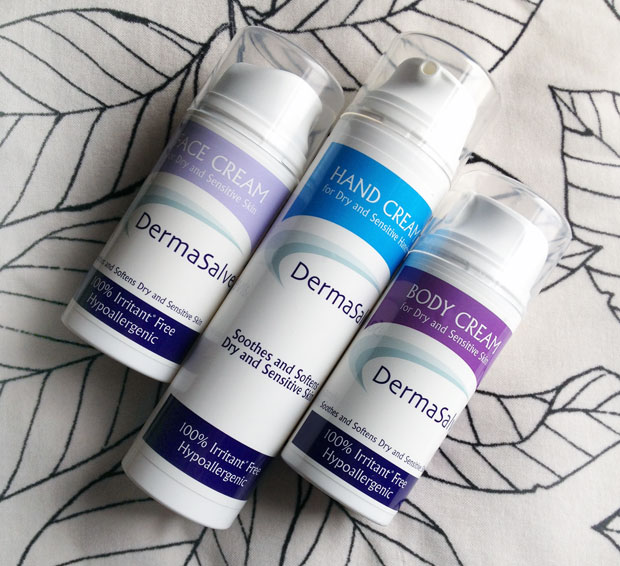 Skin Salveation Skin Care – DermaSalve Creams Review
DermaSalve is a range of irritant free moisturisers that soothe, repair and protect sensitive skin and make it smooth and soft. The creams have been formulated by doctors to treat dry skin conditions like eczema, psoriasis and dermatitis. It's even suitable for very dry and sensitive skin types. The range includes a body cream, a hand cream, a face cream, a foot cream and a baby & infant cream. I've tried the first three.
Some of DermaSalve's benefits include:
A triple moisturising action.
The creams help the skin to retain moisture without blocking pores.
The formulations contains active moisturising ingredients from sustainable resources like palm oil and Aloe Vera that soften and soothe skin.
The creams are fortifies with vitamins and essential fatty acids to help repair and rejuvenate skin.
Quick absorption and no greasy residue.
A single application covers up to twice as much skin as other creams so a little goes a long way.
The moisturising effect lasts up to 12 hours.
The creams make damaged and chronic dry skin areas more permeable to allow the moisturising ingredients through, meaning the creams are very effective and the need for frequent applications is reduced.
The packaging is convenient, aerosol free and hygienic and delivers the right amount of cream without wasting any product.
The products are free from alcohol, fragrances and parabens and therefor suitable for all types of dry skin.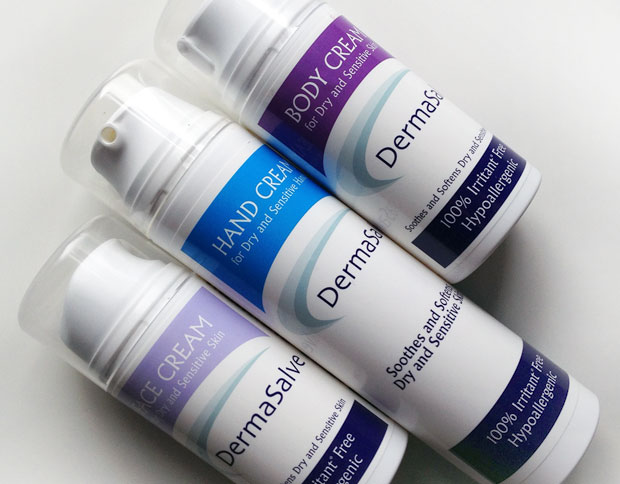 The cream I most looked forward to trying was the hand cream as my hands can get really dry in the autumn/winter time due to the cold weather, central heating and the constant hand washing that being a mum brings. This hand cream can be used daily to soften and soothe dry and sensitive hands or to treat hand eczema. It's a light cream that is easy to massage in and that absorbs after a couple of minutes of massaging without leaving any residue. We keep this in the living room to remind me to use this at the end of each day when relaxing with a bit of TV before going to bed. It's a nice cream that has helped heal the skin on my hands.
The face cream is a light but very hydrating cream that absorbs quickly and doesn't block skin. I find the texture slightly gritty but this goes away when you massage it in. I would prefer a smoother texture straight away but it's still a good cream especially if you have sensitive skin or facial eczema.
The body cream can be used on the whole body and is a nice moisturiser. I use it on my shins and arms because those are the areas where I get dry skin on my body and it's very soothing. It's similar to the hand cream but maybe slightly richer. It absorbs after a couple of minutes and then you can get dressed without any stickiness.
The products are available to buy from Skin Salveation and prices start at £5.99. The shop also sells soaps, laundry detergent, treatment sticks for eczema, body moisturiser, body wash and shampoo — all suitable for dry and sensitive skin conditions.
I was sent these products for this review. As always, all my reviews are 100% honest and all thoughts and opinions are my own.