Pantene Pro-V Advanced Keratin Repair Expert Collection Review
|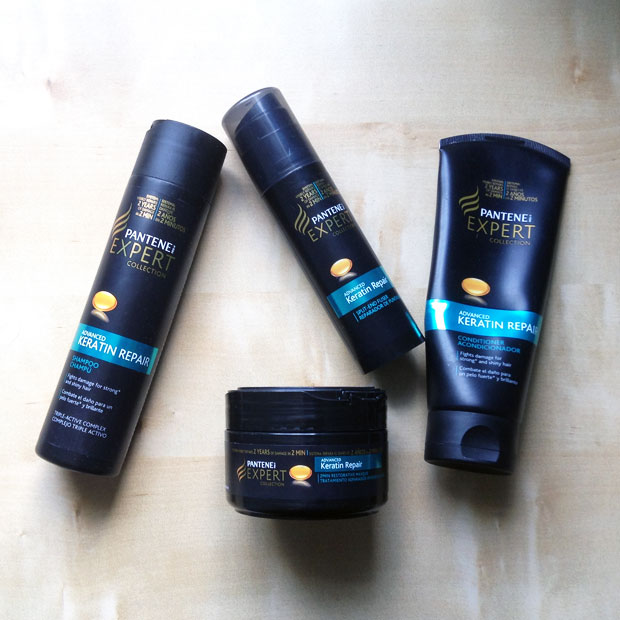 The Pantene Pro-V Advanced Keratin Repair Expert Collection boldly claims to repair 2 years of damage in 2 minutes by addressing "damage at it's origin to help protect hair from future damage". I've been testing this series for about three weeks now and here's my experience:
The collection works well together to look after and at least visually repair damaged hair. How deeply it goes nobody knows but my hair feels healthier after using these products.
They all smell lovely and feel nice when you use them. The shampoo (£5.99) cleans without stripping your hair of moisture and the conditioner (£5.99) smooths your hair and works really quickly. The Restorative Mask (£6.99) provides even more moisture and care and is my favourite out of the collection.
The black design looks quite luxurious and stylish and the mask's packaging is clever because you just pop the lid up and don't need to worry about finding a place for the lid while you are trying to get some product out in shower.
The Split-End Fuser (£6.99) is a good addition but you really only need to use a tiny bit. The first time I used it I used a bit too much and my hair ended up looking a bit greasy. But you'll soon learn what's the right amount for your hair. Just start with a little bit.
Overall this is a great little collection for damaged hair and it feels a bit more efficient than other products for damaged hair that I've tried.
Don't miss the current 3 for 2 on selected Pantene hair care offer in Boots.
I was sent these products for free to review on a different site. As always my reviews are always completely honest.