InstaNatural Youth Express Eye Serum Review
|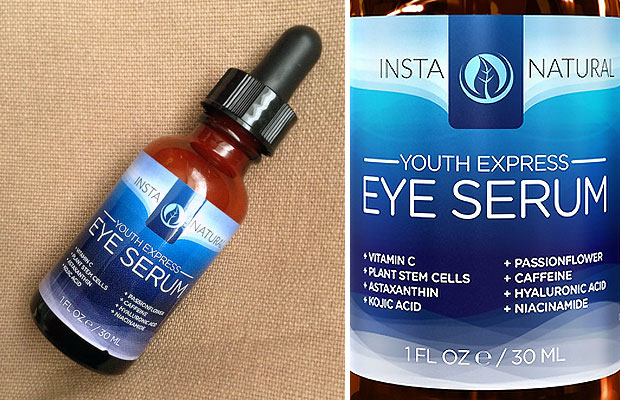 InstaNatural Youth Express Eye Serum Review
A serum made specifically for you eyes, InstaNatural's Youth Express Eye Serum contains a powerful blend of Vitamin C, Plant Stem Cells, Astaxanthin, Kojic Acid, Passionflower, Caffeine and Hyaluronic Acid. It's a moisturising anti-aging formula that helps reduce the appearance of dark circles, puffiness and fine lines and makes your skin tighter and smoother.
This is the treatment that most new mums need. Since I became a mum, I have not slept much at all and I have not yet had a proper full night's sleep. You can definitely tell by looking at my under eye area that I am tired. The skin looks darker and needs brightening up! Luckily, I have not got any eye bags nor many wrinkles but I am a firm believer in preventative skincare and love treating my skin to help keep it looking younger for longer. I do always wake up with puffy eyes and it's nice to use a product like this to help the puffiness go away more quickly.
This eye serum is really light yet feels like it makes such a difference straight away. It's bright orange and smells of citrus fruits — very refreshing and relaxing. You only need a drop for both eyes and you simply apply it by putting it on your fingertips and gently pressing it into the skin under and around your eyes. Remember not to drag your skin since the skin around your eyes is fragile and thin. The serum absorbs quickly and you can continue your routine with a moisturiser and makeup if you wish.
Little skin treats like this can make a huge difference to the health of your skin and I can tell after using the serum for a couple of weeks that my skin looks brighter and feels much more nourished. I look less tired and I enjoy the pampering moments in the morning and the evening looking after the skin around my eyes as well as the rest of my face. It's easy to ignore the eye area but darkness and wrinkles around your eyes are very noticeable and can age you very quickly.
I'm going to keep using my lovely InstaNatural Youth Express Eye Serum to help keep my eyes looking young and hope that I get more sleep soon, too.
InstaNatural Youth Express Eye Serum costs £17.97 and is available to buy from the InstaNatural website or from Amazon.
As always, InstaNatural's products are produced in small batches to ensure quality and freshness. InstaNatural is a lovely company that offers a 100% Satisfaction Guarantee Policy and will refund you if you are not happy with your product. It's very unlikely that you would not be happy though — I've never been disappointed. The products are such high quality ones.

I was sent this product for this review. As always, all my reviews are 100% honest and all thoughts and opinions are my own.