InstaNatural Hyaluronic Acid Serum Review
|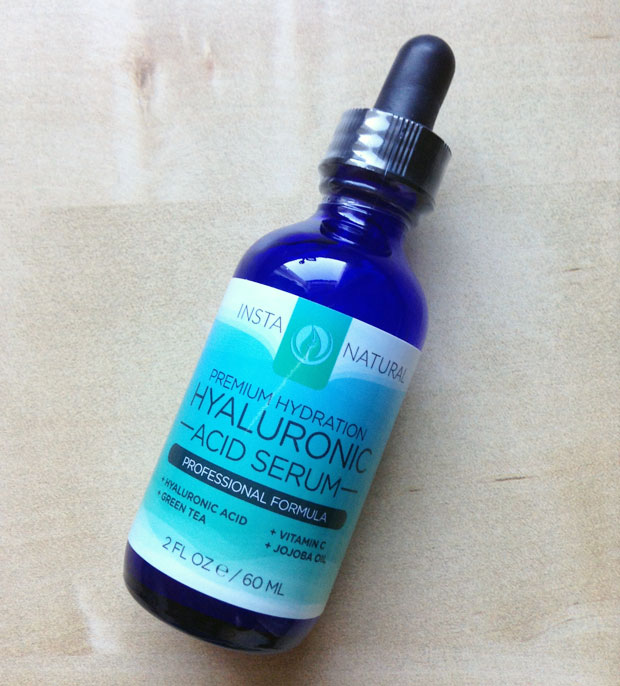 InstaNatural Hyaluronic Acid Serum Review
Over the past few weeks I've been using this lovely serum by InstaNatural. I contains Hyaluronic Acid and a blend of antioxidants: Vitamin C, Jojoba Oil and Green Tea. It also contains Aloe Vera. It is completely free from alcohols, fragrances, additives or parabens.
Did you know Hyaluroinc Acid can sustain more than 1000 times its weight in water? Amazing! That's why it's so good at keeping your skin hydrated.
This serum hydrates and soothes dry skin, gives it a boost of antioxidants and has anti-aging properties to diminish appearances of wrinkles and lines, increasing the strength of your skin and firming is up. It can also help with hyper pigmentation.
You use the serum after washing and drying your face. You simply apply a few drops to your hands and distribute the serum all over your face, neck and décolletage. I love products that you can apply everywhere without worrying about it getting close to your eyes. That's how gentle this product is! It can actually even help reduce dark circles and puffiness under your eyes. You can use the serum morning and evening; just follow with your usual moisturiser. It's fine to wear under your make-up.
I love this serum! It makes my skin feel really soft, smooth and nourished and a bit firmer, too. The serum sinks into my skin so quickly and makes my complexion look healthier instantly.
InstaNatural started as a small business in Florida with a vision to provide great quality, safe, effective and affordable skincare products. InstaNatural use wholesome, premium organic and natural ingredients in their products and stay away from alcohols, parabens and sulphates. They have become the leading online distributor of a collection of nature-inspired beauty and cosmetic products. All products are produced in small batches in FDA-certified facilities in the USA. InstaNatural offers a 100% Lifetime Satisfaction Money Back Guarantee and will always offer you your money back if you are not satisfied.
InstaNatural seems like a very passionate company and I would love to try more of their products. They make loads of different ones for all kinds of skin types. InstaNatural skincare products can be bought from instanatural.com or Amazon.
I'm 100% satisfied with my InstaNatural Hyaluroinc Acid Serum and the quick results it has given me. I also love the beautiful blue bottle! Very luxurious.
I was sent a bottle of this serum for this review. As always, my reviews are 100% honest and all thoughts and opinions are my own.