InstaNatural Cellulite Cream Review
|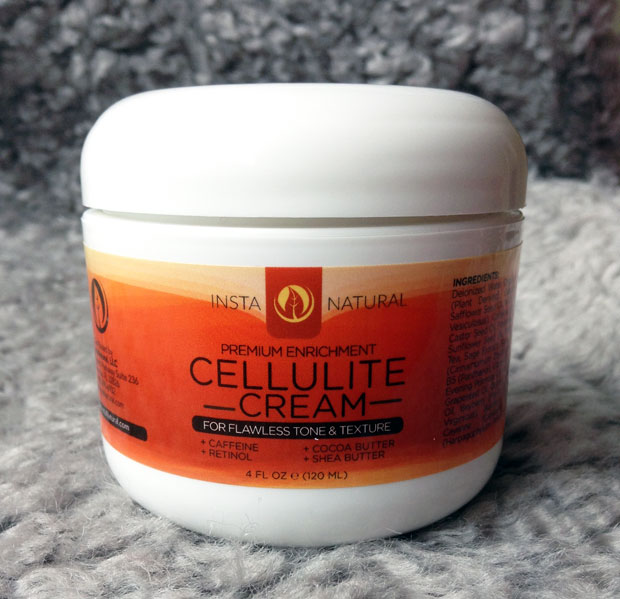 InstaNatural Cellulite Cream Review
This is a firming cream designed to help reduce the appearance of cellulite and to help tighten, tone and improve the texture of the skin on affected areas like thighs, buttocks, abdomen and arms.
It's full of cellulite fighting ingredients like Caffeine, Vitamin C and Retinol that together will help visibly reduce the appearance of cellulite. Caffeine has toning and tightening properties, while Retinol is repairing and restoring for long-lasting firming results.
The cream is also very hydrating and, as we all know, moisturising is very important for healthy looking skin. This cream contains nourishing hydrators like Organic Cocoa Butter, Shea Butter, Avocado Oil and Organic Jojoba Oil moisturise the skin deeply and increase elasticity.
Other important ingredients are Green Tea, Vitamin E and Vitamin C that have powerful anti-aging properties to make skin look younger and healthier.
For best result, the cream should be used twice a day and massaged vigourously onto the affected areas until completely absorbed. When dry, follow up with SPF if the area will be exposed to the sun in the daytime as Retinol makes your skin more sensitive to the sun.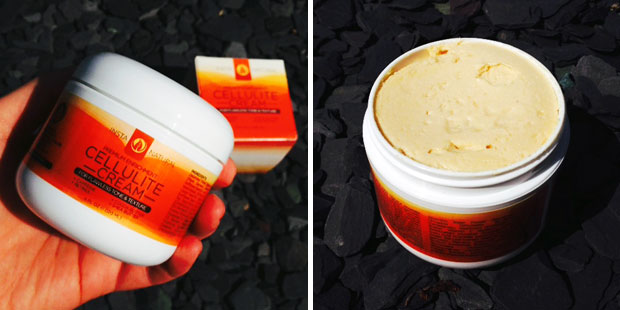 The cream comes in a 120ml tub that makes it easy to get more product out in a mess-free way. The formula is a really thick, yet light, and the cream is sand coloured. It looks different from most cellulite creams but this is a natural product and the combination of ingredients makes the cream this colour. The texture is really lovely — it's like whipped butter! It melts into your skin when you apply it but takes some time to rub in. This is crucial for cellulite products though, because it's not only the product that does the job, the vigorous massage plays a huge part too and really helps make your skin look and feel better.
I can feel the cream working as I massage it in — the massage in combination with the caffeine really increases the blood flow to my thighs which instantly plumps up the skin and makes it smoother. The cream works and really helps improve the appearance of the skin, especially with continous use.
There's only one thing I don't like about this cream and it's the scent. I hate saying that about natural products because the scent is obviously the result of using natural ingredients and not tampering with the product by adding lots of artificial stuff. I can't really describe the scent but it's quite strong. The positive is that you are most likely to use the cream on your legs and you can't smell it much from there. Also, the cream works so it's definitely worth using it if you have a problem with cellulite.
InstaNatural Cellulite Cream costs £23.95 and is available to buy from the InstaNatural website or from Amazon.
As always, InstaNatural's products are produced in small batches to ensure quality and freshness. InstaNatural is a great company that offers a 100% Satisfaction Guarantee Policy and will refund you if you are not happy with your product.
I was sent this product for this review. As always, all my reviews are 100% honest and all thoughts and opinions are my own.