InstaNatural Retinol Moisturizer Cream Review
|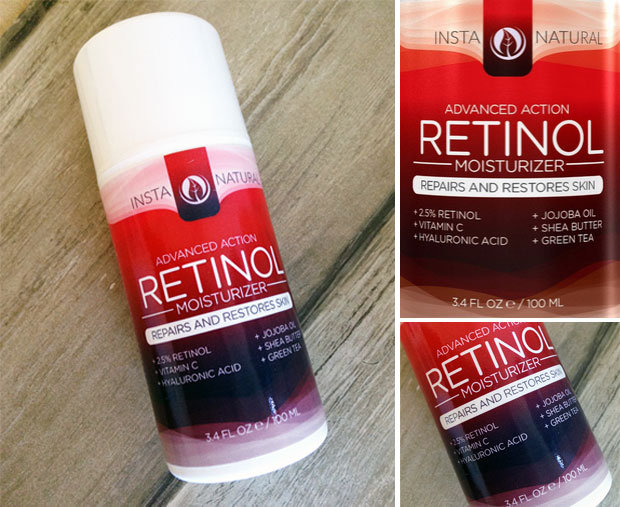 InstaNatural Retinol Moisturizer Cream Review
InstaNatural Retinol Moisturizer Cream is a hydrating and restoring anti-aging face cream with 2.5% Retinol, 10% Vitamin C, Hyaluronic Acid, Jojoba Oil, Shea Butter and Green Tea.
It contains maximum strength retinol (vitamin A) which is an anti-aging antioxidant that together with vitamin C and greet tea makes a powerful formula to combat wrinkles, fine lines and hyper pigmentation. The nutrients work together to reverse effects of sun exposure and other environmental damage and make skin tone and texture more even and adds radiance to your skin.
Vitamin A is also known to help reduce breakouts and blemishes by removing dead skin cells and unclogging pores. Retinol can help achieve a clearer and smoother complexion.
The formula is very creamy and hydrating due to its nourishing blend of jojoba oil, hyaluronic acid and shea butter which all help keep skin soft and moisturised all day. At the same time it feels quite light on the skin and absorbs quickly. I love how it makes my skin feel really soft and nourished and that the feeling lasts throughout the day.
I use the cream in the morning and in the evening after washing my face and applying my InstaNatural Vitamin C Serum. In the day it's important to follow up with sunscreen because retinol makes your skin more sensitive to the sun.
Over just a couple of weeks the InstaNatural Retinol Moisturizer Cream (together with the serum) has made a visible difference in my skin. The texture is smoother and my skin tone is more even. I love that I've finally found a face cream that tackles both signs of aging and helps reduce breakouts because that's just what my skin needs. There are not many products out there for adult women suffering from blemishes and wanting to keep their skin looking young. Thank you InstaNatural for filling that gap in the market and creating natural products for women with skincare needs like myself.
InstaNatural Retinol Moisturizer Cream costs £19.95 (for a large 100ml bottle that will last ages) and is available to buy from the InstaNatural website or from Amazon.
As always, InstaNatural'sproducts are produced in small batches to ensure quality and freshness. InstaNatural is a lovely company that offers a 100% Satisfaction Guarantee Policy and will refund you if you are not happy with your product. It's very unlikely that you would not be happy though — all the products that I've tried so far are brilliant!
I was sent this product for this review. As always, all my reviews are 100% honest and all thoughts and opinions are my own.