InstaNatural Vitamin C Serum Review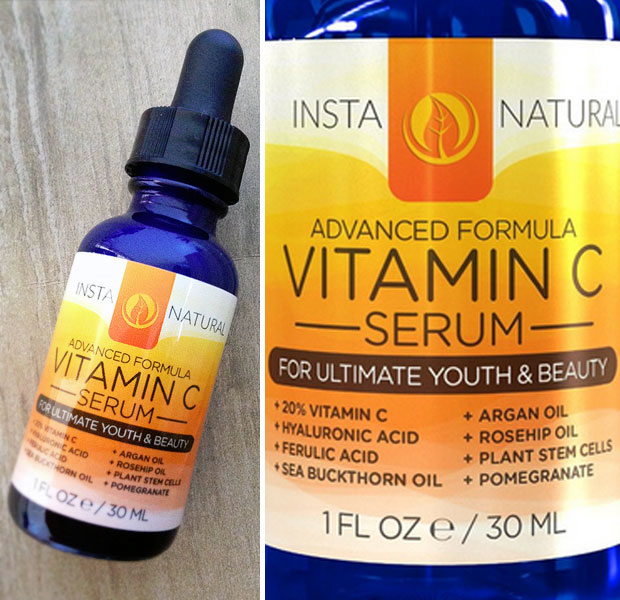 InstaNatural Vitamin C Serum Review
InstaNatural Vitamin C Serum is a serum with 20% Vitamin C. Other active ingrediens are Hyaluronic Acid, Ferulic Acid, Rosehip Oil, Seabuckthorn Oil & Vitamin E. It's an anti-aging serum that nourishes and strengthens your skin and helps to diminish fine lines, wrinkles and uneven pigmentation. It's made from the very best natural and organic ingredients that boost the health of your skin. The serum provides soothing relief and moisture to your skin and helps keep your skin hydrated throughout the day.
Like most serums, the InstaNatural Vitamin C Serum is meant to be used between washing your face and applying your moisturiser. Let the serum absorb before using your face cream. For best results, use twice daily.
I've been using this for a few weeks now and it is my new favourite skincare product! I love everything about it. The serum is a bright yellow/orange colour and smells like freshly squeezed oranges and sunshine. The scent is delicious and makes me feel happy! The serum is a treat to use and makes me feel energized and relaxed at the same time.
The application is so smooth and the serum feels lovely on my skin – light and nourishing. You can feel the goodness straight away. My skin feels hydrated and pampered and gets an instant glow. I've been using the serum twice a day and have followed up with InstaNatural Retinol Moisturizer Cream (review coming soon!) and I love my skin at the moment. I'm very happy going without any BB-creams, CC-creams, foundations and concealers after treating my skin to these products. InstaNatural Vitamin C Serum has definitely made my skin tone more even and my complexion brighter and smoother.
InstaNatural make all their products in small batches to ensure quality and freshness. They offer a 100% Satisfaction Guarantee Policy and will give you a refund if you are now happy with a product.
I'm 100% satisfied with this serum! Definitely a new favourite! Buy it from Amazon.co.uk (£15.95) or from InstaNatural's website.
I received this product in exchange for my review. As always, all my reviews are 100% honest and all thoughts and opinions are my own.