InstaNatural Youth Express Night Cream Review
|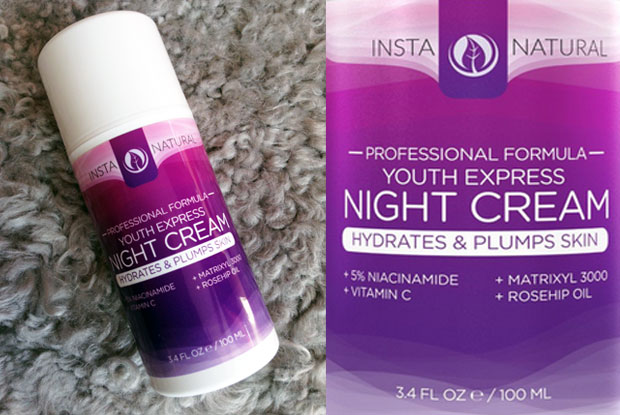 InstaNatural Youth Express Night Cream Review
InstaNatural's Youth Express Night Cream is a very rich and deeply moisturising cream that helps keep your skin hydrated and looking young. The key ingredients are 5% Niacinamide, Vitamin C, Matrixyl 3000 and Rosehip Oil. Niacinamide has anti-inflammatory properties and helps reduce redness and is soothing for irritated skin. It can also help reduce scars, hyper pigmentation and acne.
This is a thick cream perfect for night time use to pamper yourself before going to bed and wake up with plumper, glowing skin. If you have really dry skin, you can use this in the morning too to give your skin an even longer lasting boost of hydration.
You use it like any night cream: just apply it after washing your face and after using your serum. Massage it into your skin with circular and upward motions.
I love using a proper night cream at night since overnight is the best time for your skin to repair itself so I want to give it as much help as possible. InstaNatural's Youth Express Cream feels like a treat at the end of the night with its relaxing scent of rosehip.
I also love that, even though the cream is so rich, it does not break me out but actually helps reduce redness and blemishes.
It's never too early to start looking after your skin but I would especially recommend this cream to women over 25 to help keep any fine lines and wrinkles away for as long as possible!
InstaNatural Youth Express Night Cream costs £17.95 and is available to buy from InstaNatural's website or from Amazon. InstaNatural offers a 100% satisfaction guarantee too, so in the unlikely event that you are not happy with your product you will be reimbursed.
I was sent this product for this review. As always, all my reviews are 100% honest and all thoughts and opinions are my own.