Mia & Dom Organic Morning Sickness Balm Review
|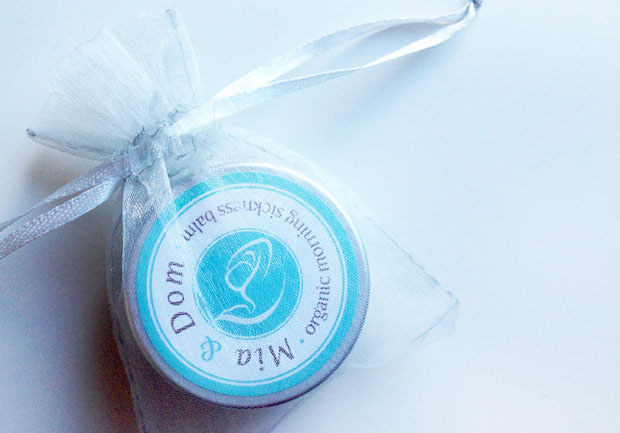 Mia & Dom Organic Morning Sickness Balm Review
Morning sickness is something that many pregnant women suffer from — particularly in the first trimester. It's rare that it's just in the morning and it can happen any time of the day or all day and all night long for some of us.
I'm 14 weeks pregnant with our second baby and the first trimester was tough! I had worse morning sickness than with my first pregnancy and pretty much felt nauseous every minute I was awake. Because I also look after my toddler daughter full time (and work from home at the same time), I haven't had much time to rest at all and being tired makes everything feel worse. The nausea started earlier this time around, at about 4-5 weeks and has only just calmed down but not completely gone away.
In the beginning of my pregnancy, I would drink lots of ginger and lemon tea and really strong peppermint tea to help with my nausea. I love both these teas and they do help but a few weeks after my nausea started, I completely went off tea and haven't been able to drink it since. The only hot drink that I can stomach now is hot chocolate so I'm mainly drinking water and squash.
My nausea remedy teas were no longer an option and I was ready to try anything to help me get through the early months of pregnancy and nausea. Just as I was feeling the worst and the same week I had actually been sick for the first time this time around, I came across the Mia & Dom Organic Morning Sickness Balm.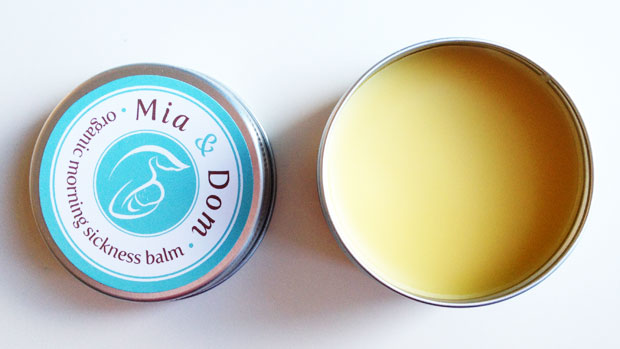 The balm comes in a cute little tin and looks and feels a bit like a lip balm but you use it under your nose or on your temples — well, you can actually put it on your lips too, if you wish — and the aromas of ginger and spearmint essential oils help reduce nausea. These two oils and ingredients are very well known anti-nausea remedies.
The full ingredients list is: Sweet Almond seed oil, Beeswax, Shea butter, Cocoa butter, Spearmint leaf oil, Ginger root oil. All good and natural stuff!
The formula is thick and firm so you only use a tiny bit for each application, meaning a tin should last you through the first trimester and beyond. I've been using the balm for just over a month now and the scents really help distract me from the nausea and feel a bit better. Since I can no longer have my teas, it's great to still get the anti-nausea benefits from ginger and peppermint.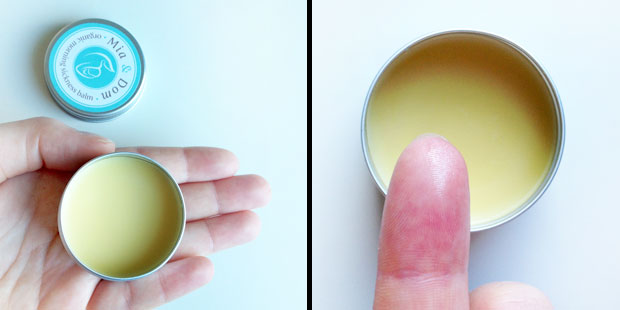 The tin is the perfect size to fit in your pocket or your handbag so that you can take the balm with you anywhere and apply as needed. Massaging the balm into your temples can also provide headache relief if you are suffering from headaches and don't want to take medication. I have regular migraines and now that I'm pregnant, I don't want to use any painkillers so this is another nice use for the balm for me.
About Mia & Dom
Mia & Dom is an organic skincare brand for pregnancy, babies and people with sensitive skin. The company was founded by Jennifer Feltham and it all started with her desire to only use natural products on her children Mia and Dominic. Dominic had severe eczema from an early age and Jennifer couldn't find any steroid free products that worked so she decided to make some herself. Creating potions and lotions had been a hobby since Jennifer was little.
With passion and love, she began to create balms and creams at home in her own kitchen until they were perfected for the Mia & Dom launch in February this year.
Jennifer's background is actually in business but during evenings she'd been gaining lots of qualifications and experience in aromatherapy, herbal medicine and professionally producing skincare products. Now her business is Mia & Dom and her objective is "to use the very best ingredients to provide our customers with beautiful, organic, natural and safe skincare for their family".

The Mia & Dom Organic Morning Sickness Balm cost £6.99 for a 30ml tin and is available to buy from the Mia & Dom website where you can also find lots of other lovely skincare products. The tin came in a cute little bag which is a nice detail and makes the product feel even more special.
I was sent this product for this review. As always, all my reviews are 100% honest and all thoughts and opinions are my own.