My Current Reading List + Get a Free Audio Book
|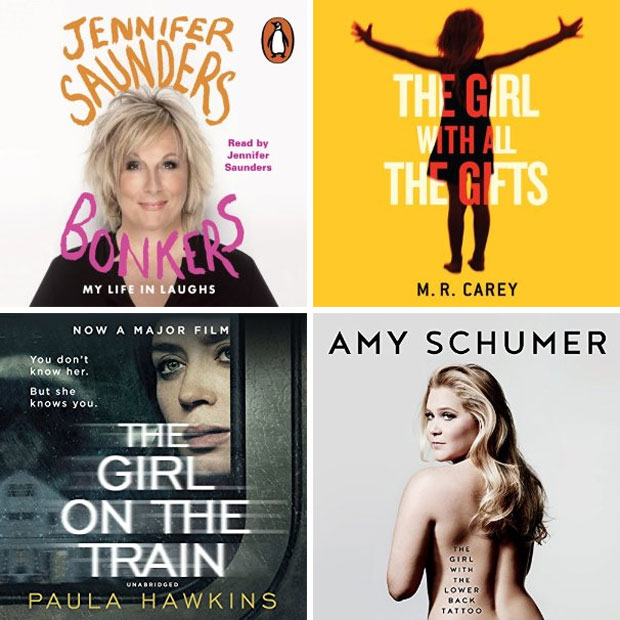 My Current Reading List + Get a Free Audio Book
Motherhood makes my reading time limited but I really love to read so I try to squeeze in some reading when I can. Audio books are a great alternative way to read too as you can do it whilst doing other things at the same time such as cooking, driving, tidying up or laundry, for example.
My current list of books that I would like to read soon include these titles: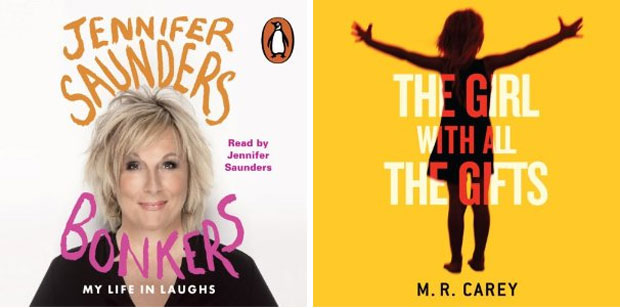 Bonkers: My Life in Laughs by Jennifer Saunders 
I love Jennifer Saunders and Absolutely Fabulous and would love to know more about this absolutely fabulous woman!
"Jennifer Saunders' comic creations have brought joy to millions. From Comic Strip to Comic Relief, from Bolly-swilling Edina in Ab Fab to her takes on Madonna or Mamma Mia, her characters are household names. But it's Jennifer herself who has a place in all our hearts. This is her funny, moving, and frankly bonkers memoir, filled with laughter, friends, and occasional heartache – but never misery.
Bonkers is full of riotous adventures: accidentally enrolling on a teacher training course with a young Dawn French, bluffing her way to each BBC series, shooting Lulu, trading wild faxes with Joanna Lumley, touring India with Ruby Wax and Goldie Hawn. There's cancer, too, when she becomes 'Brave Jen'. But her biggest battle is with the bane of her life: the Laws of Procrastination. As she admits, "There has never been a Plan. Everything has been fairly random, happened by accident or just fallen into place. I'm off now, to do some sweeping…" Prepare to chuckle, whoop, and go bonkers."
The Girl with All the Gifts by M.R. Carey
I love a good thriller and this one sounds exciting and unique.
"Not every gift is a blessing. Melanie is a very special girl. Dr Caldwell calls her 'our little genius'.
Every morning, Melanie waits in her cell to be collected for class. When they come for her, Sergeant keeps his gun pointing at her while two of his people strap her into the wheelchair. She thinks they don't like her. She jokes that she won't bite, but they don't laugh.
Melanie loves school. She loves learning about spelling and sums and the world outside the classroom and the children's cells. She tells her favourite teacher all the things she'll do when she grows up.
Melanie doesn't know why this makes Miss Justineau look sad. Emotionally charged and gripping from beginning to end, The Girl with all the Gifts is the most powerful and affecting thriller you will listen to this year."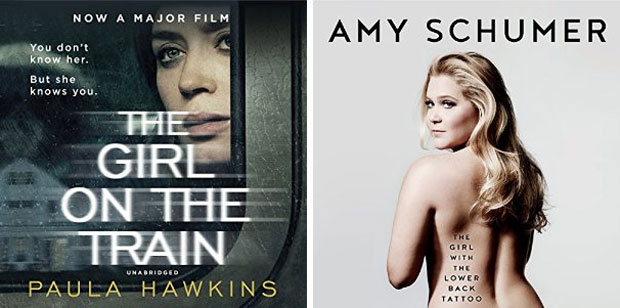 The Girl on the Train by Paula Hawkins
Better late than never! This book has been very popular and is now also a big film starring Emily Blunt. I would really like to see the film so I'm reading the book first, as you should. I've actually already started this one and so far it is really good!
"Rachel catches the same commuter train every morning. She knows it will wait at the same signal each time, overlooking a row of back gardens. She's even started to feel like she knows the people who live in one of the houses. 'Jess and Jason', she calls them. Their life – as she sees it – is perfect. If only Rachel could be that happy.
And then she sees something shocking. It's only a minute until the train moves on, but it's enough. Now everything's changed. Now Rachel has a chance to become a part of the lives she's only watched from afar. Now they'll see; she's much more than just the girl on the train…"
The Girl with the Lower Back Tattoo by Amy Schumer

Amy Schumer is an interesting woman and I quite enjoy her stand up shows so would love to see what this book of hers is like.
"In The Girl With the Lower Back Tattoo, Amy shares stories about her family, her relationships, her career, good – and bad – sex, recounting the experiences that have shaped who she is today: from the riches to rags story of her childhood to her teenage quest for popularity (and boys) to becoming one of the most sought-after comedians on the planet and an outspoken advocate for women's rights.
Whether she's experiencing lust at first sight in the queue at the airport, discovering her boot camp instructor's secret bad habit, or candidly discussing her father's multiple sclerosis, Amy Schumer proves to be a fearless, original, and always entertaining storyteller. Her audiobook will move you, make you laugh, catch you completely off guard, and answer this burning question: is it okay for a 35 year-old woman to still sleep with her childhood teddy bears?"
Get Your Free Audiobook Now
Head over to Audible and sign up for a FREE 30 day trial to get an audiobook completely free. Enjoy!