My Food Cupboard Organisation Makeover with OXO Good Grips
|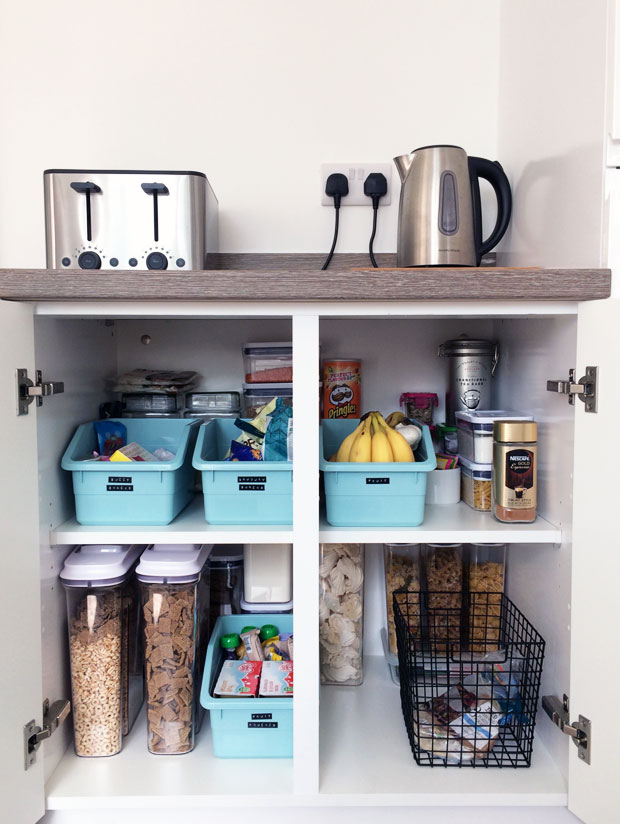 My Food Cupboard Organisation Makeover with OXO Good Grips
Moving to a new house with a different kind of kitchen has meant I've had to rethink our kitchen storage solutions. There's no proper pantry and we don't have many wall cupboards in the new kitchen. The best option for food storage is this double under-worktop kitchen cupboard next to our fridge/freezer. This area is a sort of breakfast preparation area with our kettle and toaster, room for cups and chopping board etc. so it's quite a natural place for storing food. Deep kitchen cupboards are not easy to keep organised though!
As you can see in the before photo below, I already had four light blue boxes that I bought when we moved in and they help keep things a bit in place but they're not enough to keep things tidy. I was lacking storage containers for dry foods and there was an overwhelming amount of bags and packaging (I wish we could get away from all this plastic but British supermarkets aren't quite there yet!) floating around, making it difficult to see what was in the cupboard.
OXO Good Grips make brilliant food storage boxes. Unlike many plastic options, the OXO Good Grips POP boxes are really sturdy and well-made. They are airtight to keep food fresh and the square and rectangular shapes ensure that they're easy to stack and fit into cupboards without wasting any space. They come in all kinds of sizes, from teeny tiny to huge and everything in between so that you can get the right sizes for your needs.
I now have a mix of sizes for our food cupboard organisation project and I'm so happy with the result which is an organised cupboard that provides me with a good overview of what we have. This means that I don't buy accidental duplicates and food stays fresh thanks to the new containers. Also, I don't feel stressed when I open this cupboard anymore!
As you can see, I still use the blue boxes but they're much more organised now and not so full! I also still have my two large square glass storage jars (I use them for noodles and rice) and a few smaller ones for teas and some mini ones for seeds. OXO make great ones in these sizes too, I just wanted to use what I had too, to not waste anything.
Here are my top tips for food cupboard organisation:
Start by taking everything out and see what you have.
Make a list of things you always keep in as these are the things you'll definitely need containers for. For us, these were things like pasta of different types, rice, noodles, sugar, flour, a few cereal options…
What's left? Are they things that could be divided into categories like sweet and savoury snacks? Kids' snacks? Baby food? Do they need storing in individual containers or are bag clips and a basket sufficient for each category?
Clean the cupboard!
Get the containers that you have decided you need and wash and dry them ready to be filled. I think it's a good idea to have a few more containers than you think you need. I use our spares for things like lentils and soy mince that we sometimes have in, but not always.
Think about how you use food and which things need to be more easily accessible. Group things together that go together, like pastas with rice and other grains, teas and coffees, treats all in one place… this makes it easier for you to get a good overview of what you have in at a quick glance. I keep the things we don't use as often towards the back of the cupboard and the things we reach for a lot (coffee, fruit, bread, snacks!) near the front.
Get a bread basket, not a bread bin! I used to love the idea of a bread bin but for this project, I bought a large wire basket instead as this will fit more and make it much easier to see what we already have.
If you have any more cupboards available, think about splitting things up to have a more airy solution. We've got tins, herbs and spices and oils in another small cupboard and this works well for us (though I do need to organise this cupboard too!).  Having coffee and tea separate would work well too or all treats in one place for example

—

whatever works for you.
Don't fill every container you have and cram the cupboard full. Most people don't have exactly the same food every week so you need to have a bit of spare space for extras.
Thank you to OXO for providing the containers for this project!