My Valentine's Day Gift Guide 2020 – For Him & For Her
|
My Valentine's Day Gift Guide 2020 – For Him & For Her
February is just around the corner which means it's Valentine's Day soon too! Are you celebrating with someone special? If you're looking for some gift ideas to spoil a loved one, I've collected a few of my favourite Valentine's Day gifts in this post. I've tried to source eco-friendly products that are useful and low waste as well as being a bit of a treat. This post has ideas for him and for her, most (if not all) are quite unisex in my opinion. There are things for people of different tastes and interests – hopefully you'll find something suitable for someone you love.
Valentine's Day Gift Guide 2020
Start with Breakfast in Bed
Breakfast in bed is a lovely treat that you can prepare for your partner. Get their favourite breakfast (for me it's all about pastries at the moment and of course lots of coffee!) and serve it up on a gorgeous tray like this VonShef Bamboo Serving Tray. It's made from durable bamboo in two tones – it looks so stylish, luxurious and special!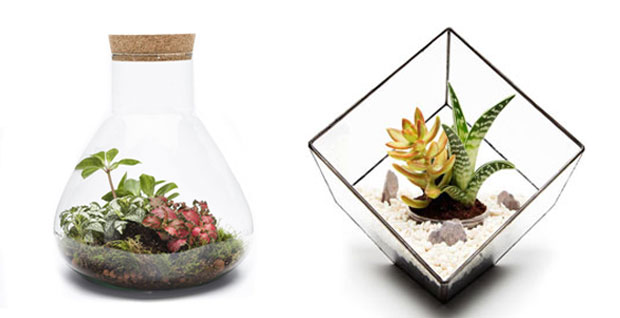 Flowers (Plants) that Last Longer
Bouquets of flowers look beautiful but they only last a few days or a week or so at the most which always seems like a bit of a waste to me. The Urban Botanist makes a unique range of sustainable terrariums and ecosystems that would make lovely gifts! You can choose to send them fully assembled or as a DIY kit for more green fingered recipients. You can add personalised wooden hearts or fairy lights to make them look even more special and beautiful. They're available in lots of different sizes and styles.
Something to Remind them of Your Love
This beautiful and comfortable Love Stripes Cushion from Red Candy makes a lovely reminder of your love. It's such a stunning pop of colour that will brighten up any space and is sure to make your loved one smile when they see it and think of you!
A Treat to Enjoy Together
For Valentine's Day, you can't go wrong with Prosecco and a box of chocolates! This Personalised Prosecco & Chocolates gift set from PrezzyBox is perfect for sharing with your love on Valentine's Day. The sleek black bottle with a silver label looks stunning and the label can be personalised with any name or message you'd like to make it extra special.
With your bottle of fruity Prosecco, you get a box of yummy chocolate truffles to enjoy together. The Prosecco and chocolates come presented in a satin-lined gift box.
A Practical Gift for a Future Getaway
Tesalate towels are brilliant and make a practical gift for a loved one who loves travelling. Maybe you have a getaway planned sometime in the future? These sand-free towels come in a stunning range of prints and designs and are ultra-compact, super absorbent and quick drying. They're available in two sizes: Full Sized Beach Towel (160cm x 80cm) and the new Double Sized Beach Towel (160cm x 160cm) and come in a handy storage bag.
A His & Hers Matchy-Matchy Gift
Fox & Chave creates beautifully unique hand-finished silk ties, scarves and accessories, inspired by the arts, history and nature. A His & Hers set of scarves (or a matching tie and scarf) would be a nice gift to share for a couple. There's a big range of beautiful silk products to choose from on the Fox & Chave website.
My favourites are the absolutely stunning Cherry Blossom Silk Square for her and the handsome Stag Silk Scarf for him. These are not matching items but I think the colours really complement each other.
Relaxation is something most of us need but struggle to take time for. A Sanda aromatherapy eye pillow would make a lovely and thoughtful gift that provides a physical reminder to take a few minutes to yourself for relaxation. Sanda aromatherapy eye pillows are filled with flax seeds, dried herbs and flowers. The pillow shapes around the contours of your eyes and the gentle pressure relieves tension and helps your relax. There are seven different scents to choose from. This is the Eucalyptus & Peppermint Aromatherapy Eye Pillow that is invigorating and energy boosting.
A Useful and Gorgeous Gift for Foodies
Here's another practical gift that's stylish and a bit romantic too. Did you know that the French called the tomato the pomme d'amour, or the Love Apple, as they believed that the exotic tomato had aphrodisiac powers? Definitely an ingredient to include in your Valentine's meal! The tomato is the theme of this beautiful kitchen towel that would make a lovely gift for a foodie. The lino print recipe tea towel design by printmaker Kate Guy features all the ingredients you need to make a temptingly tasty Roasted Tomato Soup.
There's no denying that candlelight is romantic! The natural scented soy candles by Perfect4U are handmade here in the UK and come in lots of different scents. Here's the Cuban Tobacco & Oak candle which smells absolutely amazing!
This gift guide features gifted items that I have chosen to be included.