New Bathroom Details – Sneak Peek
|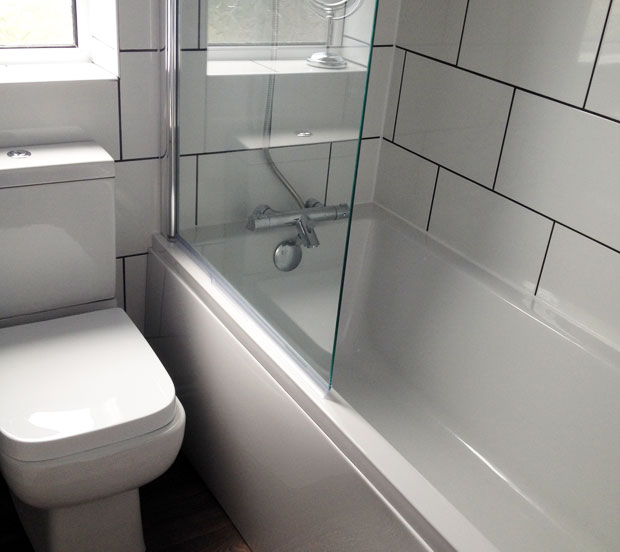 New Bathroom Details – Sneak Peek
As you might know, we've been working on our bathroom renovation for a few months now. We actually started before Christmas but it was such a huge job with everything from floorboards to walls and ceiling needing replacing so it's taken some time to do it all. I'm very proud to say that my husband has done everything himself except for the plastering and he's not a builder! We've worked on quite a tight budget and have sourced items from lots of different shops to get the look we wanted for a good price.
We finally have a nice bathroom and I love it. Here's a sneak peek of some of the details.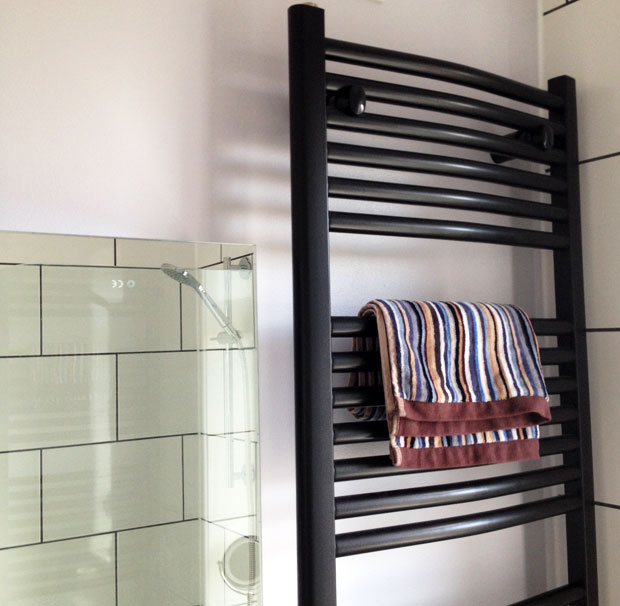 Our towel radiator was actually the first thing we bought for our bathroom. It's a really large one — it's pretty much floor to ceiling and can hold plenty of towels. Did you know that black towel heaters give off more heat than chrome or white ones? That's the main reason we chose this one but we also love the look of the matte black and it set the tone for the rest of the room which is quite minimalist and monochrome. It's from TradeRadiators and was very affordable. The hand towel is an old one from Åhléns.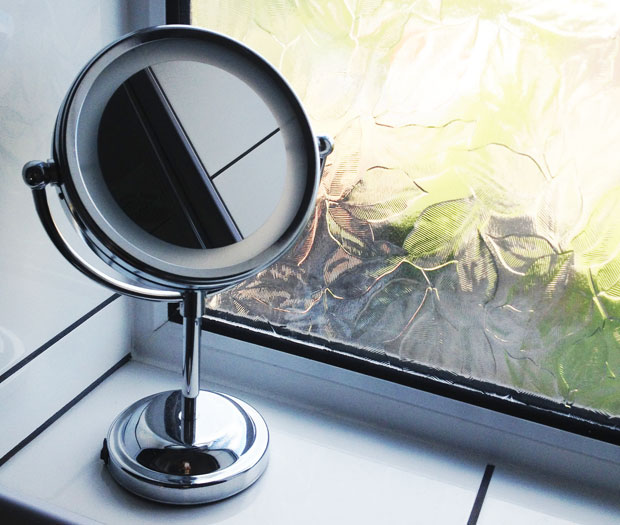 We have an extra mirror in the form of the MiniSun Battery Operated Magnifying Bathroom Make Up Mirror* from Valuelights. I love the retro shape and design for quite a modern item. You can use it with the light on or just as it is depending on how light your room is. I think it looks lovely in our bathroom and it's very useful for applying make-up, shaving or eyebrow plucking.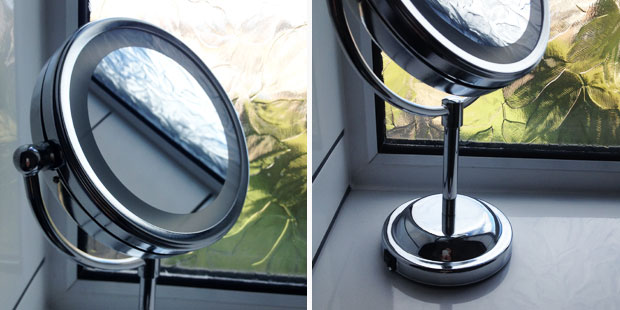 It actually moves around the house quite a lot because it's very handy to move to where the light is the best to see your skin properly. It goes very well with the other chrome details of our new bathroom, too.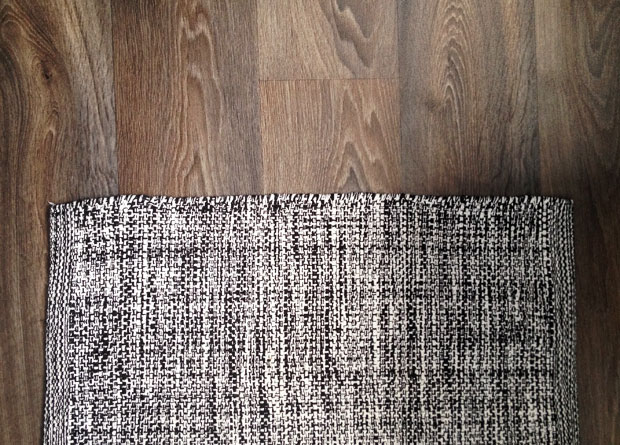 The linoleum floor is from a local floor shop and the bathmat is our old one from H&M Home. It's still going strong and the monochrome goes well with the rest of the bathroom.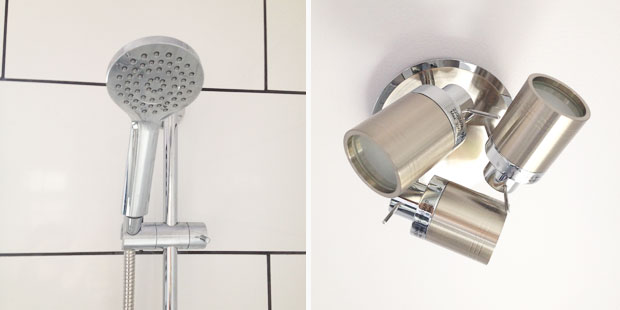 The shower and bath mixer is from BathEmpire and so is the shower/bath screen, the cabinet and the small sink with vanity unit. We had to install pumps in our loft to get good pressure in our taps, though. The ceiling lamp is from Argos.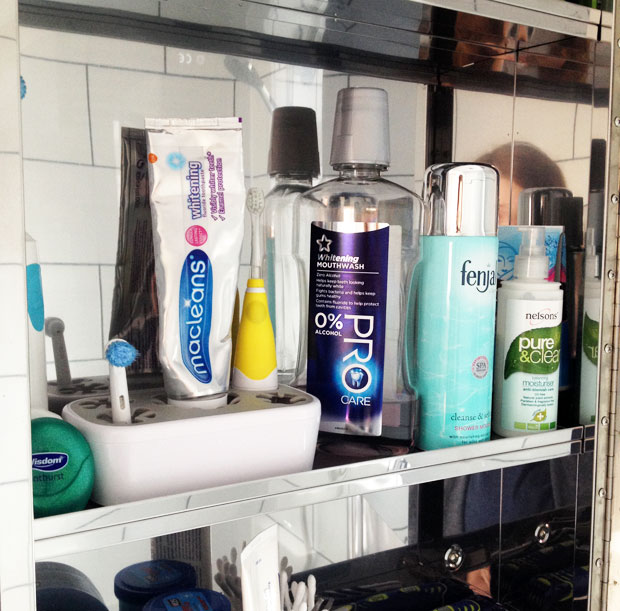 Here's the inside of the cabinet. It's all chrome on the inside too which looks nice and makes the bathroom feel bigger. It's a tiny room so every little helps! The toothbrush and toothpaste organiser is one of my favourite things and it's one I bought from OXO Good Grips last year. It keeps toothbrushes dry and clean and has room for four toothbrushes and one tube of toothpaste. You can wash it in the dishwasher when needed.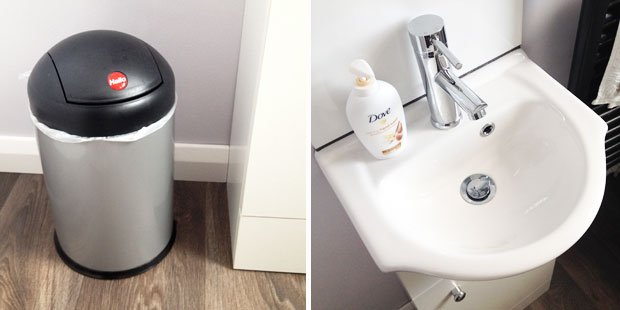 One of the last items that we bought was a new bin. Our old one was turquoise and I'd had it since I was a teenager so it was time for it to go. I went for the Hailo Sienna Swing Silver Bathroom Bin. It's a 4l bin so ideal for small bathrooms and the swing lid is easy to use. It's got an inside bin that you can take out for easy cleaning. It's available in lots of different colours.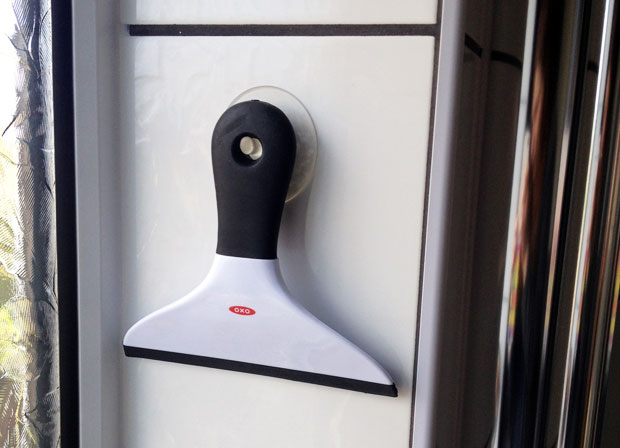 When you have a shiny new bathroom, it's important to keep it looking nice and to keep it clean. To clean our shower screen we have this super cute OXO Good Grips Mini Squeegee*. It's so tiny and adorable! It even fits in our window and comes with a suction hook to hang it on. It's the perfect size for small bathrooms and makes keeping the shower screen clean easy and enjoyable.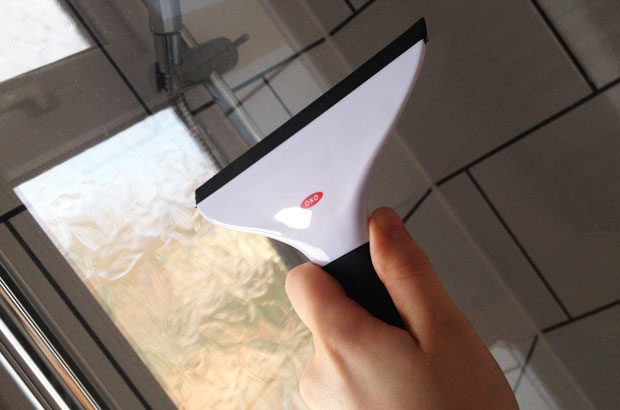 We also have the OXO Good Grips Compact Dustpan & Brush Set*. It's also very small and really handy for tiny bathrooms. It fits neatly into our small cupboard and is great for cleaning up spills in the bathroom. Think toddlers and bath salts! You store the brush inside the dustpan and it even locks in any crumbs or bits that you've cleaned up. This item would also be great for the kitchen.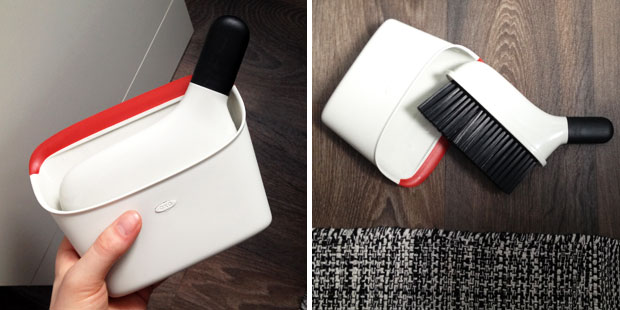 Last but not least, we even have a stylish and clever new toilet brush — The OXO Good Grips Compact Toilet Brush*. The canister springs open automatically when you lift the brush out and stores and covers it neatly when not in use. The brush has a secure and comfortable grip, a flexible neck and tapered brush head for easy cleaning in hard-to-reach places. The best bit is that the canister has a drip tray with ventilation slots which means the brush is never sat in water and the water can evaporate quickly. It's the most hygienic toilet brush I've ever seen.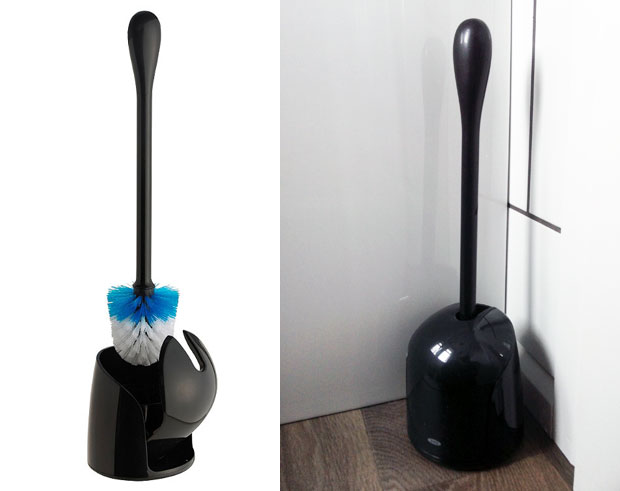 We still have a few bits that we need to buy and that's a toilet roll holder and some new hand towels. I think we'll get those bits from IKEA. The bath and the toilet are from PlumbWorld.
*These four accessories are PR samples, everything else has been bought by us. Thank you, OXO Good Grips and Valuelights! All thoughts and opinions are my own.