Nipper & Co Tea Review – Speciality Teas for Growing Families
|
Nipper & Co Tea Review – Speciality Teas for Growing Families
I love tea and trying different flavours and brands to find new favourites! A brand that I've recently been introduced to is Nipper & Co that makes speciality tea blends for growing families.  It's a small mum-run business which is lovely!
Marina, the founder of Nipper & Co, says:
"I strongly believe in power of nature and want to support mamma's and their growing families around the world, with our wonderful, premium quality, all organic herbal infusions and teas.
My personal experience of motherhood was an inspiration behind all Nipper&Co blends. I tried to bring tradition of herbal teas, from my home country Croatia, mix it with science and what I have learnt during my studies as agronomist and add lots of love and care while doing it. Because I faced most of those sweet troubles of parenthood and know how every little support makes a difference.
Herbs in blends are traditionally used to support you and your families' wellbeing. From pregnancy, nursing, colic, relaxing and sleep to immunity and giving you that often needed pick me up kick when the tough gets going."
I've tried the full range of Nipper & Co teas that includes the following teas:
Organic Happy Bumps – For Pregnant Mamas
Happy Bumps is a gentle herbal infusion with raspberry leaf (some pregnant ladies avoid raspberry leaf in the first trimester), ginger, rose petals and subtle minty taste. It's especially designed for pregnant ladies and can be enjoyed throughout pregnancy. It's relaxing and tasty! It's so important to take some time to relax and pamper yourself during pregnancy as stress is not good for the baby or the mum-to-be.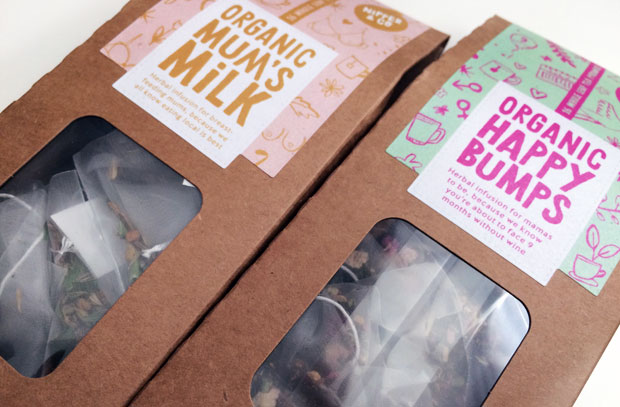 Organic Mum's Milk – For Nursing Mamas
Mum's Milk is a herbal infusion of aniseed, fennel and fenugreek. This blend is traditionally used to support lactation in breastfeeding mums. It's a completely natural way to boost your milk supply and relax at the same time. I'm personally not a fan of aniseed and fennel but would still drink it to support my milk supply when breastfeeding.
Organic Calm Tummy – For Baby's Digestion
Calm Tummy can be used by little ones and big ones to help with colic and digestion. It's got aniseed and fennel in it which is calming for the digestive system. Again, I'm not a fan of aniseed or fennel but it's true that they help keep tummies happy! My mum and sisters love liquorice so I'm sure they'd love this one!
Organic Kids Cuppa – For Kids, Even Adult Sized Ones
A tea for kids! Wonderful! This is a super fruity blend with elderberries, hibiscus, liquorice, cinnamon & orange peel. It's full of yummy flavours but free from caffeine. It can enjoyed by the whole family at any time of the day and can be drunk warm or cold brewed — perfect for summer!
Organic Sip 'n' snore – For Easy Sleep & Relaxation
I love a soothing cup of tea at the end of the day to help me get ready for bed. This is a soothing herbal infusion of chamomile, linden blossom, valerian and lavender which is ideal to help you prepare for a restful night's sleep. It tastes lovely and it's a nice little bedtime ritual to have a cup of Sip 'n' Snore in the evening.
Organic Green Supreme – For Your Mind, Body & Soul
I love a good green tea! Green Supreme is an uplifting Vietnamese green tea blend with powerful Yerba Mate and Siberian Ginseng. It's designed to supercharge your mind, body and soul and has a subtle zing from ginger and lemongrass. It's a very tasty blend that's ideal when you want to feel a bit more perky but don't want to have a coffee or a cup of black tea. Ginseng is also great for your immune system!
Organic Wake Up Brew – For Energy & Immunity
This is my favourite from the range! Black tea is lovely and I definitely enjoy the caffeine being a sleep-deprived, busy mama! It's not easy to find a perfect black tea that brews well and is full of flavour. I love this one! It's made from Indian Assam & Sri Lankan black tea with Yerba Mate for energy and Siberian Ginseng for immunity. It's a blend designed to wake you up and keep you energised throughout the day. It's lovely with or without milk, hot or cold.
Nipper & Co teas are really lovely and I love the fact that they're all organic blends designed for the needs of families, from conception onwards! Shop Nipper & Co teas here.
Samples were provided for this review. As always, all my reviews are 100% honest and all thoughts and opinions are my own.