OXO Tot Bottle Drying Rack Review
|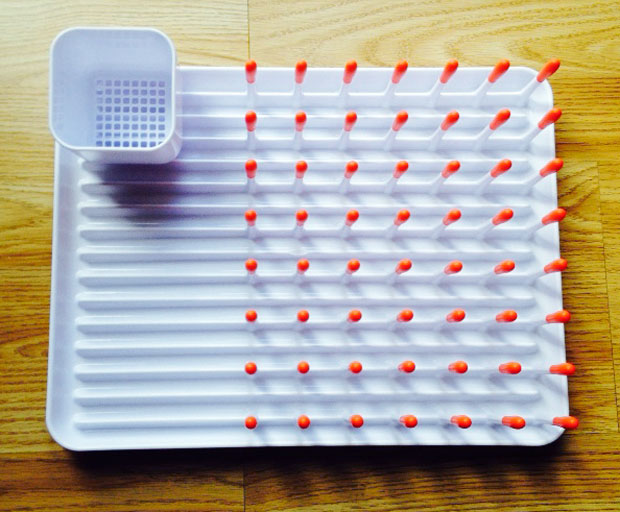 OXO Tot Bottle Drying Rack Review
I never thought I could love a dish drying rack but I have to admit that I do! This beautifully designed OXO Tot Bottle Drying Rack is absolutely brilliant. Not only is it extremely pleasing on the eye but it is also very practical.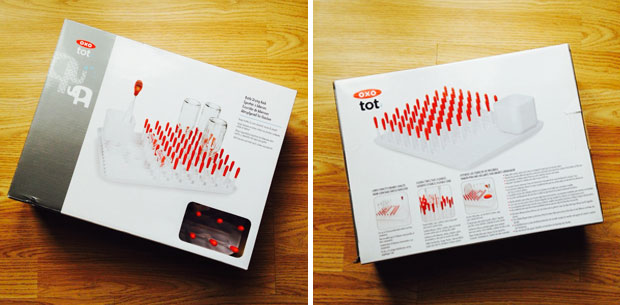 It's big enough to fit at least 8 disassembled baby bottles and their components and keeps them upright and secure. Thanks to the raised ribs on the bottom of the tray, the items never sit in a pool of water which helps keep them dry and sanitary. This also ensures airflow meaning the items will dry faster. There's extra space at the front for small parts and a removable cup that fits on different parts of the tray. This cup is perfect for children's cutlery, straws and medicine droppers. I also use it for bottle and sippy cup vents.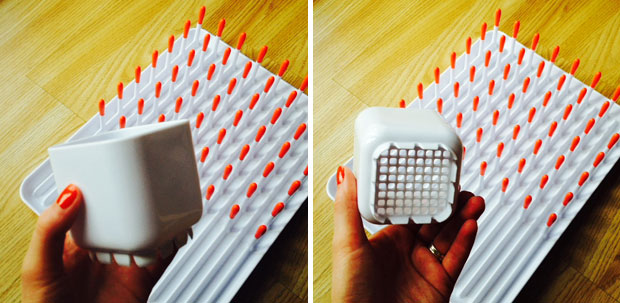 The corners are rounded which makes it really easy to pour out excess water. On the bottom of the drying rack, there are non-skid feet that make sure the rack stays in place wherever you put it. They also elevate the rack from the surface it's stood on, keeping the bottom nice and dry. They also make it easier to lift it if your need to move it or pour out water.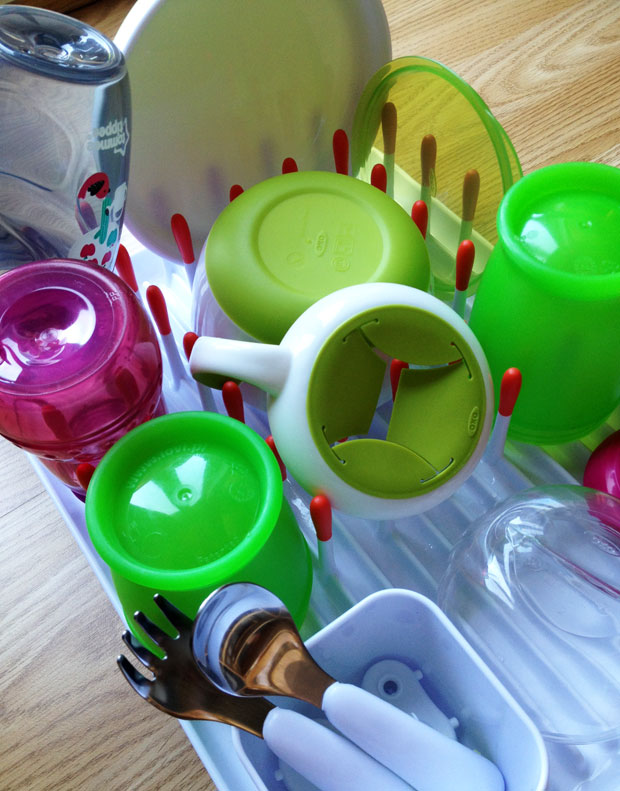 The size of the drying rack is 34.6cm x 25.7cm which means it doesn't take up much space at all but it can still fit so many things! I'm so impressed, I even use it for our regular dishes now and have thrown out our old stainless steel one (that kept getting rusty!). This one from OXO Tot is much more hygienic and so pretty!
The rack can fit lots of bottles or a combintaion of baby/toddler items like plates, cups, snack pots, bowls and cuttlery.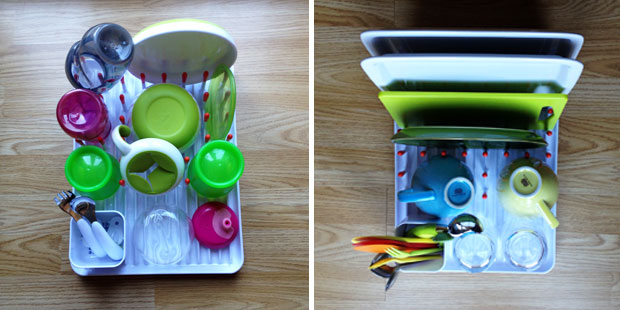 When I use the rack for our normal dishes it can fit a couple of meals' worth of dishes for two. Our big square plates fit perfectly! Something that I love about this dish rack is that it is so easy to keep clean and hygienic. There are no parts that can rust and if you pour away the water everytime you put away your dishes it will look spotless. You can also wash the whole thing in the top rack of the dishwasher to give it a deep clean every once in a while if you feel it's needed.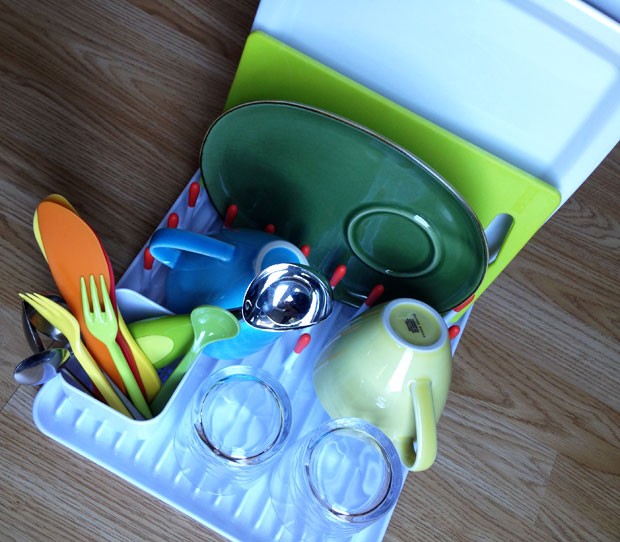 Below you can see two of the feet on the bottom. They grip really well! I love how their colour match the tines of the rack even though you never really see the feet.

The tines are flexible and make it really easy to dry items of all different shapes. Here's a close up! I love the contrast of the bright white and the orange-red colour of the tops. To me, nicely designed items are very important. I love the combination of clever and pretty design especially for everyday items because it makes tasks that are usually boring a lot more fun to do.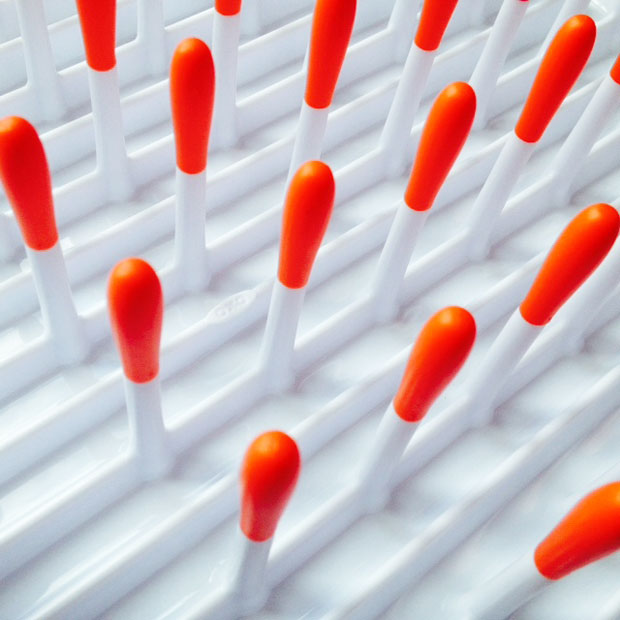 Washing bottles and doing all the other dishes is much more enjoyable now that I have this. Read more about it on OXOuk.com and buy from Amazon.co.uk. The RRP is £15.50 which I think is great value for such a high quality product.
I was sent this item for this review. As always, all my reviews are 100% honest and all thoughts and opinions are my own.