Ozeri CardioTech Pro Series Digital Blood Pressure Monitor Review
|
Ozeri CardioTech Pro Series Digital Blood Pressure Monitor Review
To monitor my blood pressure during pregnancy to ensure it doesn't get high, I wanted to have a blood pressure monitor to use at home so that I can check my blood pressure between midwife appointments.
The one I have is the Ozeri CardioTech Pro Series Digital Blood Pressure Monitor and it's a very simple-to-use device. It's small, compact, portable and comes with its own protective case to store it in when not in use at home or when travelling.
CardioTech products offer clinically proven technology and are used by physicians and hospitals around the world and the Ozeri CardioTech Blood Pressure Monitor is an advanced wrist cuff monitor with a new intelligent voice-guided feature that helps you to position your wrist at the correct height for accurate blood pressure measurements. Very clever!
The voice will also provide a hypertension assessment after each measurement, indicating whether your blood pressure is normal or not. In theory, you don't even need to look at the screen. Of course, it also displays the readings on the screen. The blood pressure monitor automatically classifies each blood pressure reading according to the World Health Organization's hypertension guidelines and can calculate average blood pressure readings based on all readings in memory, AM versus PM readings, or the 3 most recent readings. The device also detects irregular heartbeat, arrhythmia.
You can set two different user profiles which can each hold 90 readings with date and time recordings. You can change the date and time for the device and choose the unit of measurement — mm Hg or kPa.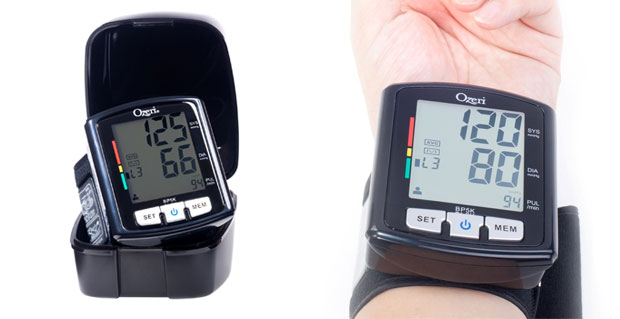 If you wish to turn off the assisted positioning sensor off you can also do this but I find it extremely helpful to have it on. You can adjust the volume of the voice to suit you.
The positioning help makes it so easy and quick for me to check my blood pressure daily. I just put it around my wrist, press the power button and let the voice guide me into position. The reading is done automatically and I listen to my assessment. The voice can sound a bit funny while you are repositioning your arm as it tries to start the same sentence over and over to let you know that it's not correct yet but once you've found the correct position it let's you know.
The Ozeri CardioTech Blood Pressure Monitor comes with 2 AAA batteries included, a 5 year warranty and a user manual that fits into the carry case and contains all the information you need about the device and some information about blood pressure. It's a great device to have at home to monitor your blood pressure and it's so easy to use!
The Ozeri CardioTech Blood Pressure Monitor has an RRP of £69.99 but costs just £24.99 from Amazon.co.uk which is a great price for such a clever product!
Read more about high blood pressure and pregnancy.
I was sent this device to review it. As always, all my reviews are 100% honest and all thoughts and opinions are my own.