Palmer's Cocoa Butter Formula Concentrated Cream Review
|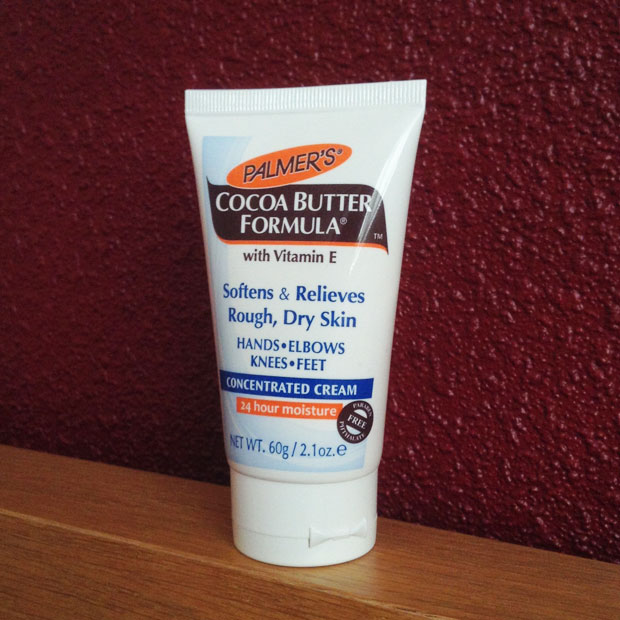 Palmer's Cocoa Butter Formula Concentrated Cream has become a staple on my bedside table. It's a very concentrated cream perfect for dry hands and feet. I use it daily on my hands and as a foot treatment every now and then. It absorbs quickly and makes my hands softer and moisturised straight away. The cream smells lovely and cocoa buttery and is very affordable, too! Perfect!
I'm the kind of person that always needs to have a hand cream available – there's one in each room of our house and always one in my bag. I can't stand having dry hands but unfortunately it is a side effect of all the hand washing I need to do. This cream gets my hands back to their comfortable and soft condition very quickly, though.
I must wash my hands over 30 times a day: my bladder is tiny and I drink a lot of coffee and tea so that means I need to wee often and therefore wash my hands, I'm with a baby all day and night and they are messy and need nappies changing and that equals even more hand washing, I always wash my hands after being outside, I practice immaculate food hygiene and do dishes by hand, I wash my hands before I wash my face, before I do my make up…etc. That's a lot of hand washing and I also use hand sanitizer a few times a day, especially when we're out and about. No wonder my hands get dry, but hygiene is very important and I've got the perfect cream to care for my hands.
This will be great this winter! The cold weather always makes my skin go extra dry.
Are you addicted to hand cream? Have you tried Palmer's Cocoa Butter Formula Concentrated Cream?