Perfect Christmas Gifts – Skincare Gift Sets from AA Skincare
|
Perfect Christmas Gifts – Skincare Gift Sets from AA Skincare
Something I both love to give and receive is skincare gift sets. It's lovely to receive a kit with products to encourage you to carve out a bit of pampering time and products that are part of the same range or series always seem to work really well together and make a gift feel even more special. It's also a great way to introduce your favourite brands to your loved ones.
AA Skincare has launched a range of ethically sourced, gorgeous beauty and skincare gifts made from pure essential oils and classic natural ingredients such as Lavender, Frankincense and Sandalwood and there are lots of different ones to choose from for different recipients and budgets. There are eight beautiful sets to choose from which you can see and read more about below.
"From beauty boosting face masks and lotions to soothing liquid soap and hand creams, each natural beauty kit is the perfect gift to give all ages and all skin types a treat.  Beautifully packaged in soft colours, each kit is designed to nourish and hydrate skin to restore its natural balance."
A delicious duo of rejuvenating Rose and anti-oxidant rich Pomegranate work together to nourish hair, leaving it soft and silky. Packed with vitamins and anti-oxidants for healthy hair.
Contains: Rose & Pomegranate Shampoo + Rose & Pomegranate Conditioner
From anti-inflammatory Arnica to anti-bacterial Teatree, these naturally effective first aid essentials are perfect for soothing anything from insect bites to fungal infections.
Contains: Arnica Gel First Aid Essential, Lavender Calming Multipurpose Gel + Tea Tree Natural Antiseptic Gel
Designed to help hard-working hands recover, naturally moisturising Almond & Sandalwood cream works with uplifting and revitalising Peppermint & Ginger liquid soap to nourish and protect hands.
Contains: Peppermint & Ginger Uplifting Liquid Soap + Almond & Sandalwood Moisturising Hand Cream
Featuring naturally antiseptic, antibacterial and antifungal Lavender and Teatree, this calming and soothing collection helps to balance acne prone skin.
Contains: Lavender & Tea Tree Cleansing Face Gel, Lavender & Tea Tree Moisturising Face Lotion + Lavender Calming Multipurpose Gel
This skin nourishing kit is rich in antioxidants and vitamins. Palmarosa rejuvenates and regenerates skin, promoting healthy cell growth.Sandalwood softens and conditions.
Contains: Sandalwood & Palmarosa Cleansing Face Gel + Sandalwood & Palmarosa Moisturising Face Lotion
The perfect hydrating collection to ensure skin stays fresh and supple.  From Neroli and Aloe to Lavender and Rosemary, a gorgeous mix of natural ingredients and essential oils help to revitalise and nourish skin.  
Contains: Seaweed & Aloe Eye Gel, Deep Cleansing Oil with Rosemary & Olive Oil, Lavender & Tea Tree Cleansing Gel + Neroli & Aloe Moisturising Face Cream
Our best-selling Frankincense & Rose range is at the heart of this facial rejuvenating kit – developed to hydrate, tone and firm skin, helping to slow down the signs of ageing.  Packed with anti-oxidants and suitable for all skin types.
Contains: Rejuvenating Rose Hydrating Daily Face Gel , Frankincense & Rose Cleansing Face Gel, Frankincense & Rose Moisturising Face Lotion + Frankincense & Rose Moisturising Face Cream
A beauty boosting clay and gel mask collection to tone, revitalise and balance skin, leaving it soft and smooth.  The perfect skin detox.
Contains: Mint & Dead Sea Salt Deep Cleansing Clay Mask, Frankincense & Rose Deep Cleansing Clay Mask + Vanilla & Honey Skin Polisher Clay Mask
I have the Refresh & Renew Face Kit and it came beautifully boxed and the products are lovely! These Skincare Gift Sets from AA Skincare are a great way to treat friends and family this Christmas and introduce them to a wonderful brand of natural skincare products.
AA Skincare Black Friday Offer
Enjoy free postage and packing plus free facial or bodycare cleansing wipes (worth £3.30) between the 23rd November and the 27th November 2016.
"Natural beauty and skincare brand, AA Skincare, has a fantastic, 'Black Friday' offer on its new, ethically sourced, seasonal gift packs – and you don't have to leave the house to shop.

Customers will receive free postage and packing as well as a free pack of either Green Tea & Aloe Vera Cleansing Wipes or Tea Tree Oil & Aloe Vera Bodycare Wipes. But hurry, only the first 25 of each gift pack is subject to this once-only, 'Black Friday' offer."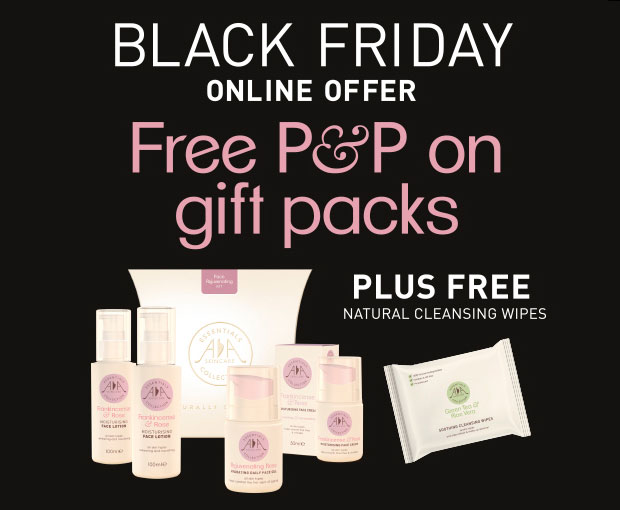 Find out more or order by visiting www.aaskincare.co.uk. Order by Friday the 16th December for UK delivery before Christmas.
I received a gift set to include in this post. As always, all my reviews are 100% honest and all thoughts and opinions are my own.