The Primal Pantry Raw Paleo Bars Review
|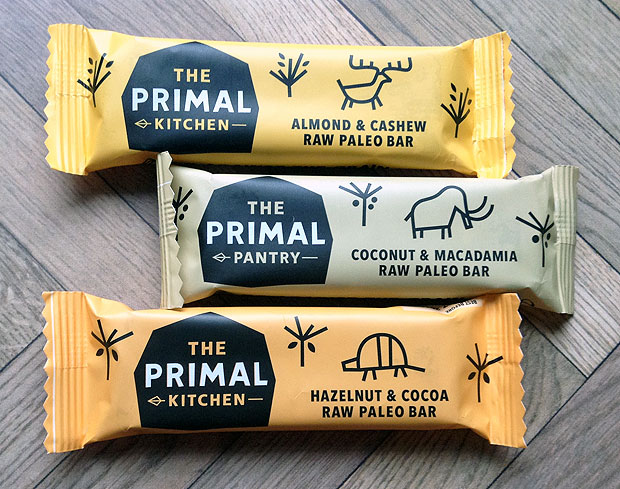 The Primal Pantry Raw Paleo Bars Review
Last week I bought and tried some new snack bars! I love healthy and yummy bars to eat as a mid-morning or afternoon snack so am always interested in trying new ones.
These three are from The Primal Pantry (just recently changed its name from The Primal Kitchen). I ordered mine from Superdrug and bought all the flavours they stock – Almond & Cashew, Coconut & Macadamia and Hazelnut & Cocoa. They had a great offer where you could buy any two for £2. The bars normally cost £1.49 each so 2 for £2 was a bargain. I got two of the Coconut & Macadamia flavour because it sounded the best.
About The Primal Pantry: "The Primal Pantry's purpose is to provide a range of tasty nutritious foods, which fully compliment a paleo lifestyle, free of any grains, dairy, refined sugars and vegetable oils and always made with 100% natural ingredients."
The bars are handmade and cold pressed in the UK. The ingredients lists are very short and only have items that you are likely to have at home. The fruits used are free from vegetable oils, sugar and sulphites. The bars are suitable for vegans, vegetarians and people eating a gluten free or raw diet.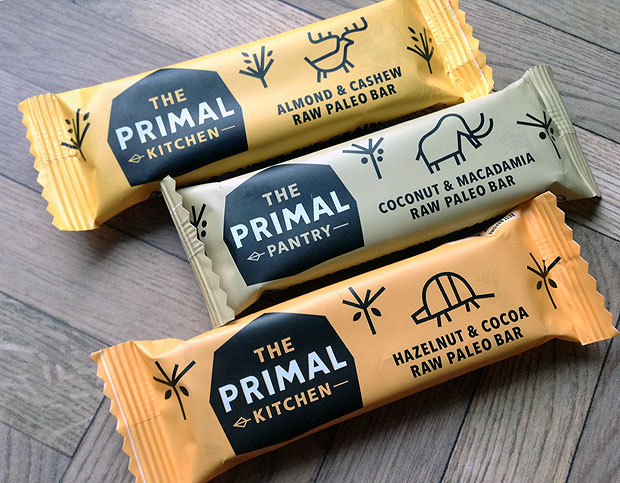 Let's get to the flavours!
Almond & Cashew
This bar contains: Dates, Almonds, Cashews, Almond Oil, nothing else! Almonds and cashews are quite mild nuts and this bar tastes mainly of dates with some delicious crunch. I like that the almond is not overpowering because when it is it usually means that almond flavouring has been used (something I don't like the taste of). The Almond & Cashew bar tastes natural and real.
Coconut & Macadamia
This bar contains: Dates, Coconut, Cashews, Macadamia, Almond Oil, nothing else! This is my favourite one! The combination of coconut and macadamia always works for me — it's so delicious! The bar is crunchy and rich and the lightness and fruitiness of the coconut goes so well with the buttery macadamia nuts. The Coconut & Macadamia bar is awesome! I need to buy a full case.
Hazelnut & Cocoa
This bar contains: Dates, Hazelnuts, Almonds, Organic Cocoa, Organic Vanilla, Almond Oil, nothing else! This is one for the dark chocolate lovers out there. The Hazelnut & Cocoa bar is indulgent, dark and rich — perfect if you're craving chocolate but want to make a healthier choice. The vanilla gives the bar a hint of sweetness to balance out the cocoa. Hazelnut and chocolate is a classic flavour combination that can't go wrong.
I loved trying these healthy raw snack bars! There are a few more flavours, like Brazil Nut & Cherry and Apple & Pecan, that I would love to sample too, but I can't find anywhere to buy them individually near me or online.
Visit theprimalpantry.com for more information and stockist and follow on Twitter for the latest news.