Review: My First Touch and Find & Big Steps Toddler Books
|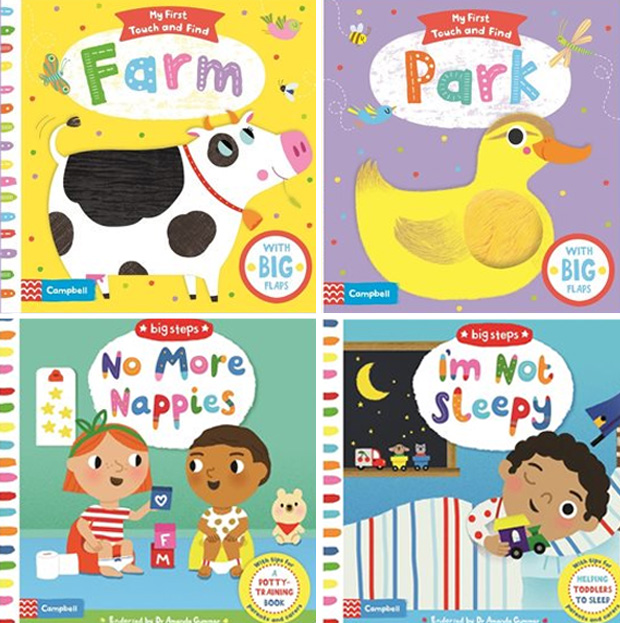 Review: My First Touch and Find & Big Steps Toddler Books
My two girls are book worms (like their mother!) and have both loved reading books from a very early age. We've got four new books from Campbell Books which is one of my favourite children's books publishers. These books are from two new series called My First Touch and Find and Big Steps.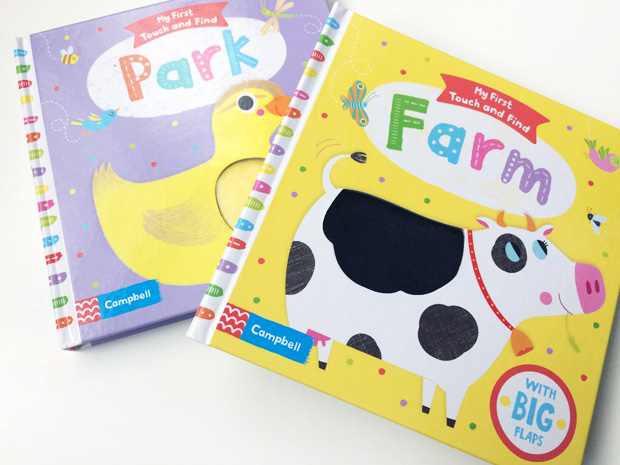 My First Touch and Find

This brand new series is aimed at babies and toddlers aged 6-18 months. The books are gently educational and tactile and each page has a touch and feel patch and a large flap to lift and explore. They're perfect for curious little hands and there are lots of exciting textures for your little one to engage with as you read the book to them.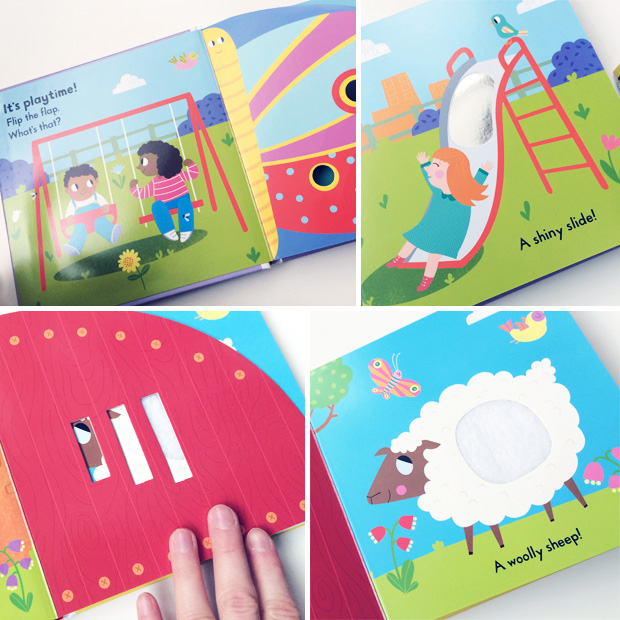 We have the Park one and the Farm one but there are two more books in the series too – Sea and Zoo. These two other books will be released in July this year.
Touch and feel books are great for babies as they help develop sensory awareness as your baby explores through touching, increase vocabulary by associating words to texture and makes book reading extra fun and interactive.
Both my girls aged nearly 2 years and 4 years love these books but especially my youngest. There are lots of familiar things in Park and Farm and she loves looking out for her favourites from the park and our local farm and feeling the different textures and looking behind the flaps.
The illustrations are beautiful and colourful and I love the educational aspect of trying to remember what's behind each flap and looking out for things. The textures are brilliant of course and the text asks questions which keep older kids challenged and entertained too.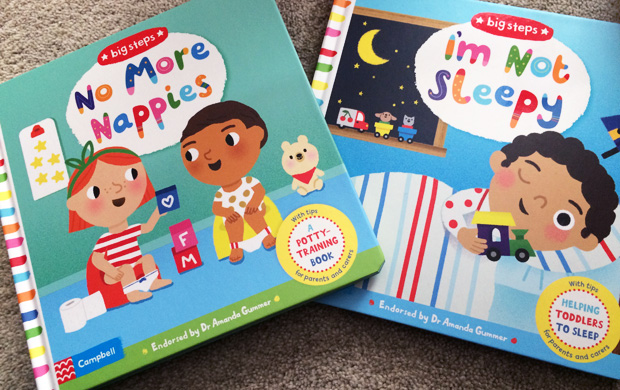 Big Steps
The second series is one for toddlers and it's all about those important big steps that toddlers go through. The first two books that have been released are No More Nappies and I'm Not Sleepy. There will be two more books in this series too – We're Having a Baby and I'm Starting Nursery. These will be released later this summer.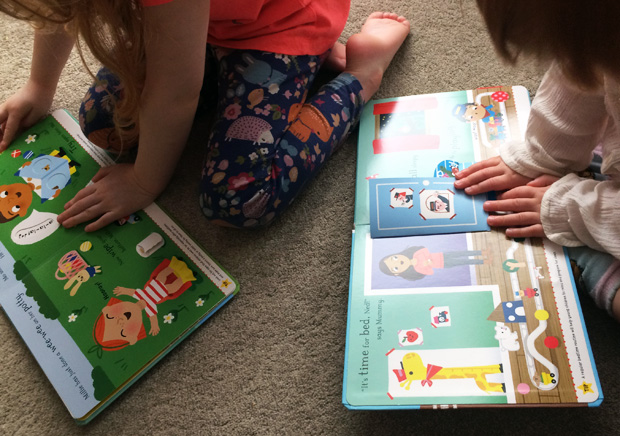 I believe that books can really help children learn how to cope with different challenges that life brings and I always try to find books to help my girls when there's a big change.
In No More Nappies, we meet Millie and Mo who are two toddlers who are ready to potty train. We follow them through the ups and downs of potty training with lots of fun flaps to peek behind and mechanisms to pull to make items move on the pages.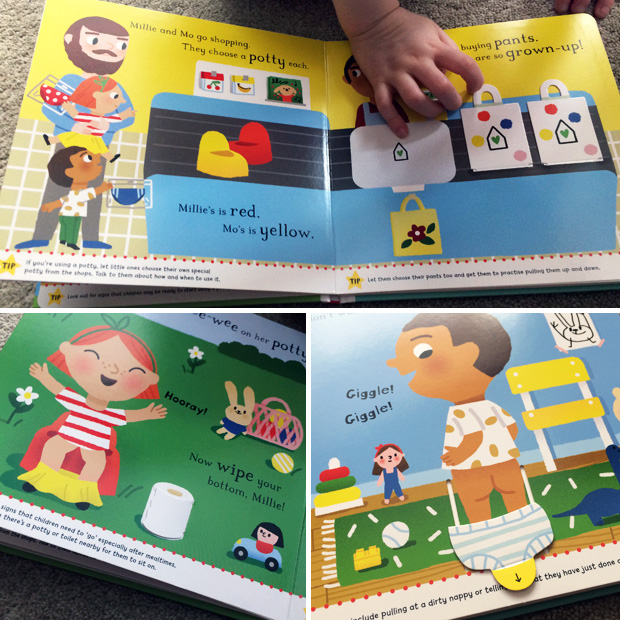 In I'm Not Sleepy, we meet Ned and his mummy and see their bedtime routine. Ned has to clear away his toys, have a bath, then go to bed for a bedtime story and song. He's not sleepy though! I'm sure all parents and kids recognise this! This book also has fun flaps and mechanisms – you can even help Ned brush his teeth!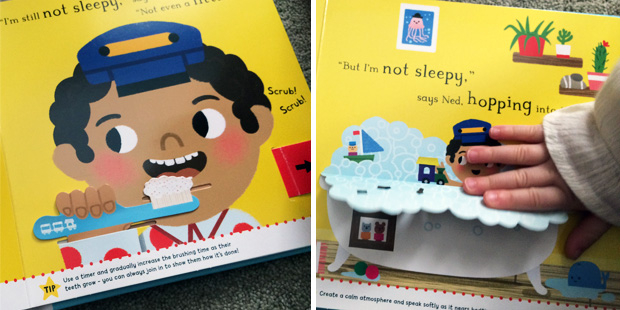 Both books in the Big Steps series also have practical advice for parents and carers on how to deal with these situations – very helpful and innovative to build these into the children's books. The tips are all by leading Early Years Consultant, Doctor Amanda Gummer.
The girls love these books too, especially my eldest who's good at using the mechanisms. My toddler loves lifting the flaps and the topics are more related to her, especially the potty training one as that's something that we'll be doing soon.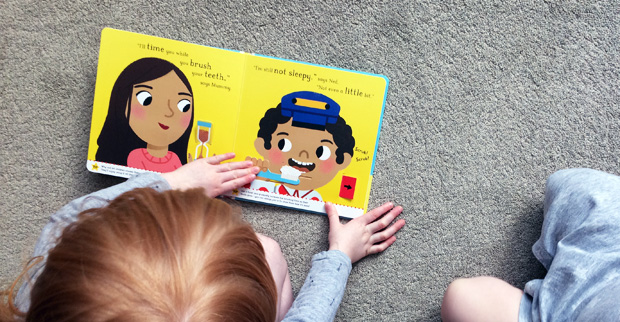 All four books are brilliant and so loved already and I definitely need to keep an eye out for the next four books to be released in these series.
We were sent these books for this review. As always, all my reviews are 100% honest and all thoughts and opinions are my own.