Skip Hop Dream & Shine Sleep Trainer Review
|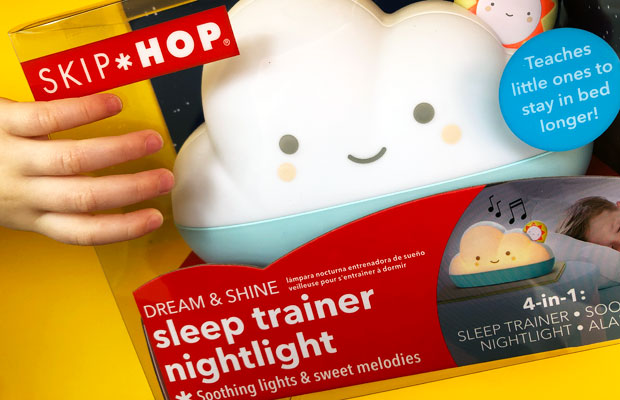 Skip Hop Dream & Shine Sleep Trainer Review
My middle daughter has just turned five and is really good at going to bed when we tell her it's time, but she likes having some kind of light on when she goes to sleep.
We are using the Skip Hop Dream & Shine Sleep Trainer as a bedtime light for her, and she absolutely loves it. It's a really sturdy lamp that has lots of handy features and it's very cute too! It's perfect for my daughter who loves happy clouds!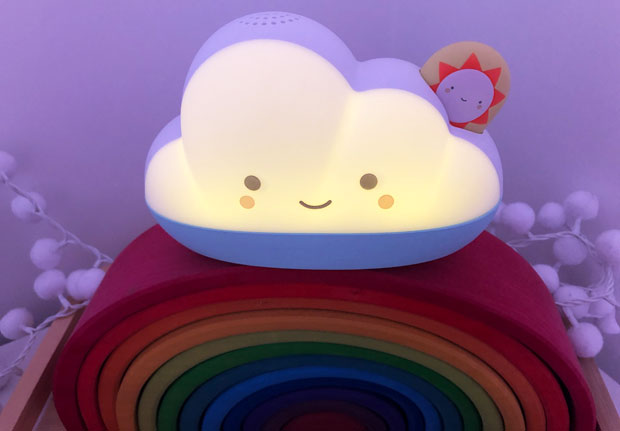 The Skip Hop Dream & Shine Sleep Trainer has been designed to encourage better sleep habits. Its 4-in-1 design means it's a sleep trainer, soother, nightlight and alarm all in one. Please note that it's not a nightlight that stays on all night – it turns off automatically. I know some families need a nightlight that stays on throughout the night and this does not do this but its features suit lots of other families – like ours – very well.
It can be used as part of your bedtime routine, for nap time and/or to show children when it is too early to get up in the morning. We found it easy to set up and customise for our needs as a bedtime light for our middle daughter.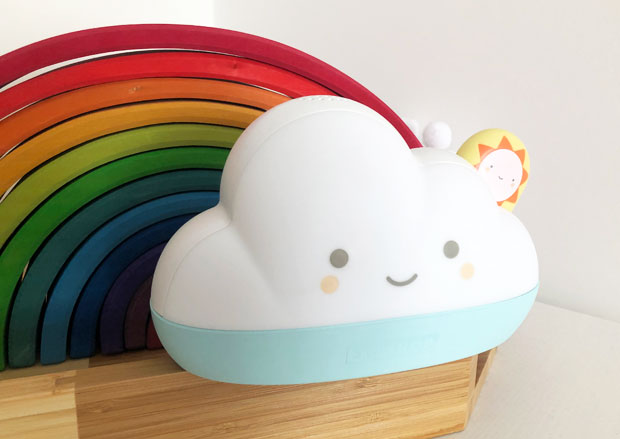 The lamp runs on USB cable (included) or 4 x AA (not included). We have chosen to use batteries so that our daughter can move the light around. We keep it higher up in the day so that our toddler doesn't reach it and then our 5-year-old moves it to where she wants it when it's her bedtime. She turns it on when it's time to sleep – with our settings, it's yellow at this point, then turns red for our set bedtime time.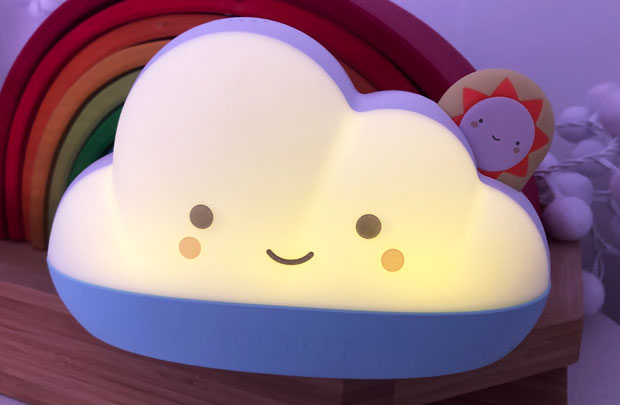 You can also have the Skip Hop Dream & Shine Sleep Trainer play calming, soothing sounds (white noise or gentle rain) or a lullaby to help your little one fall asleep.
For the morning time, you can set it to have an alarm which is a sweet song and a green light that shows that it's okay to get up.
The cloud's colours are easy to understand for little ones: Red means it's time for bed, Yellow means it's almost time to get up and Green means it's fine to get up.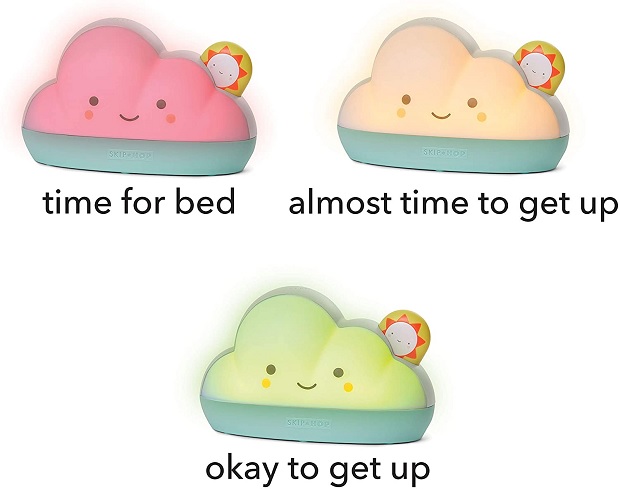 To control the lights and the music, you use the sun button on the side of the cloud. The built-in power save mode ensures it turns off after 20 minutes maximum.
The Skip Hop Dream & Shine Sleep Trainer is available to buy from John Lewis, Next and some online stockists.
This product was sent to us for review. As always, all my reviews are 100% honest and all thoughts and opinions are my own.