The 14 Day Challenge To A Tidy Home | Result & VonHaus Vacuum Review
|
The 14 Day Challenge To A Tidy Home | Result & VonHaus Vacuum Review
Just over two weeks ago, I joined in with the VonHaus 14 Day Challenge to a Tidy Home to kick start some new or improved habits to help keep our house tidy. I've really enjoyed doing this challenge and think that it's very well thought out. Doing a specific task each day makes it much less overwhelming staying on top of the chores!
You can of course start this challenge at any time and keep rotating the chores as needed. Some things need doing more often than others but you'll soon find what works for you.
The 14 Day Challenge To A Tidy Home
As a reminder, here are the tasks for the different days (see my previous blog post here for more details):
Day 1: Bins and recycling: sort through all the bins in your house and get your recycling separated.
Day 2: Wipe down your kitchen units and steam the cooker tops.
Day 3: Empty and clean out the fridge freezer — don't forget the kitchen cupboards!
Day 4: Vacuum Day: Focus on the floors, give all the rooms in your house a good vacuum.
Day 5: Vacuum Day: Move the furniture and hoover those hard to reach areas of your home.
Day 6: Clean the windows — inside and out!
Day 7: Wash the curtains and wipe down the blinds.
Day 8: Take everything off the sideboards, shelves and get dusting!
Day 9: Get your bedding, blankets and cushions washed — after all everyone loves fresh bedding!
Day 10: Wardrobes: Clear out any old clothing, reorganise and wipe down your wardrobes.
Day 11: Remove wrinkles from clothing, curtains and upholstery.
Day 12: Wash out your shower, shower screen and/or bath.
Day 13: Let's mop: give your floors an antibacterial clean and wipe down the tiles.
Day 14: Finally take a trip to the tip: Declutter your home from unwanted clothes, items or food and take it to the tip, food bank or local charity shop.
The challenge helped me to get into a good routine for the regular chores that I need to do and also gave me an insight into the less frequent but still important jobs. We only moved to our new house right before Christmas so some of the things were not relevant to us — like emptying the fridge/freezer, decluttering our wardrobes and going to the tip/charity shop. We had been decluttering like crazy before our move!
So instead, I made sure the fridge/freezer was nice and clean and well organised and checked the wardrobes and chest of drawers for any seasonal items and tidied the clothes up a bit. I've also set up a dedicated box to use for putting things for the charity shop as I come across items we no longer use or need.
I feel like I'm off to a great start here in the new house and that being tidy will be easier now. Our third baby is due very soon so I need to really stay on top of things now!
VonHaus 2 in 1 Stick Vacuum Cleaner Review
To help me with the cleaning challenge, I was sent the VonHaus 2 in 1 Stick Vacuum Cleaner (available from Amazon.co.uk here) to try out and it's been really useful for me during this time and beyond. I reach for it all the time!
The VonHaus 2 in 1 Stick Vacuum Cleaner is a handy small and lightweight vacuum cleaner that's really easy to use and suitable for many areas of the home.
It can be used at full length using the long extension handle or without it for handheld cleaning. I prefer it as a handheld vacuum cleaner and find it great for giving the kitchen a quick tidy up after the kids have left a million crumbs on the floor and for quick vacuum jobs around the house and also for the car. It's great for the stairs too as it's so easy to carry and maneuver.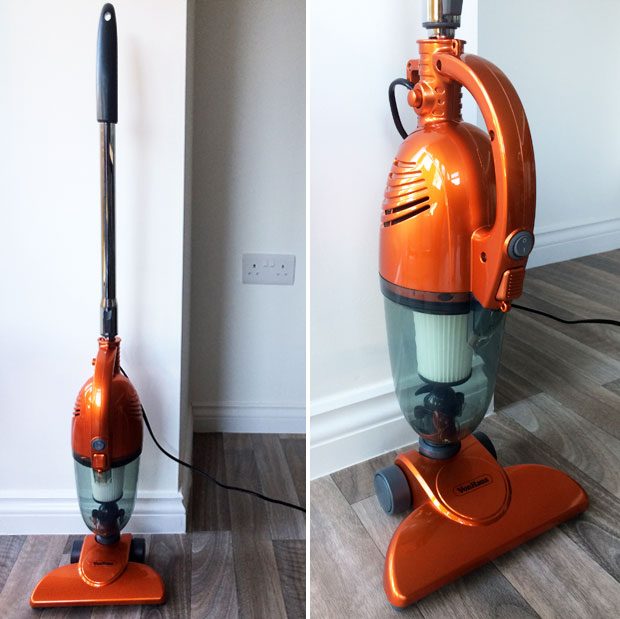 The vacuum cleaner glides really well on carpet and vinyl (the floors we have) and is really powerful. It comes with a 6m power cord which is amazing as it means you can reach very far!
It has a 1.3l tank and a sponge filtration system to lock in small particles that some vacuum cleaners would simply release back into the air of your home. This is really important when you're trying to limit the spread of dust, bacteria and allergens. The tank is easy to empty and the filter easy to clean too.
The 2 in 1 Stick Vacuum Cleaner from VonHaus comes with a standard brush head, a crevice tool and an upholstery brush for all your cleaning needs. The first few times I changed the heads, I thought it was difficult to get them off but after I'd done it a few times, it's a breeze.
This is a really handy tool to have around the house! It doesn't replace a full-size vacuum cleaner, but it makes a great addition for smaller jobs or when you simply need something handheld to access small areas or stairs. It's an absolute bargain at just £22.99 too! It's also available in Grey if you prefer. Orange is my favourite colour so this one is ideal for me.
In collaboration with VonHaus.