The Best Cushions for Spring 2019
|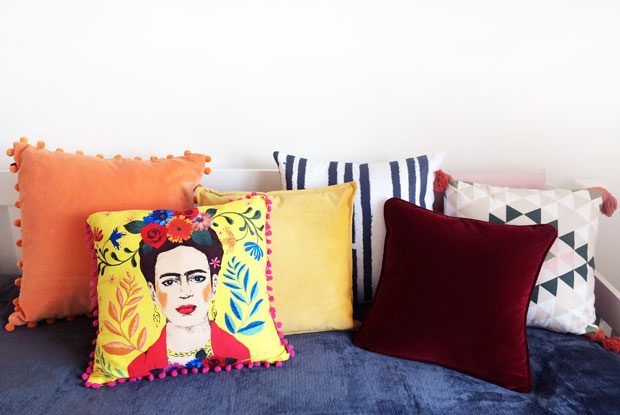 The Best Cushions for Spring 2019
As you might know, we moved to a new house right before Christmas and therefore I'm even more focussed on interior design than usual. Home décor has always been a passion of mine — as a very young child, I even favoured IKEA over toys!
In this blog post, I've gathered my favourite cushions for Spring 2019. Cushions are a great way to add style, personality, a pop of colour and of course comfort to your home in seconds.
Spring is a great time for a fresh start and injecting a new lease of life into your home by updating it with new interior details. Here are my top choices for cushions for this coming season: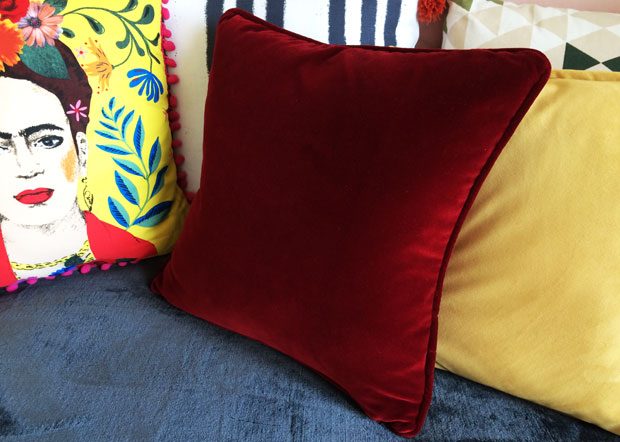 Smooth Red Velvety Cushion from Distinctive Rickmansworth
There are a few very good reasons that this stunning cushion made the list of best cushions for Spring 2019. The first is the absolutely gorgeous colour and the second is the amazing velvety texture. Both aspects remind me of a beautiful and luxurious rose! This cushion from Distinctive Rickmansworth will add a sense of luxe to your sofa or bed and you will not be disappointed with the support and quality. The dimensions are 34 × 34 × 12 cm.
All cushions from Distinctive Rickmansworth are made in the UK with local Designer fabrics. Head over to their website to check out the rest of the range!
Purchase link: Smooth Red Velvety Cushion
Price: £25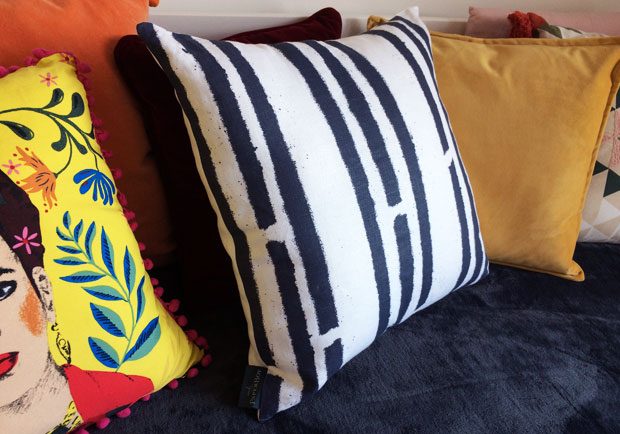 PaperBoy 'Stripes' White & Blue Cushion
This cushion is so well-made, classic and beautiful. The white and navy looks timeless, yet the rustic stripes make it look modern too. The fabric is 100% Irish linen and PaperBoy uses eco-friendly water-based inks for the hand screen print. Each cushion measures 48 x 48 cm so is nice and large. The inner cushion is a feather pad that's fluffy and of great quality.
Each PaperBoy cushion is handmade to order and sewn here in England which is wonderful! This is truly a stylish cushion that would look great in any room of the home. The quality is obvious when you look at it or touch it — it's really a beautifully crafted cushion.
PaperBoy also make matching curtain fabrics, wallpaper and lampshades if you're looking to create a themed room. They also have lots of other colours and prints for their products that you can check out on their website.
Purchase link: 'Stripes' White & Blue Cushion
Price: £85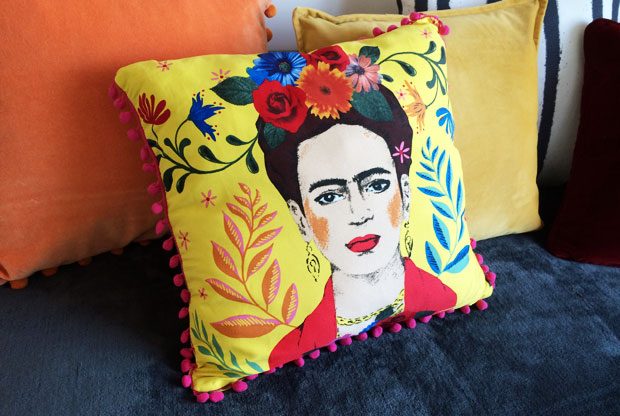 PREZZYBOX Frida Kahlo Cushion
This cushion has everything and is so colourful and bright — perfect for Spring and Summer! It's all you need to add a splash of colour to your home in seconds and it's of course a great choice if you're a Frida Kahlo fan!
This bold, bright and beautiful boho chic cushion is 40 x 40 cm large and comes complete with a comfortable inner cushion, making it ready to use and display as soon as you receive it.
All the different bright colours and colorful details make this cushion truly special — having it in the house makes me smile whenever I see it.
Purchase link: Frida Kahlo Cushion
Price: £19.99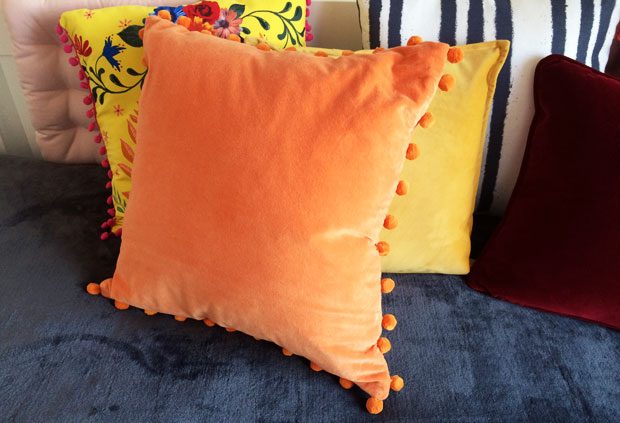 Ragged Rose Arabella Orange Velvet Pom Pom Cushion
Ragged Rose has a gorgeous range of fun pom pom cushions in lots of great colours! My favourite colour is orange so of course I went for the Arabella Orange Velvet Pom Pom Cushion. It's a lovely bright shade of mandarin orange and the trim of pom poms make a fun feature.
The material is a 100% cotton velvet pile fabric and the size is a generous 50 x 50 cm. The inner cushion is included for this cushion too and it's plump and supportive! This cushion looks great styled with other types of cushions but could also be combined with other pom pom cushions in different colours from Ragged Rose.
Purchase link: Arabella Orange Velvet Pom Pom Cushion
Price: £35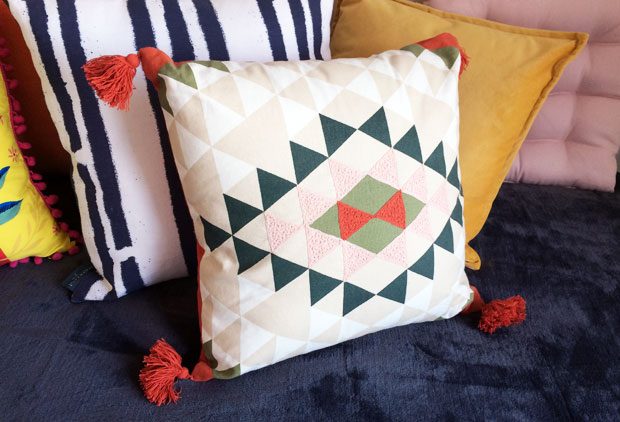 Asda George Aztec Print Tassel Trim Cushion
I'm a bit in love with this Aztec Print Tassel cushion from George Home. It's got great details in the form of colours and textures and the tassels, of course. It's very stylish and looks so much more expensive than it is too. The back of the cushion is the same rusty orange colour as the tassels and the front features a different kind of material on the orange and pink triangles. It's a good size at 43 x 43 cm and the inner cushion is nice and plump.
Purchase link: Aztec Print Tassel Trim Cushion
Price: £6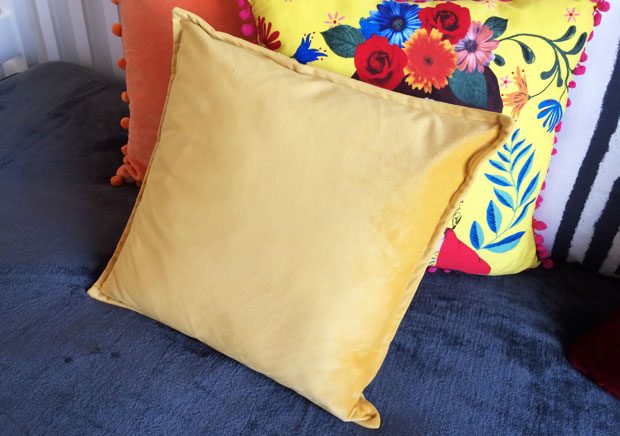 Asda George Yellow Velvet Cushion
Last but not least, we have this 40 x 40 cm cushion from Asda George. It's simple and affordable but also really nice! The velvety finish is lovely and smooth and the inner cushion is very comfortable to lean on. It quickly adds a vibrant pop of colour and the minimalist design is sure to go with any kind of décor. This cushion is also available in Orange, Blue, Pink and Grey. It's a simple but great little cushion!
Purchase link: Yellow Velvet Cushion
Price: £5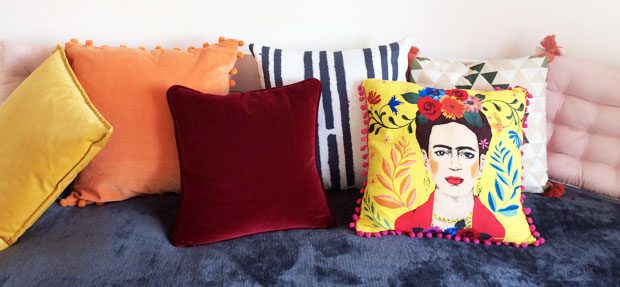 Collaborative Post. Some of these cushions are PR samples but they have all been carefully selected for this post. As always, all my reviews are 100% honest and all thoughts and opinions are my own.