The Get The Gloss Ultimate Vegan Recipe Guide Review
|
The Get The Gloss Ultimate Vegan Recipe Guide Review
This morning, I read The Ultimate Vegan Recipe Guide by Get The Gloss. It's a gorgeous guide that includes 35 plant-based and gluten-free recipes that are full of flavour and goodness. It also has a helpful introduction that covers the essential basics of understanding a vegan diet and all the information you need about a hearty, healthy vegan lifestyle. It's also got a glossary of ingredients that might be new to some readers.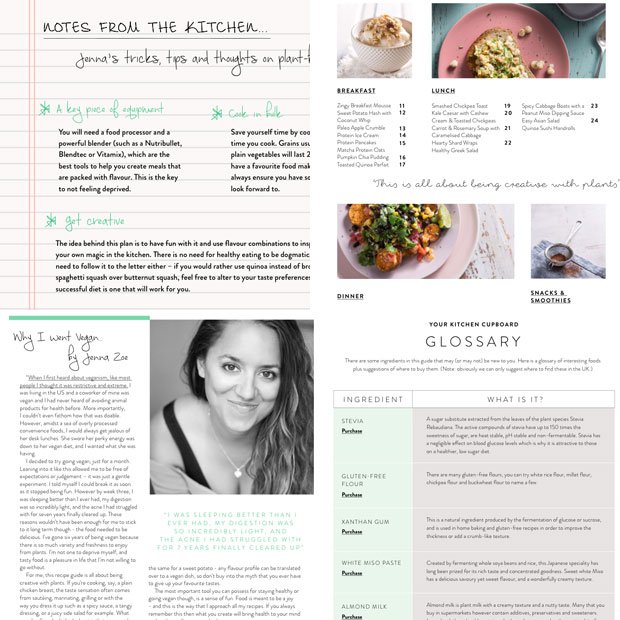 It's not at all about turning everyone vegan — it's just showing delicious and satisfying recipes that anyone can enjoy whether they're vegan or just trying to eat more healthy food and more vegetables.
The guide is full of inspiring recipes showing that vegan food is far from boring. The meals in the book are body-boosting and energy-giving and look amazing! Vegan food is not about depriving yourself and this book contains treats too, like desserts and even some great looking raw chocolates and vanilla protein cookie bites!
I'm not a vegan myself but I used to be when I was a teenager and these recipes are way more fun than what I used to eat. I'm now a vegetarian who avoids eggs so vegan food is still a big part of my life and this little book has given me lots of inspiration and ideas to try.
The photos of the food are really beautiful and the recipes are easy to follow and not complicated at all. The food is all fresh and looks delicious! They whole layout of the books is very well designed too — pretty and pleasing on the eyes.
I recommend this e-book for anybody curious to expand their culinary skills and who want to explore some tasty vegan food. You can download the guide here — the full version costs just £6.95.
I was sent this e-book for review. As always, all my reviews are 100% honest and all thoughts and opinions are my own.