Caribbean Food Week 2015 – Products & Recipes
|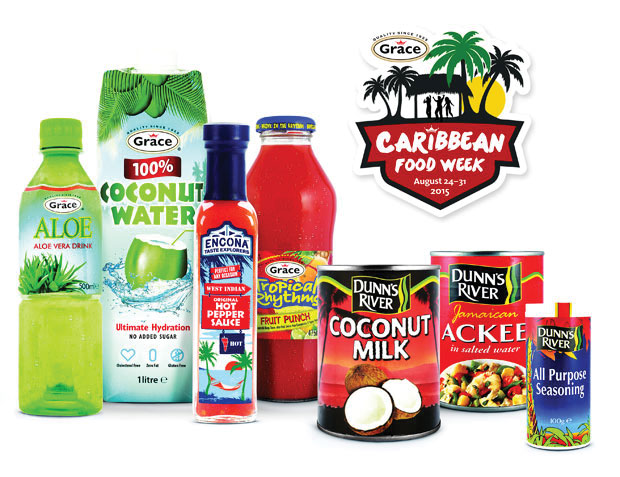 Caribbean Food Week 2015 – Products & Recipes
Next week (24th-31st of August) it is Caribbean Food Week which has been an annual event since 2012. The celebratory week is organised by Grace Foods UK which is the number 1 supplier of Caribbean food and drink in the UK and it is the perfect opportunity to explore a taste of the Caribbean.
During this week, and leading up to it, there are lots of promotional offers on leading Caribbean products in the big supermarkets. These products include chilli sauces, coconut milks, spices and seasonings, coconut water, aloe vera drinks and tropical juices.
Managing Director of Grace Foods, Ryan Mack says:
"Demand for Caribbean flavours is at an all-time-high as people are discovering how easy it can be to create Caribbean dishes with incredible flavours. Caribbean Food Week is the perfect time to get into the Caribbean spirit – what better way to bring a taste of holiday to home – not even the British weather can impact that!"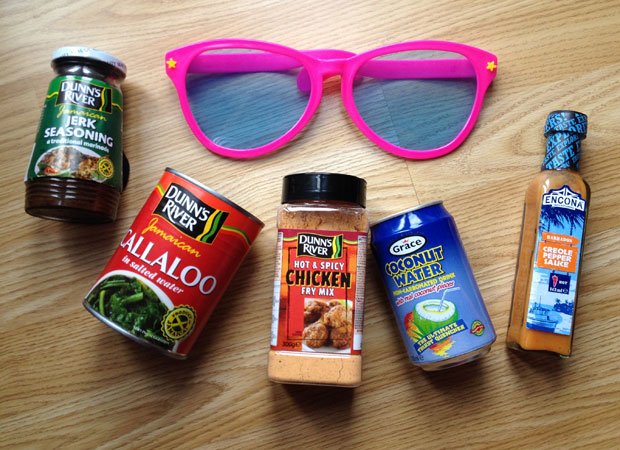 We were sent five products to help us get started. Plus some huge glasses!
Jerk seasoning
Callaloo in salted water
Hot & Spicy chicken fry mix
Coconut water
Creole Pepper Sauce
I realised you can't see how large these glasses are unless I put them on my face. My daughter loves these!
The first product we tried was the coconut water and it was really nice. I drank it mixed with Tropical Fizz (Asda's version of Ting) and it was so refreshing. It even has bits of coconut in it! This is the first coconut water that I've had that actually tastes like real, fresh coconut and not like sickly sweets so that's brilliant. Really tasty!
Then we tried the Creole pepper sauce and it was delicious and very fruity. Hot too, of course! It's a great sauce for adding a bit of heat to any meals.
Then the cooking began — after some recipe inspiration from Pinterest! I even created a board for the occasion. The recipes in this post are my own made-up ones and are inspired by Caribbean cooking.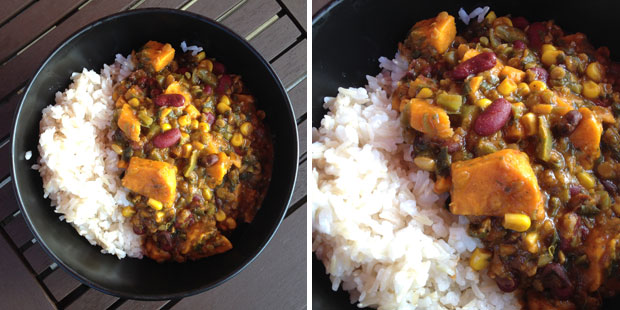 Caribbean Black Bean & Sweet Potato Curry
For a huge pan of maybe 8 servings you need:
2 red onions
Oil for frying
1 large sweet potato
1 tin of black beans
1 tin of kidney beans
1 cup of frozen sweetcorn
1 tin of Callaloo
1 tin of coconut milk
2 vegetable stock cubes
3 teaspoons of curry powder
As much jerk seasoning as you can handle! I used 3-4 heaped tablespoons and it was HOT!
Natural yogurt and rice to serve
Fry the onions until soft, add jerk seasoning, curry powder, vegetable stock and peeled, chopped sweet potato. Cover with water and cook until the sweet potato is cooked. Add the drained beans, sweetcorn, drained Callaloo and coconut milk and cook for another half an hour or so until thickened.
Serve with boiled rice and yoghurt to soothe mouths. This curry is full of flavour and heat and very healthy too! Callaloo was so delicious, I'd never tried it before.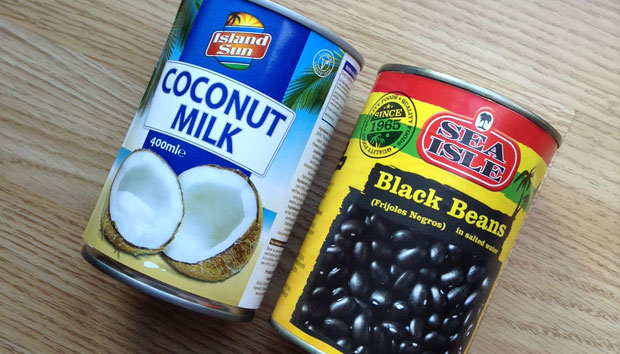 Hot & Spicy Chicken / Hot & Spicy Courgettes

The product left to try was the Hot & Spicy chicken fry mix and we decided to use it to make a chicken dish and a vegetarian dish. My husband eats meat and I don't so this way we could have the same meal but one with chicken and one with courgettes. The cooking method and items on the side are the same.
For two servings of each you need:
1 packet of chicken thighs (6 pieces)
3 courgettes
1/4 of a box of Hot & Spicy chicken fry mix
Vegetable oil
Rice with beans and steamed broccoli to serve
If you are not vegetarian, you could cook the chicken and courgettes together in one dish. Wash and cut the courgettes in 2cm slices. Put the courgettes/chicken in an oven dish and drizzle with oil. Sprinkle generously with Hot & Spicy chicken fry mix and stir/mix to coat the courgettes/chicken evenly.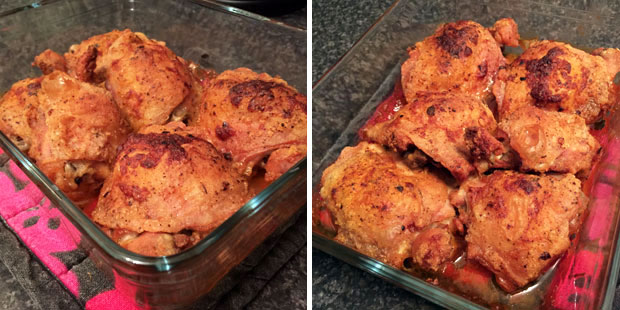 Put in the oven at 200 degrees and cook for about 40 minutes, then lower to 125 and cook for another 20 minutes. This gave us really succulent chicken that just fell off the bone and soft and juicy courgettes in a spicy and tasty sauce. This meal requires so little effort but is so yummy! We had ours with ready made rice with beans and steamed broccoli. Another quite healthy meal!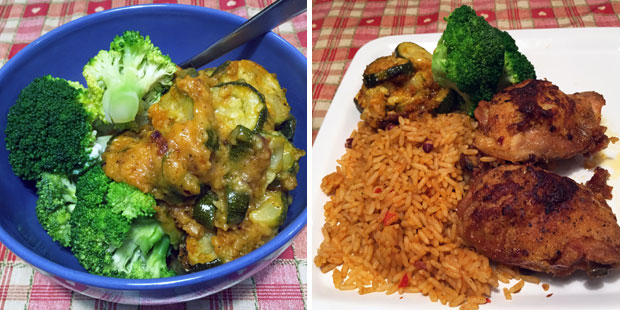 Find out more about the products and Caribbean Food Week here:

We were sent the 5 products mentioned at the start to include in this post. As always, all my posts are 100% honest and all thoughts and opinions are my own.