Riverford Organic Farms Recipe Box Review
|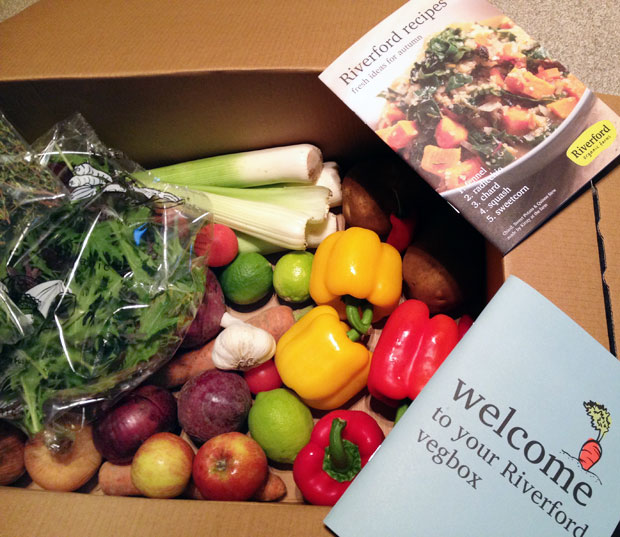 Riverford Organic Farms Recipe Box Review
On the morning of my Riverford Organic Farms Recipe Box delivery, I was up a bit earlier than usual due to my toddler wanting an early start that day. I knew my delivery was due that day as it was prearranged to make sure I would be in, but I didn't expect the boxes to already be there when I woke up. There was a note in my postbox and two boxes stood on my doorstep, covered in plastic rain-covers to protect them from the heavy downpour of that morning. I was very pleased that they'd been delivered already and there was no waiting around for me.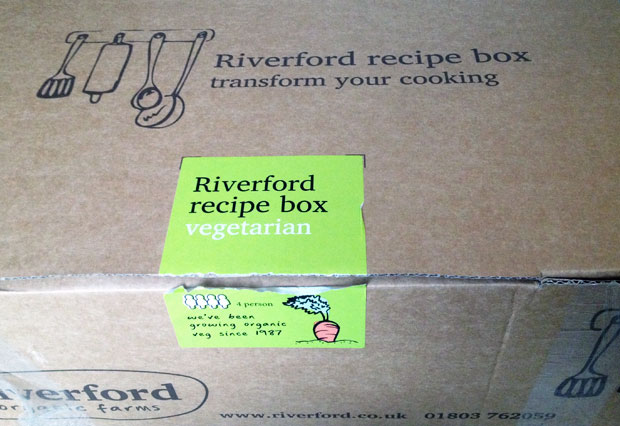 The recipe boxes that we received were the Vegetarian ones with 3 meals for 4 people. The other options are Original with 2 or 3 meals for 2 people and Quick with 3 meals for 2 people. You can have a look on the website to see which meals are in the different boxes for this week and next week and you can even see what was in them last week if you're curious.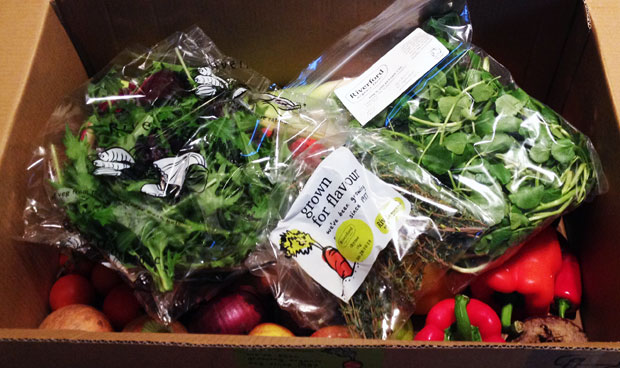 The Riverford Recipe Boxes are different from a regular organic fruit and veg box. With these recipe boxes you get everything you need to make tasty, organic home-cooked meals. You get every little ingredient in exact quantities — except for salt, pepper and oil — which means that there's no waste and no risk of forgetting to buy a vital ingredient.
One box contains the fruit and vegetables — all the freshest, seasonal organic produce — and the other box contains all the other ingredients neatly divided into compartments showing which recipe they are needed for. This second box also has a well insulated bag with all the chilled ingredients keeping them nice and cold during transport.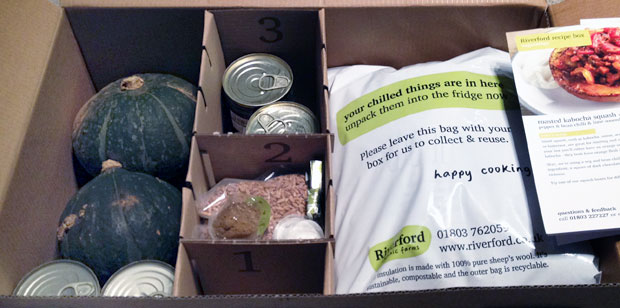 All you have to do is to place your order, unpack your boxes and then you can enjoy not having to think about food shopping or meal planning for a few days. The three recipes that were in our box were:
Leek, Olive and Wootton Millstone Tarte With Toasted Pine Nuts
Roasted Kabocha Squash With Pepper and Bean Chilli and Lime Soured Yogurt
Beetroot Latkes with Red Onion Spelt, Apple and Horseradish

Crème Fraîche

All recipes said they could be cooked within 5 days of receiving the box so we could pick our order of meals freely. Each recipe has its own easy to follow recipe card with notes from the cook, information about how long it takes to cook, how many it will feed, what equipment and ingredients you need along with a beautiful photograph of the dish and a breakdown of calories, fat, carbohydrates and salt per portion on one side and a thorough step-by-step guide to take you through the whole recipe on the other. The recipe cards are nice and large too which makes the text easy to read.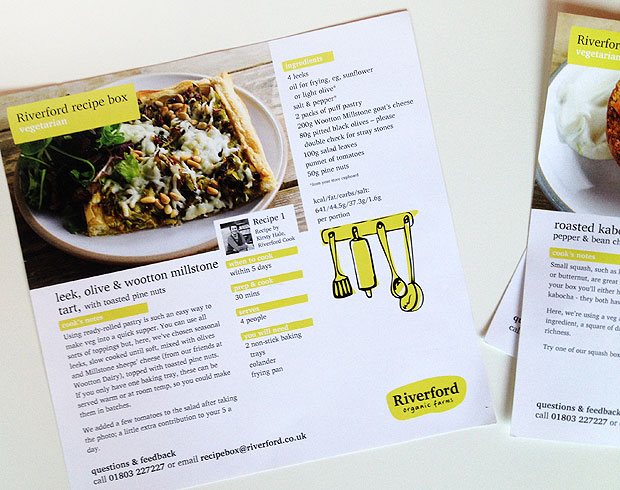 The recipes are so easy to follow and are suitable for new cooks and more experienced ones. If you're new to cooking, just follow the recipe and you'll be fine. We made a few changes to some of the recipes to suit us.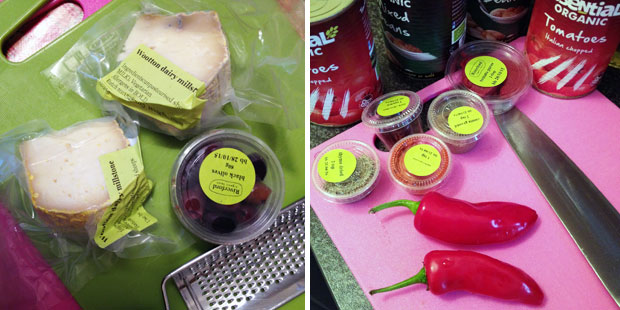 Having the ingredients in the exact quantities that you need is brilliant and makes cooking so fast and easy as you don't have to measure anything at all. You also can't make any mistakes such as adding too much of something as everything is already right.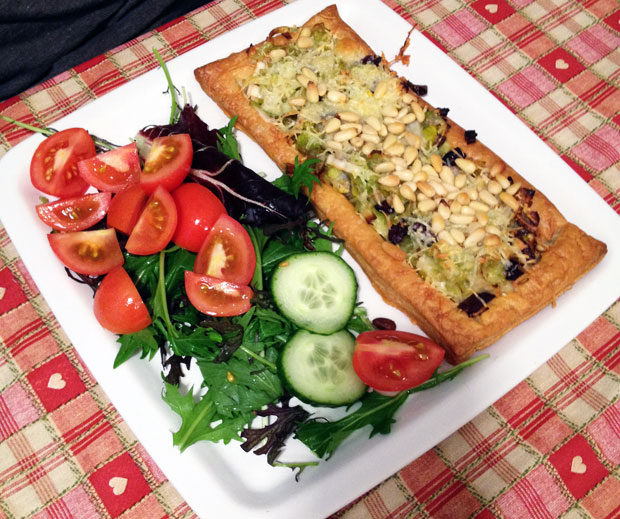 The first recipe we made was the tarte with olives, leeks and goats' cheese. I followed this recipe exactly and it was a lovely meal that was very enjoyable to make. I rarely cook with pastry so it was fun to make something different. As you can see the salad leaves and the tomatoes were of excellent quality! So tasty and much better than the ones you can get at the supermarket.
The second meal we cooked was the pepper and bean chilli. As you can see we didn't have the chilli in the kabocha squash but on/with cheesy nachos instead. I'm pregnant and not always in charge of what I crave and that day I needed something salty and cheesy but still wanted to make the chilli. It was fun making chilli in a different way to normal. Vegetarian chilli is a staple meal in our home and it's good to change things up a bit sometimes. I did add a small amount of soy mince to it though, for some extra protein. It was tasty and a completely different meal to our regular recipe. I love the fact that it's got a little bit of dark chocolate in it — it's something I've been wanting to try. We saved the squash for an autumnal soup that we made on a different day.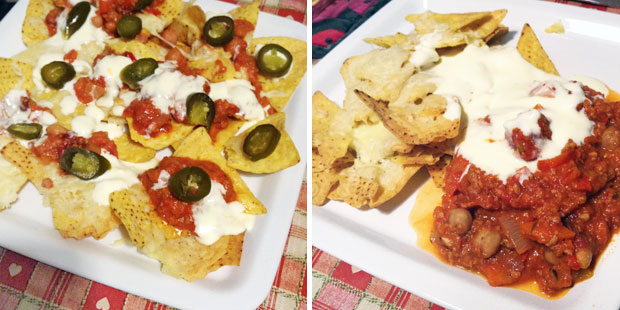 The last meal was the beetroot latkes. Here I made half the recipe according to the recipe and half in a different way. I don't like eggs so I roasted some of the vegetables that go in the latkes in the oven and had it with the spelt and the apple and horseradish sauce. It was delicious! We'd never had spelt at home before and it's something we really enjoyed and will definitely be having again. The horseradish took the meal to the next level — so yummy and it was actually an ingredient I'd been craving recently even though I'd not had it since I was a child. I don't have a picture of this meal as it was really late and dark when we ate it. Unfortunately we couldn't use the watercress as it had wilted completely by the third day after delivery. It's a really delicate leaf and I find that when I get a bag from the supermarket, it needs to be used straight away, too. I would recommend a note about maybe using a meal including watercress first. The dish was still delicious without it though!
We really enjoyed having a Riverford Recipe Box that enabled us to have healthy meals that were easy and enjoyable to create and without the fuss of going shopping and trying to come up with meal ideas. The vegetarian box with 3 meals for 4 people costs £58.00 which is more than we'd normally spend on food but it's more convenient, the food is organic and of great quality plus everything is planned and organised for you. The smaller recipe boxes start at £29.95.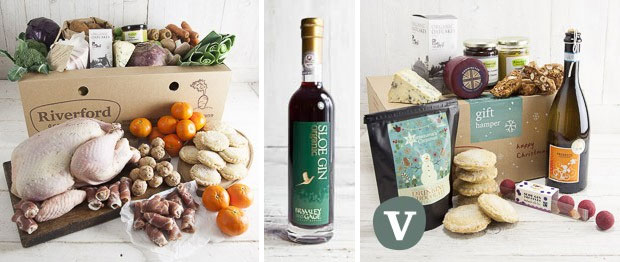 Riverford Organic Farms sell all kinds of food boxes (with recipes, meat & veg, meat, vegetables, fruit, salad, fruit & veg especially suitable for juicing, herbs & spices, dairy products, eggs, drinks (alcoholic and non-alcoholic) and a huge range of farm shop products.
They also have a great Christmas selection of Christmas dinner boxes to make holiday cooking easy and stress-free and also gift hampers that would make lovely Christmas presents.
See all the recipe boxes here. Delivery is free and everything Riverford Organic Farms grow, make and sell is 100% organic.
We were sent the vegetarian recipe box for this review. As always, all my reviews are 100% honest and all thoughts and opinions are my own.