Mr Lee's Noodles Review – All Noodles Are Not Created Equal!
|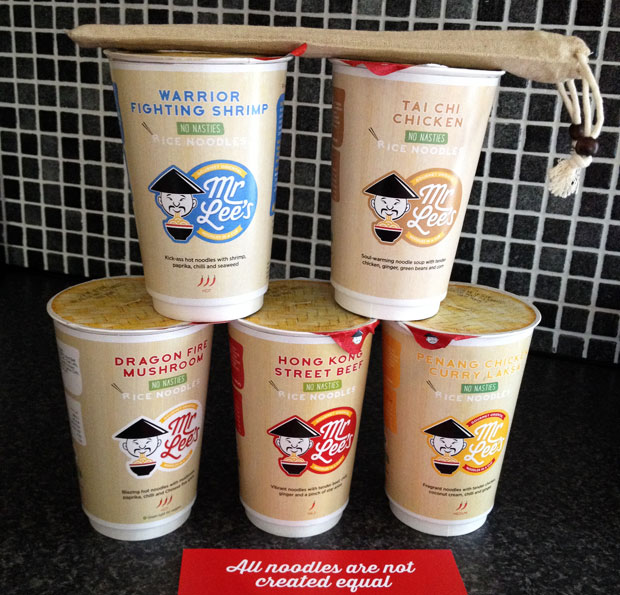 Mr Lee's Noodles Review – All Noodles Are Not Created Equal!
Mr Lee's noodles is an exciting new instant noodle brand that stands out from the crowd. Mr Lee's noodles are different from other instant noodles — they're low in calories, salt, hydrogenated fats and sugar.
They don't contain any nasties and are gluten free. The noodles are from Vietnam where they make the best rice noodles in the world. Most noodle brands use dehydrated ingredients but in Mr Lee's noodles you'll find freeze-dried ingredients instead and that makes a huge difference to the flavour — Mr Lee's noodles taste fresher and yummier.
There are six different flavours to choose from:
Hong Kong Street Beef Noodle Soup: Vibrant flat rice noodles with tender beef, chilli, ginger, a pinch of star anise and just a touch of orange peel.
Penang Chicken Curry Laksa Noodle Soup: Fragrant flat rice noodles with tender chicken, coconut cream, chilli and ginger.
Tai Chi Chicken Noodle Soup: Soul-warming flat rice noodle soup with tender chicken, ginger, green beans and corn.
Warrior Fighting Shrimp Noodle Soup: Kick-ass hot flat rice noodles with shrimp, paprika, chilli and seaweed.
Shaolin Monk Vegetable Noodle Soup: Harmonious vegetarian flat rice noodles with broccoli, red peppers, green beans and cauliflower.
Dragon Fire Mushroom Noodle Soup: Blazing hot flat rice noodles with mushroom, paprika, chilli and Chinese five spice.
The last two ones are suitable for vegetarians so they're the ones I have tasted myself. My husband who's not a vegetarian has tried the other four.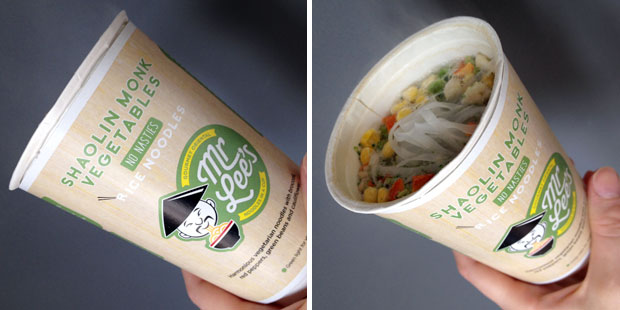 The noodles are really easy to prepare just like any cup noodles. You just poor boiling water into the cup, put the lid back on, wait for a bit, stir and eat.
The Shaolin Monk Vegetables ones was full of lovely veggies but needed a bit more flavour in my opinion. I like my noodles hot and usually also add a bit of sesame oil and soy sauce to them when I eat them at home. Rice noodles themselves don't have much flavour so they sometimes need a bit extra. I just added a bit of sesame oil and some soy sauce and they were perfect. That's an easy way to customise your noodles if you're eating at home.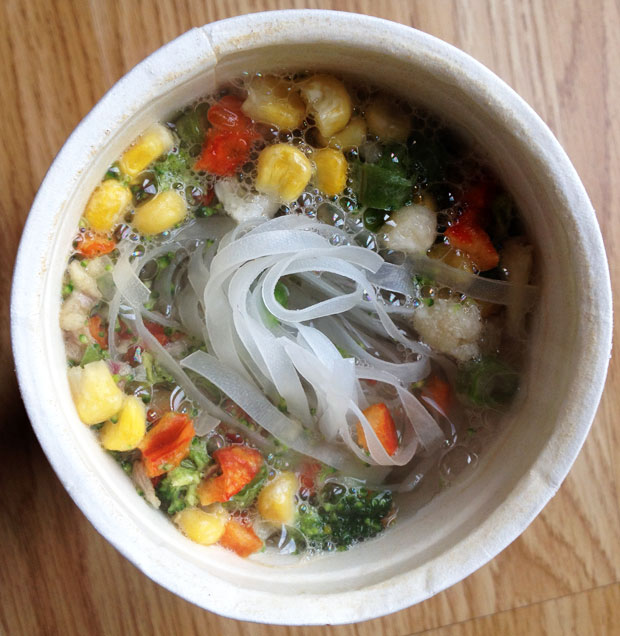 The Dragon Fire Mushroom noodles had a bit more oomph and a more intense flavour like I prefer! The freeze dried vegetables really make a difference and they taste lovely and fresh!
My husband tried the other flavours and though he didn't like the Tai Chi Chicken one very much, he enjoyed the Hong Kong Street Beef and the Penang Chicken Curry Laksa. He's not used to eating rice noodles and thought the noodles themselves were a bit bland but could quickly be improved with a splash of soy sauce, sesame oil and a bit of chilli. He too likes his noodles savoury and hot!
He said the Warrior Fighting Shrimp noodles were nice too but the scent was a bit too strong for an office environment due to the real shrimp. But the proper ingredients are of course a good thing!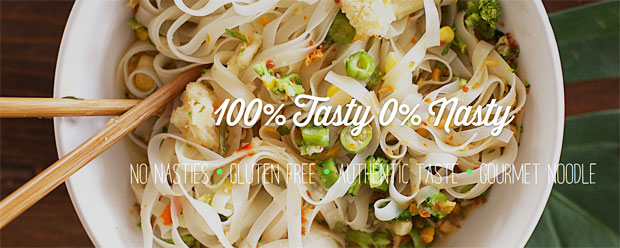 Mr Lee's noodles are a great addition to the instant noodle market and I'm really happy seeing healthier and tastier options available. It's great that they're gluten free for people with allergies and I love that there are no nasties!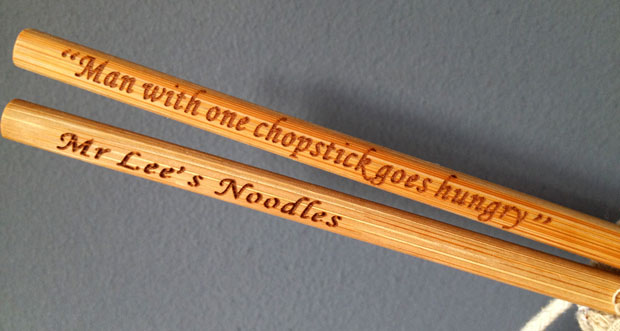 Find out more on MrLeesNoodles.com.
We were sent some samples of these noodles for this review. As always, all my reviews are 100% honest and all thoughts and opinions are my own.