TinyMe Personalised Junior Backpack & Lunch Bag Combo
|
TinyMe Personalised Junior Backpack & Lunch Bag Combo Review
My eldest is in pre-school now and will soon be starting proper school! Every day that she goes to pre-school, she takes a backpack with her spare clothes and any extras that she might need and a lunch bag with a bottle of water and her packed lunch.
She's now got a lovely new set from TinyMe which is the Personalised Junior Backpack & Lunch Bag Combo. We've gone for a gorgeous red colour (it's also available in dark blue and light pink) and have personalised the set with a cute fox print and the word Happy.
The backpack we have is the "Junior" Backpack (there's also a larger "Everyday" Backpack) and it's a great size for my nearly 4-year-old. I think it will be a good size for the first few years of primary school too. The size is 33cm high x 22cm wide and 10cm deep. It's recommended for children aged 3 years and above.
It's got a padded back area for extra comfort and is made from durable 600 Denier Polyester with contrast piping. The shoulder straps are padded and adjustable for comfort. There's a big zippered compartment with an internal pouch and a pocket on the front. There's an integrated hanger and a side pocket for water bottles up to 6.5cm in diameter. The lining is patterned too which is cute.
You can personalise it in so many ways — there are hundreds of designs to choose from!
It's a really nice and sturdy backpack and my daughter loves it!
The combo includes a matching Lunch Bag (you can order them together or separately). The lunch bag is amazing in many ways but one of the special features is that you can attach it to the backpack using the secret piggyback connector that you get if you purchase the products as a combo. You can also buy the connectors separately. You can see how it works below.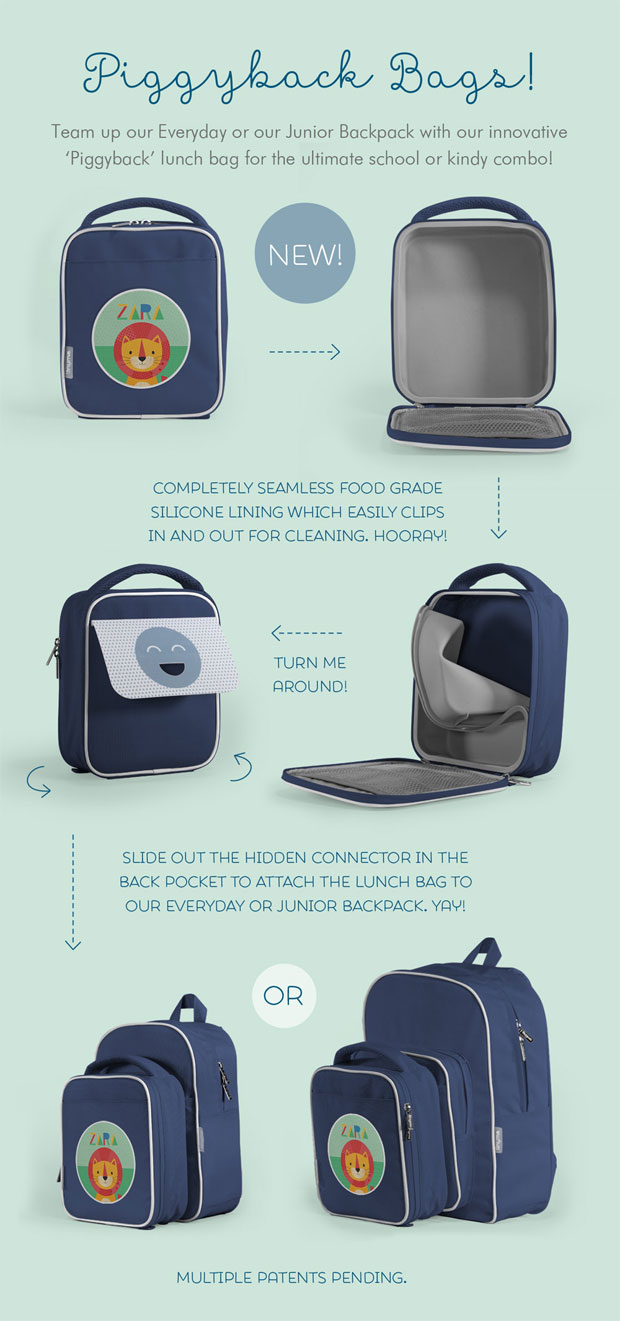 My daughter managed to lose her connector at pre-school though — she's too curious sometimes! So I need to get another one.
My favourite feature of the lunch bag is the moulded silicone lining that you can remove for easy cleaning. This is really handy as lunch bags can get quite grubby quickly! I also really like the large size — 24cm high x 20cm wide x 8cm deep. This makes it easy to fit my daughter's lunch box, drink and fruit pouch. It's also large enough for me to use for both my daughters to share when we're out together and take snacks and drinks.
The lunch bag as a durable 600 Denier Polyester outer and is insulated with a padded base and lid. There's an internal mesh pocket which is great for storing small things and there's another pocket on the front which is perfect for notes.
The lunch bag as a padded carry handle which makes it easy to carry for children and adults. It's flexible too which I like as it means it's easy to fit into other bags when needed.
We're really enjoying using this lunch bag and its matching backpack and I would highly recommend them to other parents too. The design is clever and attractive and the products are very functional and fun.
Design and buy your own backpacks and lunch bags here.
Products provided to us for this review. As always, all my reviews are 100% honest and all thoughts and opinions are my own.