The Two-Week Sleep Challenge With Silentnight Wax Lyrical
|
The Two-Week Sleep Challenge With Silentnight Wax Lyrical
We all know about the importance of sleep and that not sleeping well affects our everyday life, mood and health negatively quickly. But what do we do to improve or chances of a good night's sleep? Many of us don't do anything at all to wind down before bed but it can really make all the difference if you really try.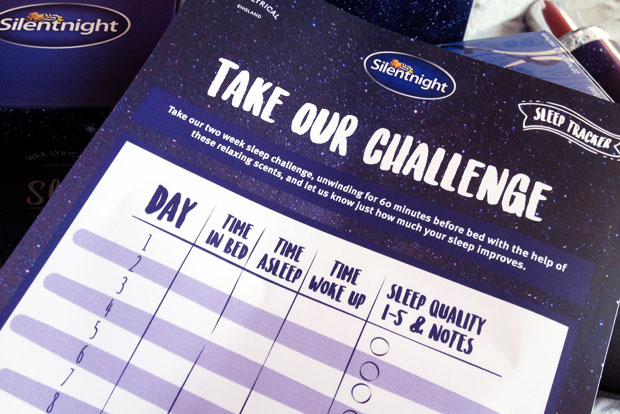 Silentnight challenged me to make an effort to wind down properly before bed and do this for two weeks to see how my sleep improved. The challenge included unwinding for 60 minutes before bed using relaxing scents from Silentnight Wax Lyrical. I'm at the end of the challenge now and it all came at the perfect time as I'd recently really struggled sleeping at night for a while — a rare thing for me!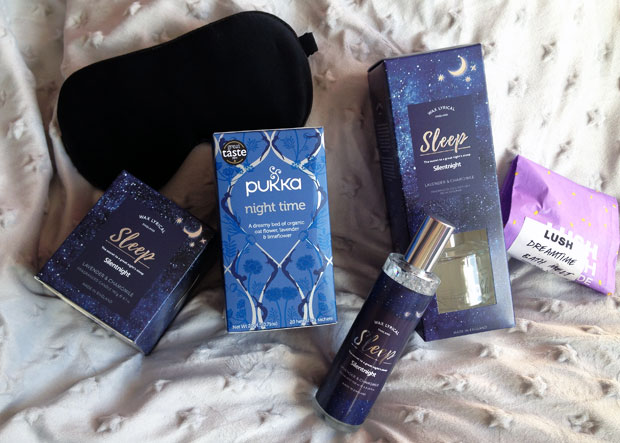 I was sent a bundle of products to try out to help me relax and the bundle included:
Silentnight Wax Lyrical Room Diffuser with Lavender & Camomile.
Silentnight Wax Lyrical Scented Candle. "Lavender and Chamomile opens with delicate citrus notes of mandarin and sweet orange, supported by a heart of white floral notes including orchid and jasmine blended with armoise, lavender, elemi and sandalwood."
Silentnight Wax Lyrical Lavender & Camomile Fragranced Room Mist Spray that induces orchid and jasmine scents blended with armoise, elemi, lavender and sandalwood to create a truly relaxing experience. Contains approximately 1500 sprays per bottle. Spray it in your room before bedtime 

—

it can also be used on clothing and bedding.
A padded eye mask which is great for naps or if you're easily disturbed by light.
A box of Pukka Night Time tea, which is a soothing blend perfect for drinking while you're winding down. It contains oat flower, soothing lavender, limeflower and valerian. It's delicious with a spoon of honey!
A LUSH Dreamtime Solid Bath Oil for a truly luxurious and relaxing bath before bed.
I've been using these products for two weeks not to help me wind down before bed and I'm actively thinking about my nighttime behaviour to help improve my sleep. I make sure to have a nice bath on the days when I can and make a bit of an event of it. I use a nice bath oil and light my Silentnight Wax Lyrical candle and dim the lights. I take time to properly relax in the bath and then I head downstairs for a cup of my Pukka Night Time Tea before bed. I listen to my body and when I feel that it's ready to sleep, I head upstairs and tuck myself into bed. I don't force myself to stay awake to finish something on TV — it's best to be aware of your body's signals and use that window to go to sleep before you get over tired.
The Silentnight Wax Lyrical scented products are gentle and soothing. They're not overpowering like most scented products! My husband is very sensitive to scents so I use the spray on my own pillow but don't spray it in the bedroom and have the candle and the diffuser in the bathroom ready for my evening bath.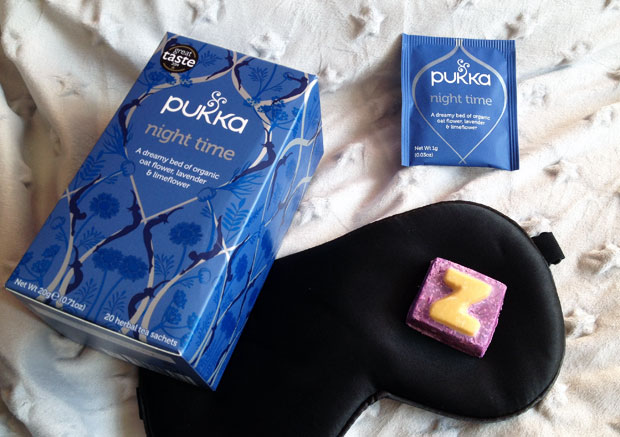 A couple of weeks ago, I was stirring and struggling to fall asleep at night. I also kept waking in the night and took ages to fall back asleep. After this challenge, I've managed to get back into the kind of sleep I normally have which is going to bed, falling asleep and staying asleep (as long as the kids do!). I've been quite stressed and physically unwell so far this year so I think I really needed a boost to encourage better sleep. I'm so happy to be sleeping well again! Thank you for challenging me and providing these helpful products, Silentnight!