Valentine's Day Gift Guide For Him – Shopping Ideas
|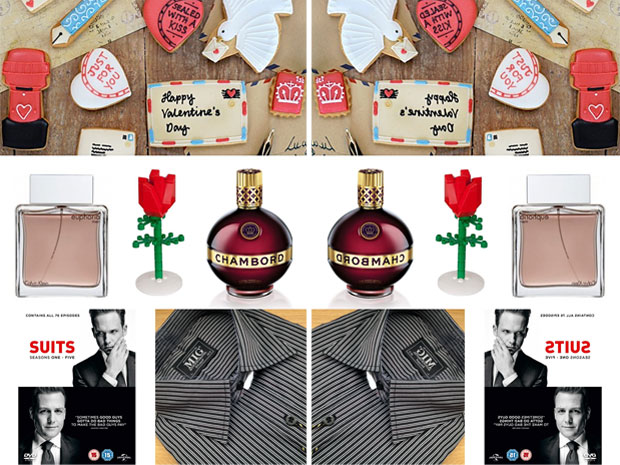 Valentine's Day Gift Guide For Him – Shopping Ideas
It is just over a month until Valentine's Day — this year is flying by already. If you're looking for some gift ideas for men, I might be able to help. Check out my Valentine's Day archive for more ideas. In this guide, I've collected a few items that I think at least some men would like! Obviously, I've chosen items with my own husband in mind but these ideas are easily adaptable to suit different tastes.
"Personalised vintage love letter collection" biscuits from Biscuiteers. A beautiful collection of gorgeous and yummy biscuits in a fancy tin. You can have the biscuits personalised with a message handwritten (iced!) on the love letter biscuit. It costs £35 but you can get £5 off your first biscuit tin if you sign up for Biscuiteers emails.
Your favourite perfume for men. Choose the one you like the best and let him know that. I really like Calvin Klein Euphoria. I think it smells lovely and the bottle looks great too. Very masculine! It currently costs £25.45 for a 100ml bottle on Amazon.
The only flowers my husband would like is one made of LEGO! Good thing they make one! Buy the LEGO Seasonal Red Rose from Amazon for £14.45 of build one yourself if you already have the pieces.
A bottle of booze that your partner likes is always a hit and a cute bottle of Chambord Raspberry Liqueur is perfect for Valentine's Day. It's really nice to put a small shot into a glass of Cava, Prosecco or Champagne. It tastes lovely and turns the bubbly pink. Chambord is available from most supermarkets and from Amazon for

£32.89

for a 70cl bottle.
A box set of your partner's favourite tv-show. This varies, of course! My husband really loves Suits so the box set with seasons 1-5 would be great for him. It currently costs £22.04 from Amazon. You can pretty much find any box sets there.
A new shirt! I just got this classic Black & White Stripe Long Sleeved Shirt* from MIG made from durable materials and with a comfortable fit. I really like the striped designs and the dark colour! It's easy to wash at home which is good for me too. It costs £11.99.
*PR Sample