Weleda Aknedoron Purifying Lotion Review
|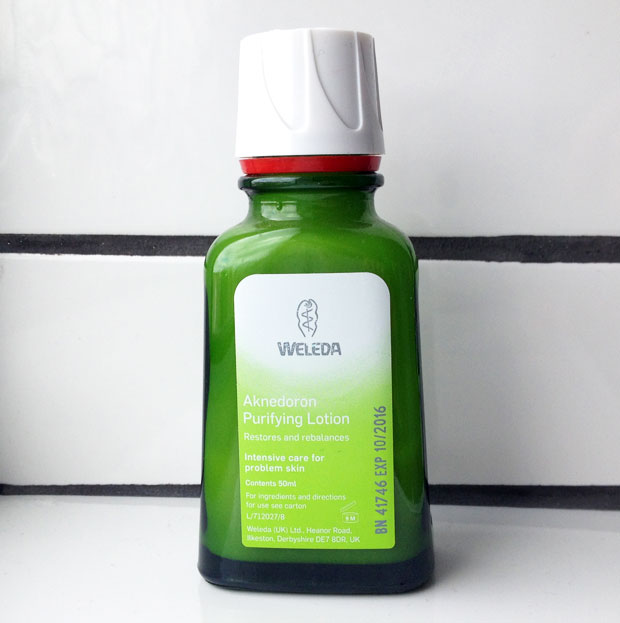 Weleda Aknedoron Purifying Lotion Review
This beautiful little green glass bottle contains a product called Aknedoron Purifying Lotion which is a mildly astringent, all natural, intensive spot treatment that helps regulate skin and soothe away blemishes.
It's ideally meant to be used alongside the Weleda Aknedoron Cleansing Lotion but can also be used after cleansing your skin with other cleansers. The product contains a potent mix of natural plant extracts includes essential oils of sage, thyme and lavender to rebalance the skin, mildly astringent Witch Hazel and mineral sulphur to calm irritation and stimulate healing blood flow.
You can use it up to twice daily or just at night to target blemishes and eruptions anywhere on the body. Aknedoron Purifying Lotion stimulates circulation, regulates skin inside and out, clears pores and quickly calms irritation.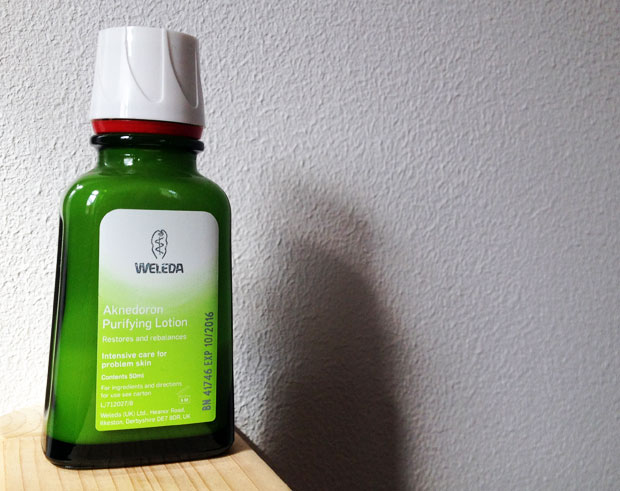 During my second pregnancy, my skin has been much better than usual and I've only had a few spots during the whole pregnancy (6 weeks left!) but, before that, I suffered from hormonal breakouts during ovulation and menstruation and the time around that. My hormonal acne was upsetting me but my skin can be quite sensitive so I couldn't use strong acne products and was always on the lookout for natural ways to calm my breakouts and heal my skin. I found a few products that helped me and this is the main one.
I use it as a targeted spot treatment when I feel a spot under my skin and as an overall face treatment when I'm near ovulation or menstruation to stop any spots that might be on their way. I track my menstrual cycle so I always know when I'm due. Now, during my pregnancy, I've used the Aknedoron Purifying Lotion to calm the few breakouts that I have had.
I find that when I use this, I can stop spots from getting worse or even appear if they're under my skin and the healing is so much faster. If I have bad breakouts, I just keep applying the product several times a day with a cotton wool pad and I can see improvement in just a couple of hours.
The lotion has a runny texture and is not a moisturiser. It's more of a treatment and then, once absorbed, you can apply your regular face cream. This treatment can be slightly drying if you don't follow with a face cream. The scent is herbal and I quite like it but my husband thinks it smells like rubber and is not very keen on the scent. That's the only downside of this product but that's really my husband's opinion and not mine! I'm happy to use it despite him not liking the scent because I know that it really helps clear my skin when I'm suffering from breakouts.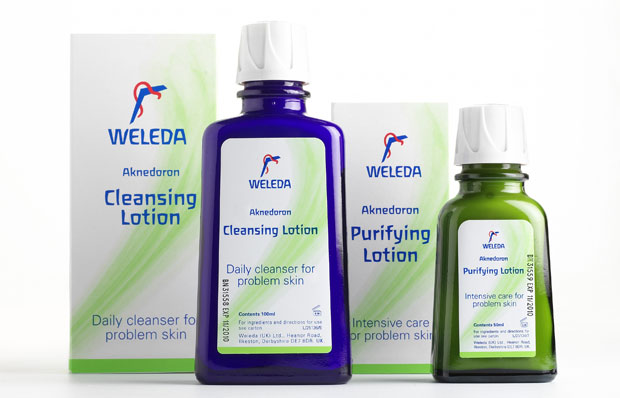 I've not yet tried the Aknedoron Cleansing Lotion that you're meant to use together with this product but I would love to give it a go too as I'm so pleased with the Puryfying Lotion.
You can buy it directly from the Weleda website, Boots, Amazon.co.uk and many other shops. It costs around £9.95 and comes in a 50ml bottle that lasts ages.