Weleda Mini Body Wash Pack Review
|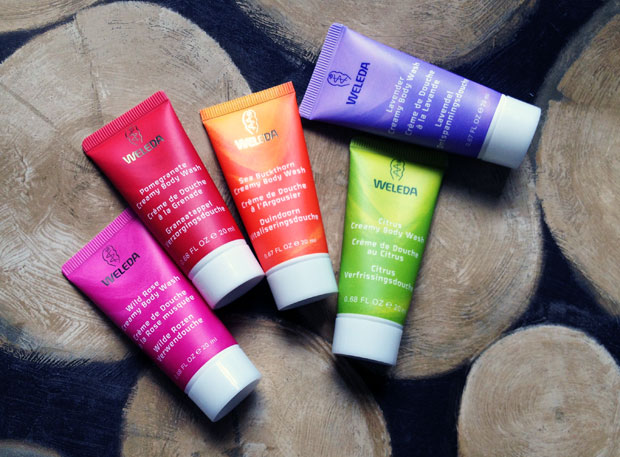 Weleda Mini Body Wash Pack Review
As you might know, I'm a big fan of Weleda's skincare products. In preparation for a Weleda event next week, I have been trying out their body washes. You can sample all their Creamy Body Washes with this handy kit of 5 travel sized products (20ml each). It's a great way to find your favourite before buying the full sized product or just to have to take with you when you travel.

The pack contains the following:
Citrus Creamy Body Wash 

—

Invigorating and stimulates
Lavender Creamy Body Wash 

—

Calms and harmonises
Pomegranate Creamy Body Wash 

—

Inspires the senses
Sea Buckthorn Creamy Body Wash 

—

Nourishes and restores
Wild Rose Creamy Body Wash 

—

Pampers your skin
All the body washes are very gentle and moisturising. They are a pleasure to use and leave my skin feeling cleansed and soft. The fragrances are all so lovely and natural and make each shower feel like a treat.
The body washes contain the antioxidant sesame oil and a cleansing base derived from sugar and coconut. This makes the products completely biodegradable meaning they will not harm marine life.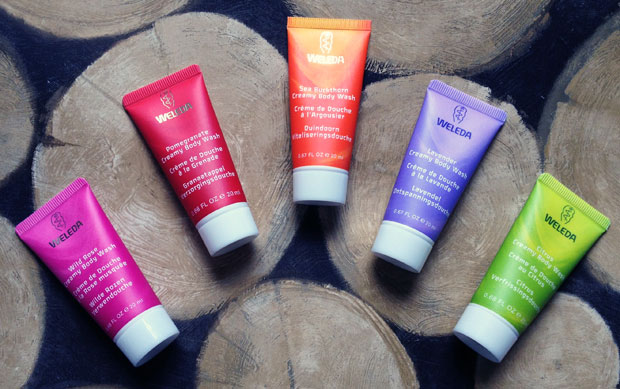 They are all wonderful to use and the scents are gorgeous. I'm struggling to pick a favourite!
The Citrus Creamy Body Wash is moisturising with vitamin E and organic sesame oil and so refreshing and energising thanks to the biodynamic lemon oil. It's perfect to help wake up your senses during a morning shower or to refresh after a workout.
The Lavender Creamy Body Wash is so relaxing and soothing thanks to the calming aromatherapeutic benefits of pure lavender essential oil. This is one for an evening shower to relax you before going to bed.
The Pomegranate Creamy Body Wash is infused with pure essential oils of sandalwood davana and neroli that stimulate the senses and nutrient rich organic pomegranate seed oil that makes your skin feel lovely and soft. The smell is beautiful!
The Sea Buckthorn Creamy Body Wash is soothing and replenishing and contains organic sea buckthorn and regenerating pro-vitamin A and E. It's fresh, yet calming, in my opinion.
The Wild Rose Creamy Body Wash has a classic and womanly scent and contains nourishing organic musk rose oil which is very rich in skin-caring essential fatty acids. This body wash is great for dry and stressed skin. I find it relaxing and caring.

If I had to pick and was not allowed to swap betweet all these gorgeous scents, I would pick the Sea Buckthorn one. It's such an interesting and pleasant scent that is refreshing and calming at the same time. Plus, I love the orange packaging.
This kit costs £9.95 and you can buy it from Weleda.co.uk or Amazon.co.uk, for example.
I was sent this kit as a gift from Weleda. I've been a Weleda customer for many years. As always, all my reviews are 100% honest and all thoughts and opinions are my own.