CMYK Non-Toxic Nail Polish Review
|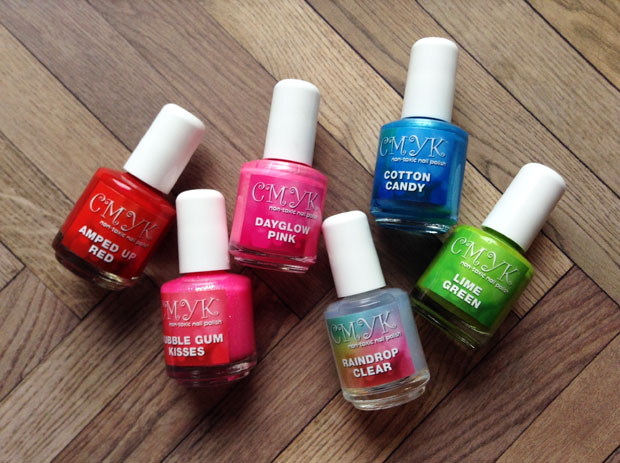 CMYK Non-Toxic Nail Polish Review
Traditional nail polish contains loads of toxic ingredients. The most known ones are the carcinogenic formaldehyde, toluene and dibutyl phthalate. You can usually tell from the smell of a nail polish that it's not good for you. If it smells strong of chemicals, then it's not.
When I was pregnant I cut down on my nail polish use a lot and now that I'm a mum I use it even less due to lack of time but also due to the fact that I don't want my daughter breathing in the fumes when I paint my nails. My daughter is with me most of the time so that means I don't have many opportunities for a manicure.
CMYK nail polish is made from three basic ingredients: an acrylic copolymer, non lead pigments and water. The shimmery shades also contain mica. The acrylic copolymer is what encases the pigment in a protective shell to make it stay on the nail. Surfactants, emulsifiers and defoamers are also added to this in low levels and these ingredients do not change the toxicity of the polish which is 100% non toxic. CMYK nail polish is eco friendly, cruelty free, 100% Vegan and Gluten free, too. They are made in the USA.
The water in the nail polish evaporates within a few minutes to dry the polish quickly. After a few more minutes the polish will be scratch proof, too.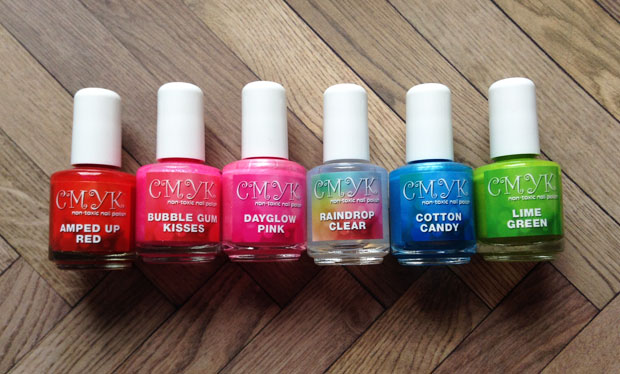 I've tried the six shades above and they are a bit different from each other in terms of texture, drying time and result.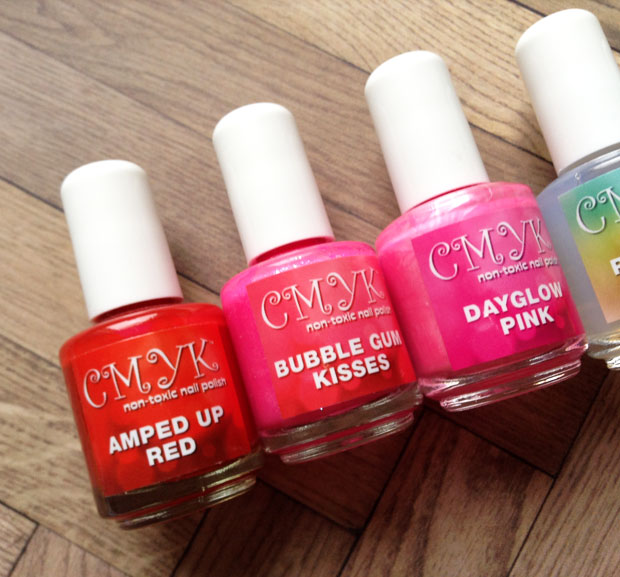 These three shades of red and pink are my favourites. The red Amped Up Red is a really bright and happy shade and the coverage is great. You only need one layer and the texture is nice and thin. It dries fairly quickly too. It's a great classic red. Its staying power is quite good but it's also difficult to remove even with normal nail polish remover.
Bubble Gum Kisses is a fun transparent polish in a sweet pink shade with lots of sparkly bits. Very girly! You can build the layers up if you wish to have a bit more colour. I really like this one because it's quick and easy and looks great! This polish is really easy to remove because you can just peel it off! I love doing this and I know many women who do too. It's great because it means you don't need to use any chemicals to get it off. It also means it will not last as long but that's fine with me.
Dayglow Pink is more like the red shade in terms of texture and you can get away with just one coat. It's much easier to remove with nail polish remover than the red one, though. It's a summery and shimmery shade of pink.

Next up we have Raindrop Clear which is a clear nail polish that you can use on its own or on top of another colour as a topcoat. It makes your nails look healthier on its own and acts as protection on top of another shade. This one peels off as well when you wish to remove it.
Although I love the colours, I'm a bit disappointed with the last two shades Cotton Candy and Lime Green. They are a bit thicker in texture, don't dry anywhere near as quickly and both need a minimum of 2-3 coats for a good result. That takes too long for me.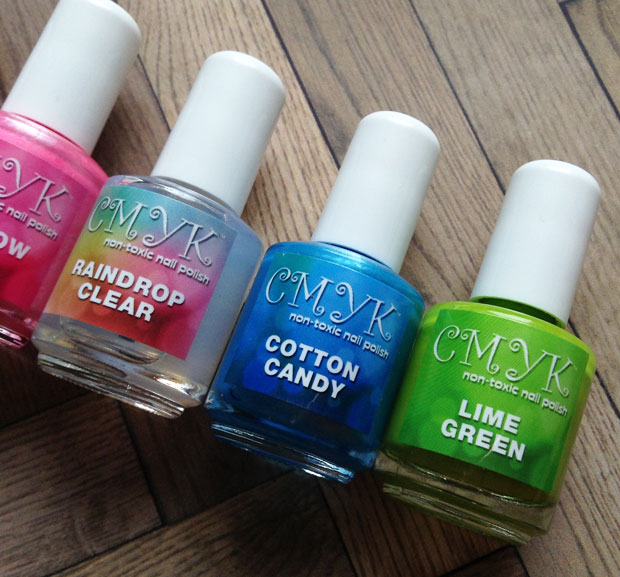 I love four out of six of these nail polishes from CMYK that I've tried. I think it's great that there are non-toxic nail polishes on the market. Really, everyone should choose non-toxic but it's especially important if you are pregnant, breastfeeding, around babies/children and for children themselves. I know a lot of little kids like having painted nails like their mums and they should not use anything else but non-toxic products. Find out more and see the full range of colours available on CMYKnontoxic.com.
I was sent these for this review. As always, all my reviews are 100% honest and all thoughts and opinions are my own.