White & Green Mineral Toothpaste Review | from The Green Woman
|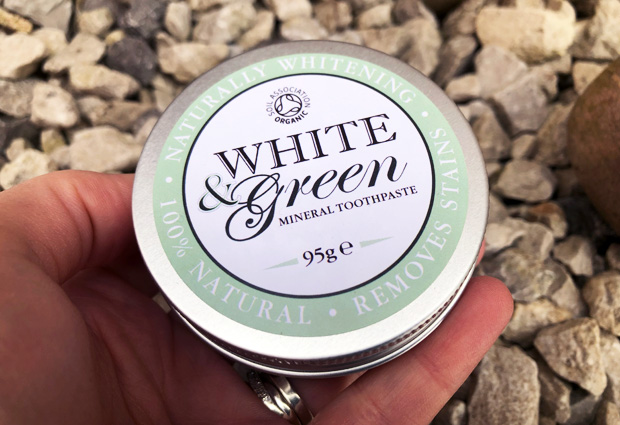 White & Green Mineral Toothpaste Review | from The Green Woman
Finding a natural toothpaste that you love is hard. Actually, the dental care area can be quite challenging if you're trying to reduce your waste and choose more zero waste options – especially if you have some special dental care needs which I do.
I've tried zero waste powder toothpastes, dental tabs and pastes over the years but hadn't found the perfect one for me yet.
I was really excited to hear that one of my favourite zero waste brands, The Green Woman, had launched a toothpaste. I love the deodorants, called Fit Pit, that The Green Woman makes, and they also make lovely skincare creams that I love using too. You can read my review about these products here.
I just saw on their website that they'll be launching a certified organic, natural mineral suncream that's suitable for children and adults soon too. Sounds great!
Back to the toothpaste! The new White & Green Mineral Toothpaste from The Green Woman is a completely natural toothpaste flavoured with peppermint and tea tree for freshness. The formula is gentle and suitable for the whole family but it's also highly effective and cleans teeth well, removes stains and fights tooth decay. The formula is non-foaming and made from natural, organic ingredients.

It's free from fluoride and triclosan and doesn't contain any fillers. A little goes a long way as it's more concentrated than regular toothpaste.
I love the zero waste, plastic-free packaging. The tins look great, are convenient and easy to recycle or reuse for other things.
I really get on with the new White & Green Mineral Toothpaste – it leaves my teeth feeling squeaky clean and seems to have polished away some staining from my excessive coffee drinking too which is great! I love the taste of mint so would love to see an option with a stronger mint flavour too. Other than that, I'd say this eco-friendly toothpaste is perfect!
This product was kindly sent to me for this review. As always, all my reviews are 100% honest and all thoughts and opinions are my own.