Win a love2read personalised reading book for your child!
|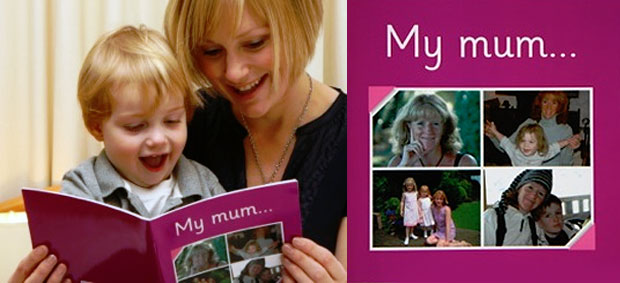 Win a love2read personalised reading book for your child!
A Mum Reviews is happy to offer two lucky winners the opportunity to create their own personalised My mum… love2read book in this great competition. I have one that I made about my mum for my daughter. You can see my review here.
Mums and Grans will love being the star of the bedtime story, so love2read has come up with the perfect Mother's Day gift in the form of a unique, personalised book. Their range of books can be personalised by adding ten photos and text to the pages e.g. "My mum is beautiful", "My mum makes me laugh" or "My gran loves me".
love2read's website is full of templates, all you have to do is pick the one that you want, upload your ten digital photos and then add some simple text. There is a wide selection of templates to choose from including My mummy…, Our mum… and My granny…
Children like nothing more than looking at familiar photographs, so love2read's "My mum…" book will set them on the road to reading success in no time. It's also the perfect memento for you and your family to treasure for years to come.
This year, give a Mother's Day gift the whole family will treasure forever – and help your child catch the reading bug at the same time.
You can follow love2read on Twitter and Pinterest or join them on Facebook where you will find information on how to help your child to read and activities to encourage early literacy skills.
Enter this competition by using the Rafflecopter below. UK-entries only. Terms & Conditions apply.