Your Easter Health Guide – How to Get Through Easter
|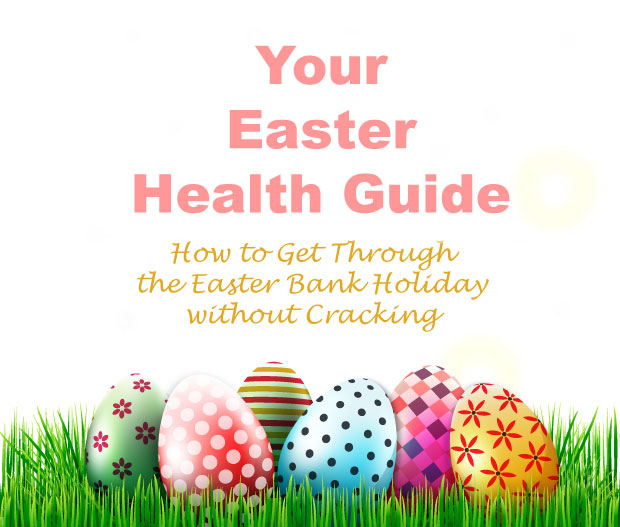 Your Easter Health Guide – How to Get Through the Easter Bank Holiday without Cracking
The Easter bank holiday can be hectic for parents as friends and family are gathered, food is prepared, and activities are organised. Everyone wants to make the most out of those extra days off. However, the holidays don't usually come without the occasional cuts, bruises, fever or upset tummy, which we can sometimes overlook when planning our holiday adventures with the family. An easy way to ruin the fun is finding you are an hour away from home with the children and realising you need plasters, hayfever relief and sun cream.
Around Easter last year, a huge number of people were searching online for how to treat aliments and injuries, potentially as a result of Easter activities.
Google's data shows the search trends for this time last year:
There were a staggering 328,720 searches in the UK relating to diarrhoea
There were 273,710 searches trying to find out more about hayfever and possible treatments.
Hayfever symptom searches doubled in April from the month before
There were 28,800 searches for sun burn in April; triple the number of searches when compared to March.
Bank holidays are particularly busy times for hospitals and A&E departments which can experience high levels of demand. However, in many cases the minor ailments people present with at A&E could be treated in pharmacy which would help ease the pressure on A&E departments and avoid unnecessary waiting times for patients.
LloydsPharmacy Pharmacist, Anshu Bhimbat says, "Such an increase in activity over the Easter period, naturally means we are at greater risk of accidents happening or health niggles occurring. Often in these cases, people visit A&E, without considering dropping by a local pharmacy first. In many situations, such as first aid, diarrhoea and allergies, your pharmacist will be able to help. To make the weekend as stress-free as possible, it is always recommended to have all of the products that you may need to self-help, just in case."
Here are Anshu's top tips to help you prepare for the Easter break with your family:
Keep all the family safe in the sun
"Whether you plan to spend the bank holiday at home or abroad, it is important to be on top of your family's suncare needs. Ensure that you have stocked up with good quality sun protection and don't forget to reapply every two hours. Bear in mind that you should use an amount of sun cream equivalent to at least the size of a golf ball (or six teaspoons) to cover your entire body. Think carefully when choosing your suncare and go for an option that protects from Infrared-A, as well as UV-A and UV-B."
Despite Infrared-A making up a third of the sun's damaging rays that penetrate deep into the skin, which can cause both short and long term damage, there are very few products that offer protection against it. LloydsPharmacy is leading the way in suncare innovation after developing the first 'own brand' suncare range to protect skin against Infrared-A (IR-A).
"Infrared-A is likely to be the new buzzword for suncare so it's really exciting that LloydsPharmacy are at the forefront of the industry with this range. These are top quality performing products, being sold at affordable prices that offer the same level of protection which will come as a relief for parents who want to keep their families protected."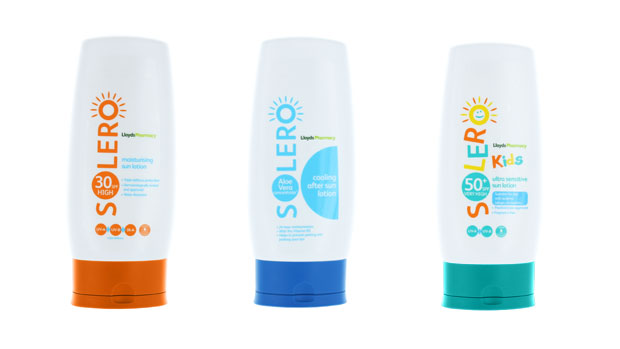 Solero SPF 30 and SPF 50 sun lotion or spray (200ml, £7)
For adults: Dermatologically tested and approved, the Solero range from LloydsPharmacy offers triple protection against UV-A, UV-B and Infrared-A at an affordable price.
Ultra-Sensitive SPF30 and SPF50+ lotion and spray for children (£7 for 200ml, LloydsPharmacy)
For the children: This formula is great for children with sensitive skin, and is the perfect tool for parents that feel concerned about their little ones' reaction to other skin products but want to ensure they have UV-A and UV-B protection. Water resistant and available in SPF30 and SPF50+ as well as in pourable and spray form, the range is ideal for any occasion. There is even a miniature version for on the move (£3, 50ml), perfect to pop in the school bag for top-ups! The kids range is paediatrician approved and fragrance free.
Keep up with the kids
"Attempting to fit as much as possible into the extra days off could leave you feeling tired and a little run down. If you are making arrangements with friends or family, try splitting up tasks, such as each taking a different course to prepare, so you don't feel overwhelmed. You could also team up with other parents to take turn taking the little ones on outings, giving yourself the chance get a bit of me-time too. To finish the weekend feeling refreshed, make sure you get enough sleep, and it can also be worth boosting energy levels and the immune system with a multivitamin."
LloydsPharmacy Energise Effervescent (20 tablets, £3.89)
A combination of vitamins and minerals can really help to help support a busy lifestyle and LloydsPharmacy Energise Effervescent tablets contain a range of B vitamins which helps in the release of energy from the body's food source.
Be prepared for upset tummies
"It's easy to overindulge during Easter festivities, due to the abundance of barbeques, alcohol and Easter egg hunts. An upset stomach can quickly make things a bit miserable so it is advisable to start the weekend prepared. Ensure you prevent the spread of germs by ensuring the whole family wash their hands well with hot water and antibacterial soap when coming in from outside and before eating. It is also a good idea to stock up with rehydration sachets to help with acute diarrhoea, if needed."
Dioralyte Blackcurrant (6 sachets, £3.79)
In case of any overindulgence or unfortunate stomach problems which may crop up over the weekend, it is a good idea to stock up with some rehydration sachets in advance. These help acute diarrhoea and are for the treatment and prevention of dehydration by replacing fluids and body salts lost through diarrhoea.
Dioralyte is suitable for adults and children over 3 months. For use in children up to 2 years of age, please seek advice from a medical practitioner.
Be on guard to help the family fight off hayfever

"For many people, hayfever can be a serious worry during springtime and nothing dampens spirits more than the discomfort and irritation that comes with it. If you or your children experience symptoms every year you will probably know what products work best, however don't wait until symptoms occur; make sure you stock up and be prepared. If one of the family are experiencing symptoms for the first time, you can speak to your local pharmacist for advice on which treatments will be right. It's worth considering combination therapy if you experience multiple symptoms during the allergy season."
LloydsPharmacy Hayfever Relief Nasal Spray (200 dose, £7.29)
For adults: Try this, from LloydsPharmacy which is for the treatment and prevention of allergic rhinitis, including hayfever.
Benadryl for Children Allergy Solution (70ml, £2.24)
For the children: Benadryl for children allergy Solution offers relief from the symptoms of hay fever in children aged 6 years and over and adults. It also relieves year-round allergic rhinitis (pet, dust and mould allergies) e.g. watery eyes, sneezing and runny nose and urticaria (hives and itchy skin rashes).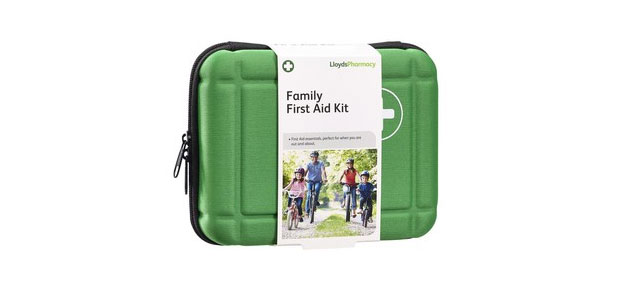 Patch things up
"A first aid kit is essential in any house, but it is particularly important when preparing for increased play and outdoor activity. Not only should it be readily available, but also well stocked."
LloydsPharmacy First Aid Kit (£12.79)
In preparation for any nasty falls or bumps, it is always worth having a good quality, comprehensive first aid kit on hand, either in the car for day trips, or tucked away at home for when it is needed. This one from Lloyds, includes:
Plasters for cuts and scratches and bruises
A sling to support arm injuries
This kit also comes with a useful advice leaflet including basic first aid information
If family time is looking like a bumpy ride
"If you have a long car journey as part of your weekend plans, thinking ahead is key. The Government recommend taking a 15-minute break every two hours, to avoid fatigue, as well as a good night's sleep. Motion sickness could also be really disruptive to your journey. It is thought that motion sickness occurs when there is a disparity between what we see and what the inner ears sense. To treat motion sickness, it can help to focus on the horizon, or simply create a distraction with music or an audiotape for the children. For a little extra help, try a motion sickness band or tablets."
LloydsPharmacy Travel Sickness Tablets
For adults:  For a little extra help with sudden onsets of travel sickness, it's worth keeping a packet of travel sickness tablets in the car. These help in the prevention and relief of travel sickness, general nausea and vertigo.
Sea-Band Child Travel Motion Sickness Band (£8.49)
For the children: Sea- Band is a wristband that relieves all kinds of nausea and vomiting. Whether caused by travel, pregnancy, anaesthesia or chemotherapy, this knitted, elasticated wristband works by acupressure. It has a plastic stud that applies pressure on the Nei Kuan acupressure point on the wrist. The Sea-Band does not cause any side effects and is suitable for children. You can wash the Sea-Band up to 5 times in a mild detergent in warm water without affecting its elasticity.
This content was provided to me by Lloyds Pharmacy. Top picture background credit: Freepik