Brilliant Books, Crafts & Activities to Keep the Kids Entertained Over the Summer Holidays | AD
|
Books, Crafts & Activities to Keep the Kids Entertained Over the Summer Holidays | AD
There's just one half term left of the school year before it's time for the summer holidays! I love the summer holidays as it means more quality time as a family but it also comes with some juggling as a self-employed parent, working from home.
The school holidays are a mix of camping trips, travelling, and family days out combined with home days for us. On those home days, the kids need things to do and it's always a good idea to be prepared with some crafts, books and activities to keep the kids entertained.

Creative Activity Kits from The Happy Puzzle Company
Let's start with some excellent creative activity kits from The Happy Puzzle Company. The Happy Puzzle Company has been around for 31 years and has a fantastic range of over 300 award-winning puzzles, games, challenges and puzzle books to both families and schools.
In this article, you'll see some of their mess free arts and crafts activity sets which are ideal for keeping children entertained for hours. Perfect for rainy days or when you need to keep the kids busy while you're working from home. The three sets in this article are all reusable too so can be enjoyed again and again.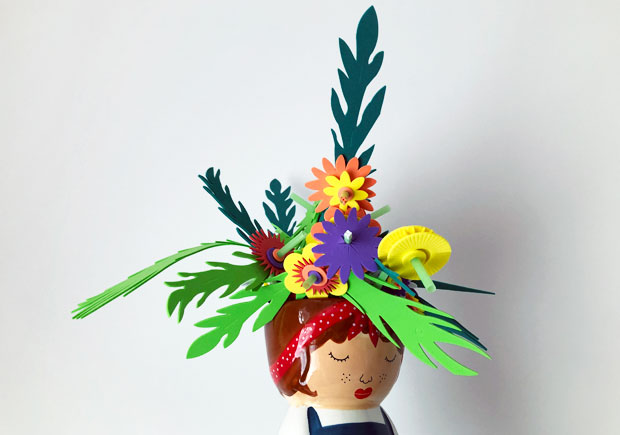 The Amazing Flower Kit includes everything your child needs to make 48 multi-coloured foam flowers on green stems. There's a guide with interesting flower facts and instructions for how to make eight different flower designs – choose from daisy, primrose, edelweiss, gerbera, daffodil, dahlia, orchid and poppy. You can of course create your own stunning designs using your imagination too.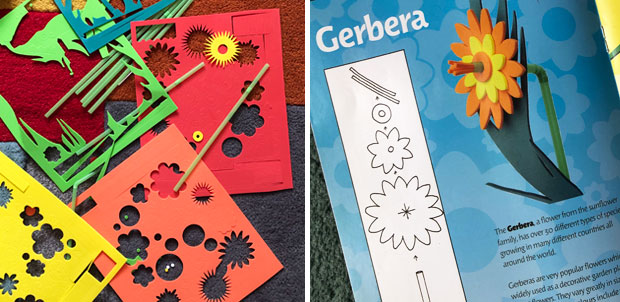 Once you've built your flowers, you can arrange them into beautiful bouquets or flower arrangements. The foam parts simply pop apart, and you don't need to use any glue or scissors which is great as it means less mess! The flowers can be taken apart to make new creative designs.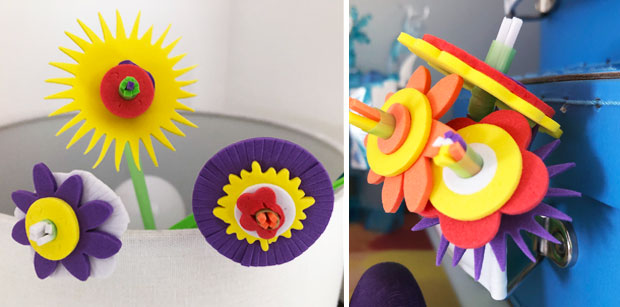 The set is recommended for ages 5 to 12 and has an RRP of £16.99 which I think is excellent value. All three of my daughters (aged 4, 7 and 9) love making flowers with this set. They enjoyed using the instructions and free styling too.
The Amazing Flower Kit is also available to buy from Amazon.co.uk here.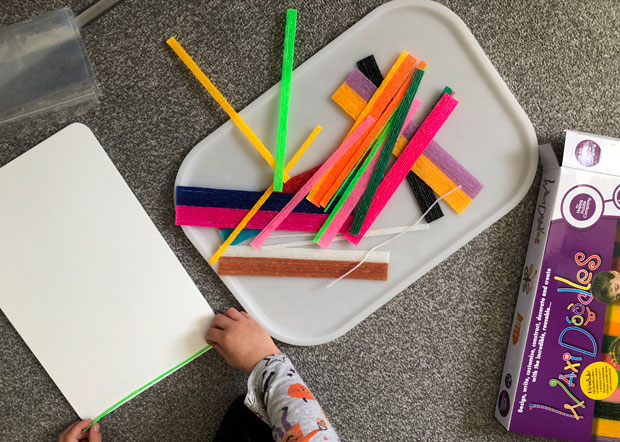 Next up, WaxiDoodles! These are such a simple idea, but they are absolutely amazing! WaxiDoodles are reusable modelling sticks coated with a wax formula which makes them stick to each other and other surfaces – without leaving any permanent marks behind. The colours don't blend and the sticks don't dry out, which means they can be used over and over to make new creations.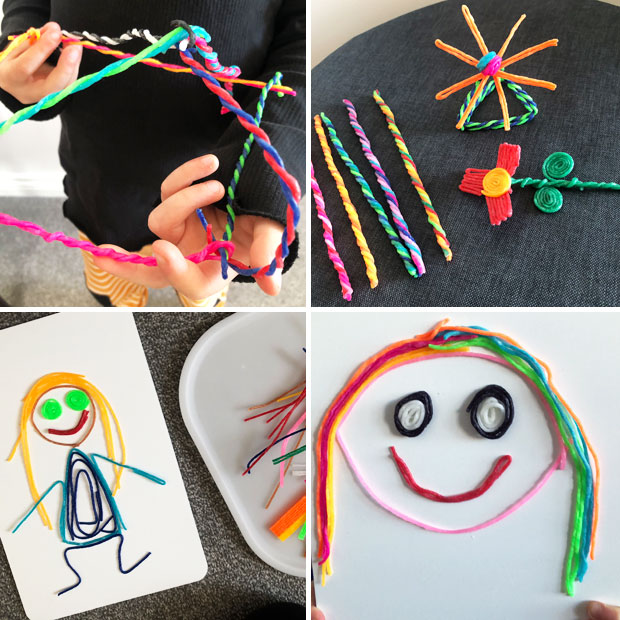 All three of my kids absolutely adore playing with these and they keep coming up with new ideas for what to create with these twistable and pliable sticks. They make pictures on the included playing board, make 3D builds, jewellery, decorations and much more. The set includes an activity booklet with ideas too. When you're done, simply take the creations apart ready for next time. WaxiDoodles are suitable from aged 3 years and above.
WaxiDoodles are also available to buy from Amazon.co.uk here.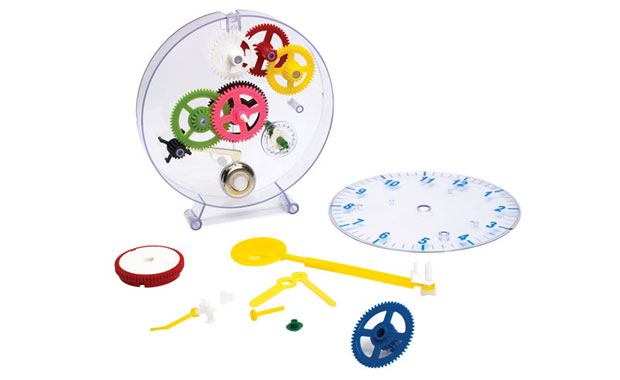 The third set that we have from The Happy Puzzle Company is the Amazing Clock Kit. This set lets children build their own real wind-up clock which is such a fun project to keep kids busy with. It's ideal for curious minds who are wondering how everyday objects work.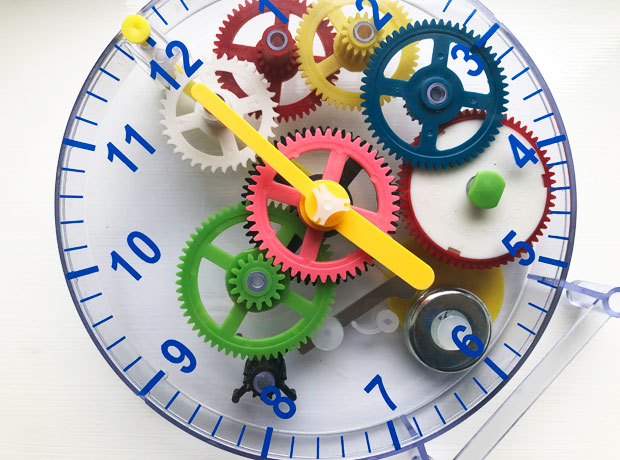 The clock face is nearly 20cm in diameter and transparent so that you can see all the workings inside. The kit guides your child through the process of building the clock, step-by-step, by assembling the different parts of the clock. It's a great set for teaching children how a clock actually works as they put all the parts together and see why the different cogs and springs rotate and how they make the pendulum swing, the hands turn and the bell chime. Once the clock is built and wound up, it runs for around six hours.
The Amazing Clock Kit is recommended for ages 5-15 years. My 9-year-old had lots of fun building it and loves having it on display in her room – the transparent clock face and the colourful cogs inside look really cool! When my other daughters are a bit older, we'll take it apart so that they can build it too.
The Amazing Clock Kit is also available to buy from Amazon.co.uk here.
Next up, books! Books are brilliant for keeping children entertained. Regular books, activity books, sticker books, noisy books – you name it! Encourage a love for books and reading by providing plenty of books for your children to explore. Remember that you can always use your local library to save some money here too.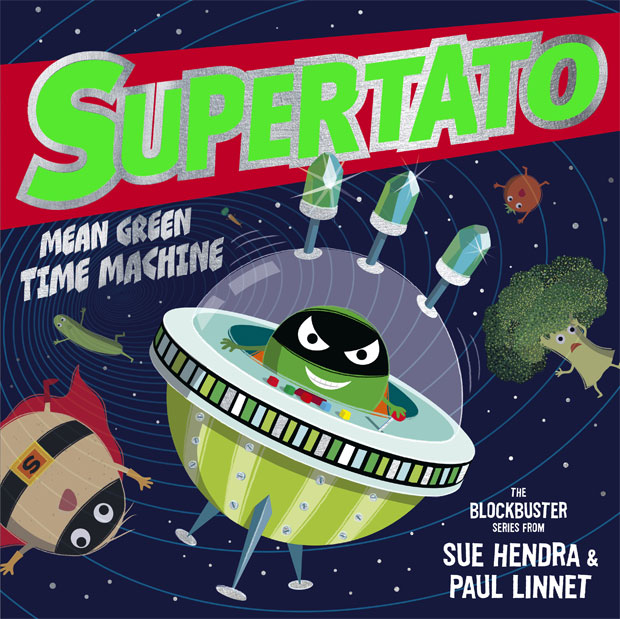 Let's start with a book for young readers. My 4-year-old is always super excited to see a new Supertato book and there's just been a new release – Supertato: Mean Green Time Machine!
In this new exciting book, we travel back in time… we get to learn the story of Supertato before he was super! We even get to see Supertato's baby photos which my 4-year-old loves!
When the Evil Pea overhears that Supertato didn't always have powers, he wants to travel back in time to before the powers to get rid of him. Read the book to see how that goes!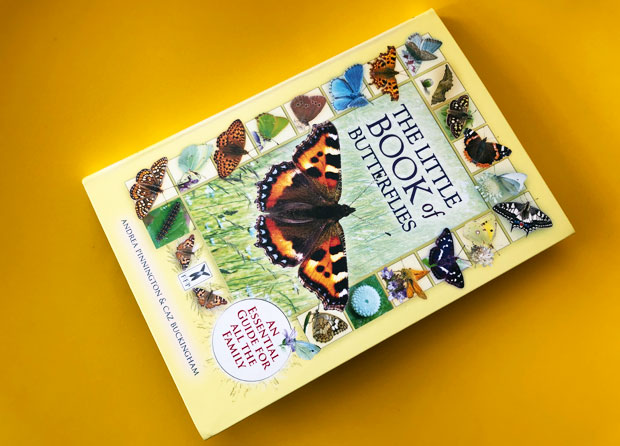 Next, The Little Book of Butterflies recently published by Fine Feather Press who has a growing range of other visual guides with different themes. They also have some excellent Nature Spotters books which you can read more about here.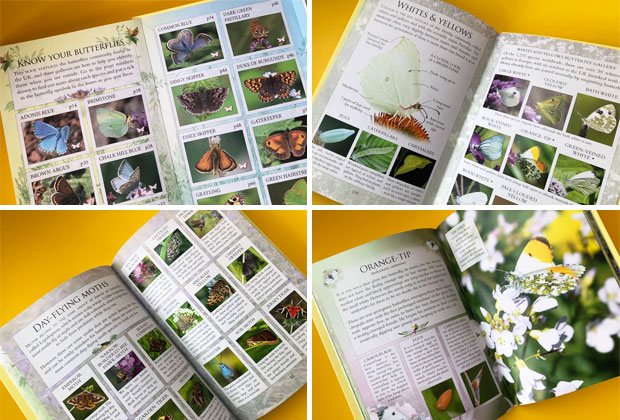 The Little Book of Butterflies is a great book for the whole family to enjoy. It features all the butterfly species that can be found in the British Isles! Why not see how many of the different species you can spot over the summer holidays?

The guide has been produced in association with the British charity Butterfly Conservation whose work is all aimed at protecting butterflies, moths, and the environment. The beautiful book has photos and information about over 45 British and European butterflies and is packed with interesting facts. The book also reinforces key science and nature topics that are taught at school with clear explanations of the processes in the life cycle of a butterfly, as well introduces measures we all can take to help ensure the survival of butterflies and to preserve our planet's wildlife.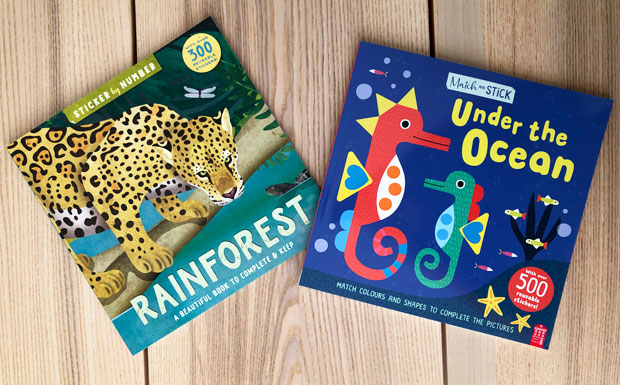 Let's move on to some brilliant books from Townhouse Publishing who has a great selection of colouring, sticker, and activity books to keep children entertained. We have the Rainforest Sticker by Number book and the Under the Ocean Match and Stick! book. Both these titles will be released on the 1st of August 2023, timing well with the start of the summer holidays for many families across the UK. Both these books have over 500 stickers which is amazing!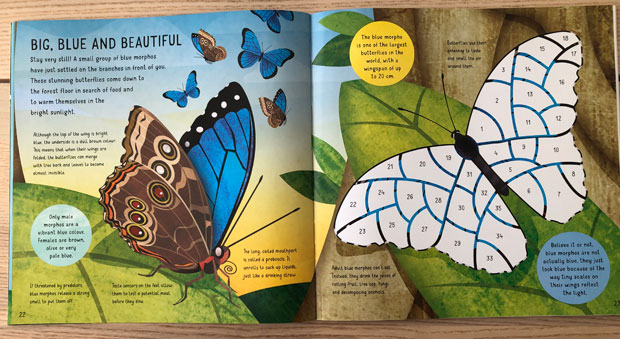 First, let's look at the Rainforest Sticker by Number book, suitable from children aged 6+. In this book, you can learn about lots of weird and wonderful animals that live in the rainforest and have fun sticking the stickers on to complete the different creatures.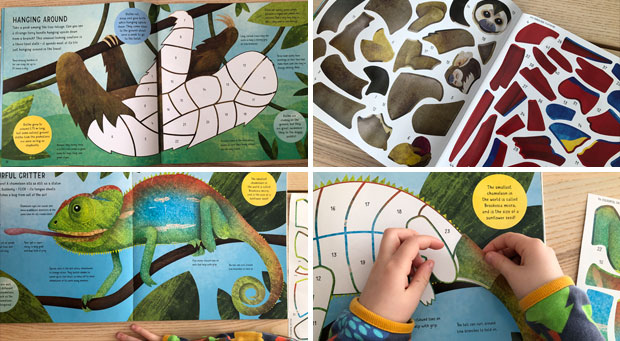 Each spread has a different creature and lots of interesting facts too. Match the numbered stickers from the sticker sheet to create a colourful picture. The animal illustrations by Jonathan Woodward are excellent and each illustration features around 35 stickers. Once your child is done completing all the spreads, they can keep the book to read as a regular fully illustrated fact book. There's also a Dinosaurs version of this book available.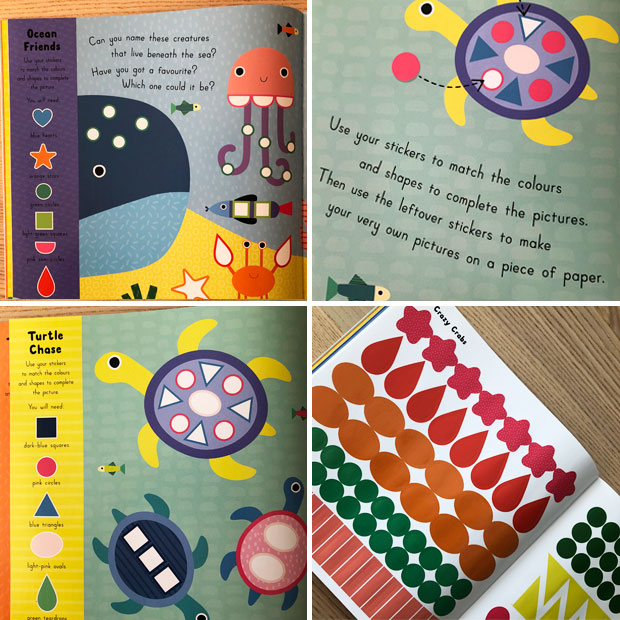 The Match and Stick! Under the Ocean book is a great option for younger children, suitable from age 3 years and above.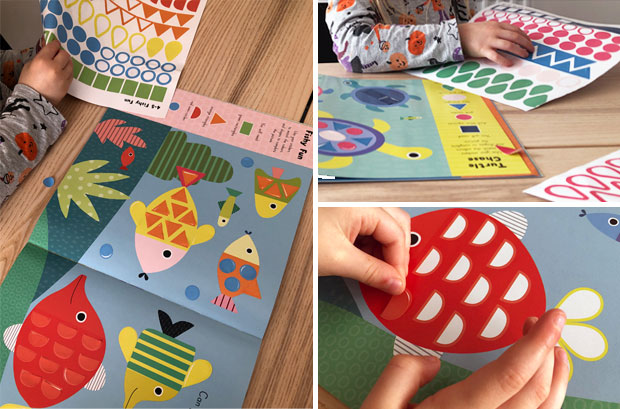 It's a great book for little learners with lots of stickers in different shapes and colours to match to the pictures, along with spotting puzzles to solve. It's a colourful book that's lots of fun for children to complete. You also get plenty of spare stickers to use for other creative projects which is great!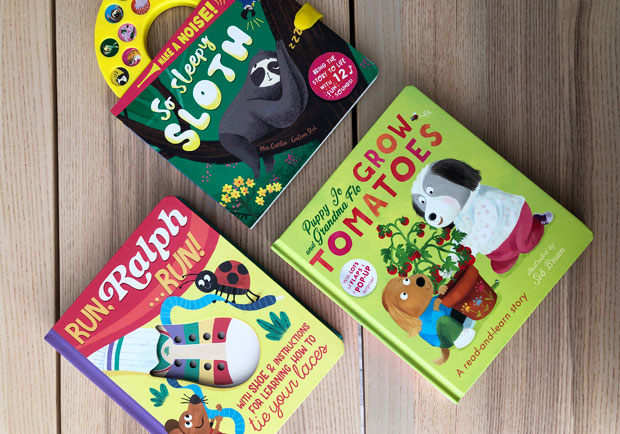 Now onto some fun interactive books from Townhouse Publishing: Run, Ralph, Run!, So Sleepy Sloth and Poppy Jo and Grandma Flo Grow Tomatoes.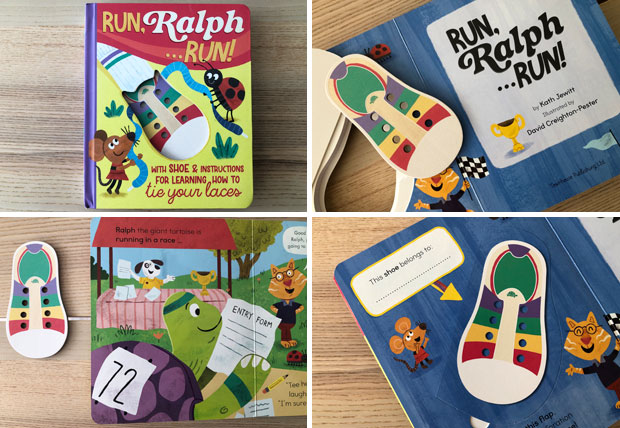 Run, Ralph, Run! is a fun board book that includes a wooden shoe that your child can use to learn how to tie shoe laces. You can use this with any lace that you have at home.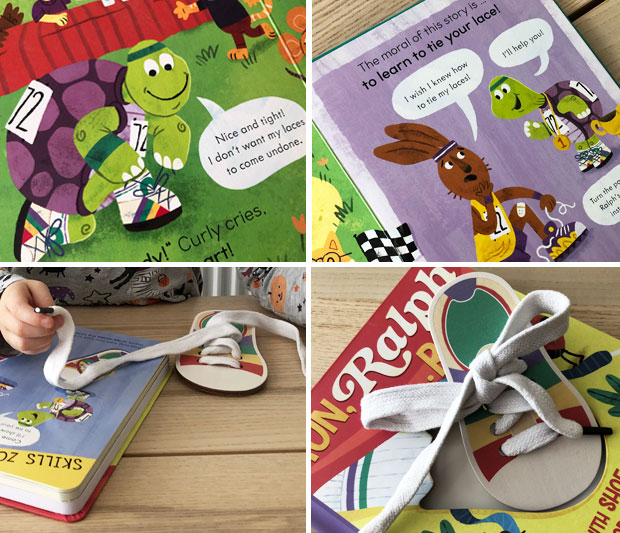 The story in the book is about Ralph the tortoise who is running a race with Curly Hare but who will win? Curly Hare is sure he will win but his pride and an untied shoe lace gets in his way! Read the book to see what happens… The story is a twist on Aesop's fable.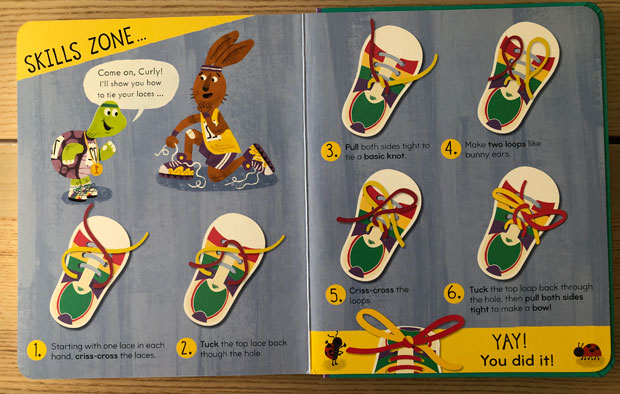 At the end of the book, there's a guide for how to tie shoe laces with step by step images to help your child learn the steps.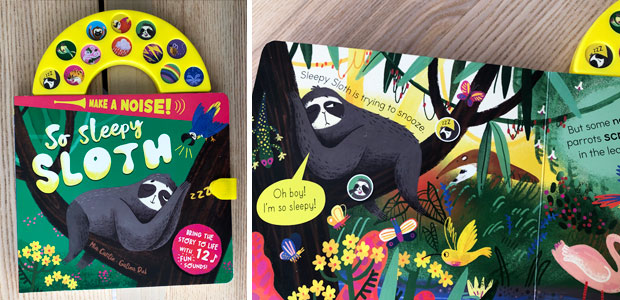 So Sleepy Sloth is part of the Make a Noise! series of noisy board books for little ones. This range includes lots of fun books suitable for children aged 1 year and above.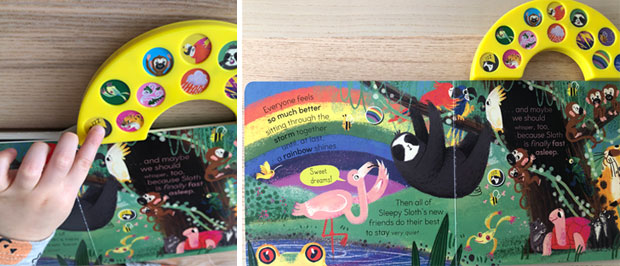 The So Sleepy Sloth book is a story about a sloth who is so tired but she lives in a very noisy jungle. There are 12 sound buttons to press to represent the sounds from the jungle, lots of bright and colourful illustrations and the book also has a carry handle, making it easy for little hands to carry with them wherever they go.
Last, but not least, Poppy Jo and Grandma Flo Grow Tomatoes which is ideal for children who are curious about growing their own vegetables at home. Grandma Flo teaches granddaughter Poppy how to grow tomatoes at home in a plant pot. We follow along through the different steps with lots of fun lift the flaps elements on every spread to explore along the way. At the end, there's an amazing pop-up finale that children adore! The book is full of colourful illustrations and is suitable for children aged 3+.
Collaboration. This article features press samples.