Amarone and Valpolicella Wines – A Quick Guide
|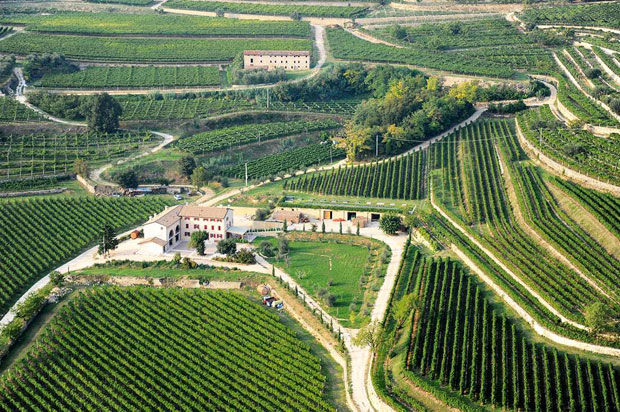 Amarone and Valpolicella Wines – A Quick Guide
Two of Italy's most legendary wines come from an area called Valpolicella which is an area in the north-east of Italy, between Lake Garda, Verona ana Vicenza and the Venetian Alps. The two wines are called Amarone and Valpolicella and this post is a quick guide to these.
For a more thorough guide with lots of interesting details, check out Independent Wine's article Guide to Amarone and Valpolicella here which includes extensive information about the grapes themselves and the different growing zones and much more. In this blog post, we'll look more at the wines themselves.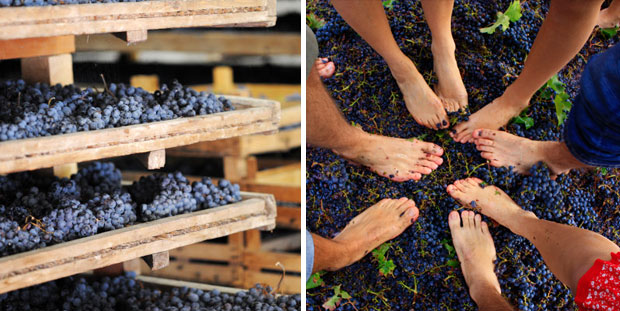 What type of wines are Amarone and Valpolicella wines?
There are lots of different types of wines that bear the name Valpolicella, from fruity and fresh to bold and concentrated and with different strengths of alcohol content. What they all have in common is that they're made from a combination of Corvina, Corvinone and Rondinella grapes. Some winemakers add other grapes too.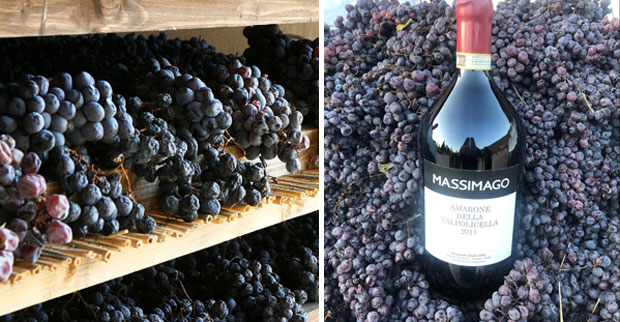 Amarone wine is a unique wine that's made from dried grapes that have been dried indoors in special lofts. This ensures dense and very concentrated flavours of candied strawberry, prunes, raisins, cinnamon spice and dark chocolate.
Valpolicella wines are young and fresh – youthful red wines that show the pure essence of the chosen grapes and usually bursting with fresh berry flavours and have notes of spices –  while Amarone wines are powerful with matured, intense flavours from the dried, aged grapes. Neither is better than the other – it's down to personal taste.
How are Amarone and Valpolicella wines made?
Amarone wines are made using the appasimento method. This process involves picking the grapes by hand at the end of September while they still have a high level of natural acidity. After being picked, the grapes are dried indoors for 3-4 months. The grapes pretty much turn into raisins as they lose 30% of their weight which results in dried grapes with very highly concentrated levels of sugar, acid and flavour. Then the grapes are fermented and turned in to a deep, bold and dry wine with a 14-15.5% alcohol content. Amarone wines are aged for at least two years in oak barrels, stainless steel tanks or in bottles. Amarone Riserva wines are aged for four years.
Valpolicella wines are made with grapes grown in a traditional way. The harvest time is usually during the third and fourth weeks of September while the grapes are quite ripe so that they have enough sugar to produce wine with an alcohol level of 11% or more. The fermentation process takes place at a controlled temperature and usually takes around two weeks which results in a wine with a lively character and a light colour. Valpolicella Superiore wines ferment for around three weeks for more colour and flavour. For Valpolicella wines, stainless steel tanks are a popular choice to preserve the fresh aromas of the red fruits.
Then there's a wine type called Valpolicella Ripasso which is made with fermented grapes in steel tanks as usual but after the initial fermentation passito grape skins which have already been fermented for Amarone are drained and added to the tank with the Valpolicella wine for a second fermentation – that's what ripasso means. The second fermentation lasts around 10-15 days, and the result is a wine with higher alcohol content, more structure, and more intense fruity flavours. Valpolicella Ripasso has to be aged in oak and then in bottles for a minimum of two years before it's ready. This transforms the flavours and texture and results in a complex and very special wine.
Where can I buy them and which ones should I try?
Independent Wine is the go-to place to shop for award-winning Italian wines online and they have a unique selection of wonderful wines to choose from, with free UK delivery.
If you're interested in trying Amarone and Valpolicella Wines, check out the following recommended wines:
Amarone:
Valpolicella & Valpolicella Superiore:
Valpolicella Ripasso:
Collaborative Article.