Amber Pumkin Cookie Biscuit Silicone Teether Review
|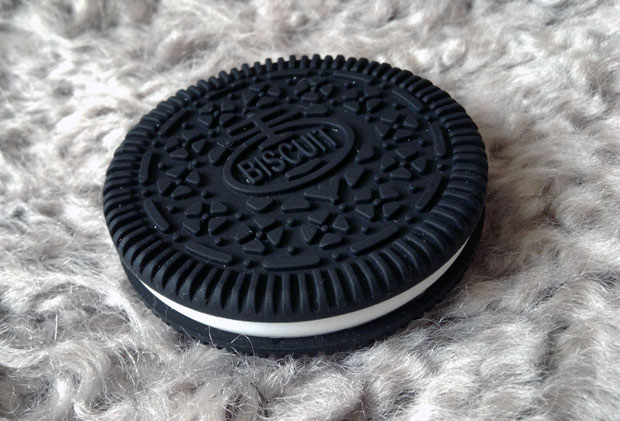 Amber Pumkin Cookie Biscuit Silicone Teether Review
This looks just like a biscuit but is actually a lovely teether! The Cookie Biscuit Silicone Teether from Amber Pumpkin is made from food grade non-toxic, non-scented silicone and complies with EU safety standards. It's a fun teether that is a great texture to chew on and provides relief for sore gums.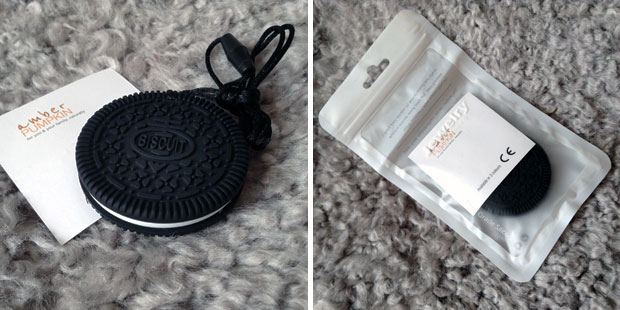 The teether comes delivered in a nice bag and with a removable cord with a breakaway clasp. The cord allows you to wear it around your neck whilst your baby plays with it sat on your knee and ensures it never falls to the floor. This is great for smaller babies. My daughter is nearly 16 months old now and never sits still so I have removed the cord for her.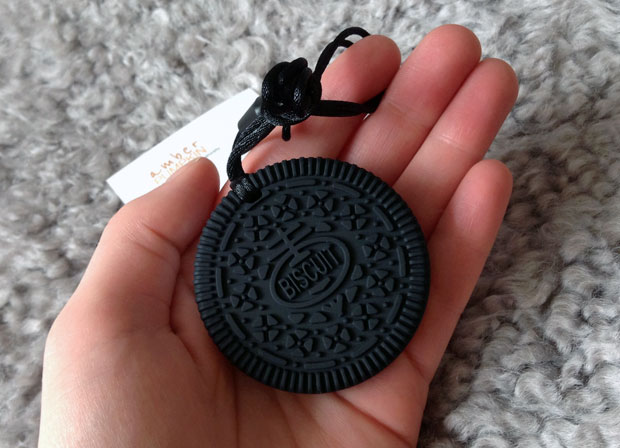 As you can see, the teether really looks like a biscuit. The only difference is that it says "Biscuit" on it instead of "Oreo" and that it's a bit bigger. We were wondering if it would confuse our daughter that she's allowed this cookie teether but not real biscuits but she doesn't seem to mind. She really loves her teether biscuit!
The teether can be washed in the dishwasher (top shelf) and you can chill it in the fridge to make it even more soothing for teething gums. It's BPA free and suitable from 3 months+.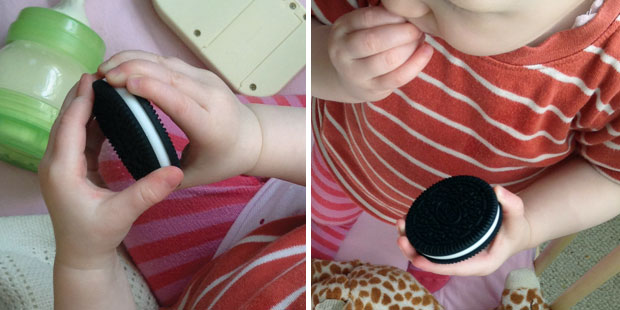 My daughter has been chewing on this teether for over a month now with her sharp little teeth and it still looks brand new and has not got any teeth marks.
Other than being a really great teether, this also makes a fun toy to play with. We use it with a tea/picnic set and pretend it's a treat for our picnic. It's also helped with my daughter's vocabulary — a day after this teether arrived she'd already learnt the Swedish word for cookie/biscuit which is "kaka". If I ask her to get her "kaka" she goes and finds the teether but she also knows that real biscuits and buns are "kaka" too. We are very pleased.
The Amber Pumkin Cookie Biscuit Silicone Teether is available in 3 colour options: Golden, Black and Chocolate. They all look great and very realistic — I would love to have them all for my daughter to chew on and play with. They cost £7.95 each from AmberPumkin.com.