Babease – a New Generation of Vegetable-Led Food for Babies
|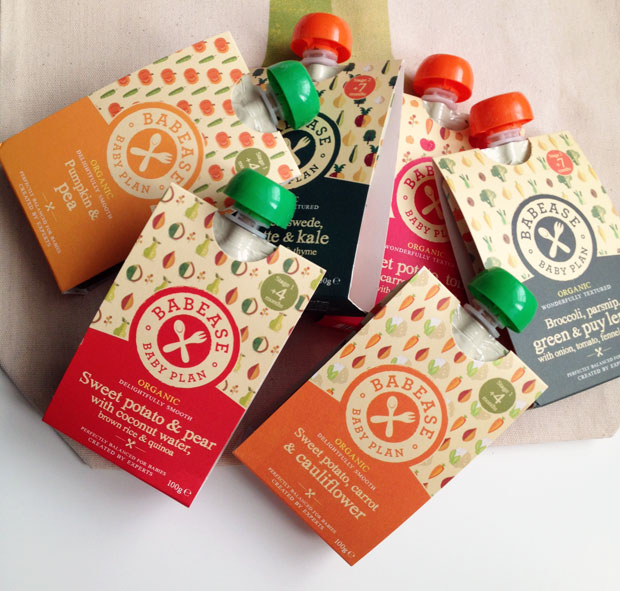 Babease – a New Generation of Vegetable-Led Food for Babies
A few months ago, we started weaning Baby No. 2 and we're doing pretty much the same thing as when we weaned our firstborn daughter. I have noticed a shift in the market though and now there is a bigger focus on vegetable-led baby weaning than there was a few years ago.
Now we seem to be more aware of the benefits of including lots of vegetables from the beginning of weaning to help your baby get used to a variety of savoury flavours.
Babies have a natural preference for sweet things (like breastmilk) so are ready to accept fruit easily. It's really important to help shape their future taste preferences by introducing vegetables before fruit — especially bitter green ones like broccoli. This will help your baby to accept these flavours and to enjoy them.
With my children, I have introduced both fruits and vegetables to not make them scared of tartness either but I've made sure that the vegetable part of their diet is larger and I always serve the vegetables first. That seems to work for us!
My firstborn really loved red peppers when she was weaning and Baby No. 2 is a huge broccoli fan now which I'm of course encouraging.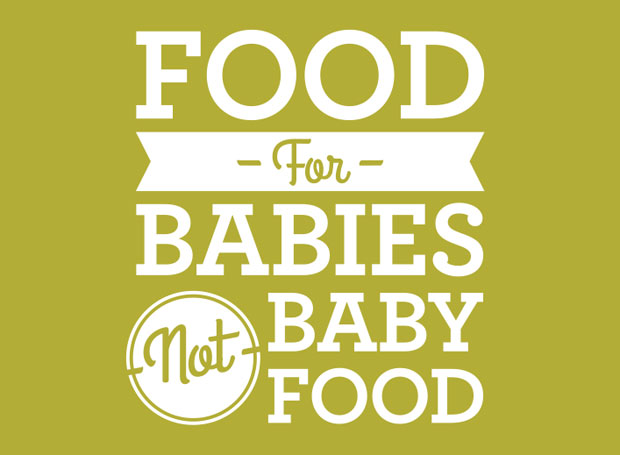 Babease is a brand of food for babies (not baby food) that aims to help parents who want to broaden their little ones' taste buds by serving them interesting and savoury recipes rather than too much of the sweet fruit ones.

"We passionately believe that the exciting journey of food starts from the very first bite.  Our aim has always been to create real food for little ones, encouraging a love for savoury foods right from the start.  We love what we do, bringing our passion for food into our kitchens, sourcing ingredients locally wherever possible and creating recipes that are packed full of flavour.  It's food for babies, not baby food."
— Tom Redwood, chef and founder of Babease
Babease food is organic too and the packaging clearly lists all the ingredients in the order in which they appear in the recipe, and on the back of each pack there is a handy ingredients wheel that shows you what is in the pouch at a glance. On the inside of each cardboard sleeve, you can also find a simple recipe for a snack for mums or dads to make for themselves which is a nice touch.
All recipes are 100% Organic, dairy-free, gluten-free, suitable for vegetarians and do not contain any added sugar or salt.
The range has 11 different varieties and includes many ingredients that are rare to find in the baby food aisle. When I buy food for my baby, I love choosing things with exciting ingredients that I might not have thought of my self like coconut water and quinoa. I love that the recipes include onion, garlic and herbs too to help introduce more flavours.
Babease Flavours Available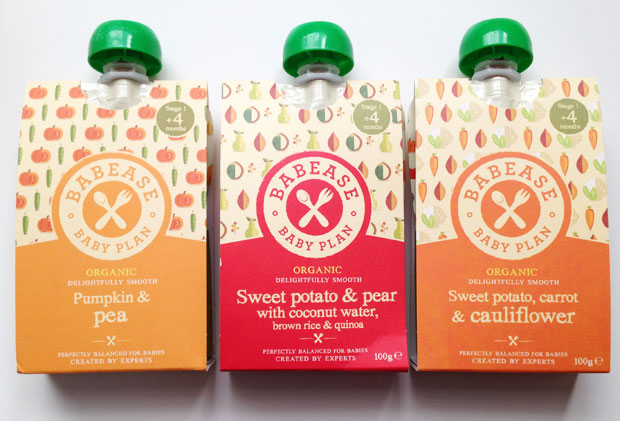 Stage 1 – Recommended for 6 months +, but suitable for babies aged 4 months +
Sweet Potato, Carrot & Cauliflower
Butternut Squash Carrot & Broccoli
Pumpkin & Pea
Sweet Potato, Pear, with Coconut Water, Brown Rice & Quinoa
Banana, Pear & Blueberry with Brown Rice
Pear & Mixed Berries, with Coconut Water, Brown Rice & Quinoa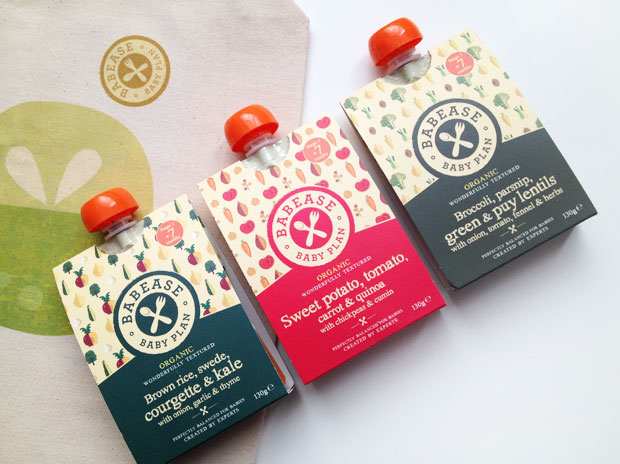 Stage 2 – for babies aged 7 months +
Sweet Potato, Tomato, Carrot & Quinoa with Chickpeas & Cumin
Butternut Squash, Quinoa & Beetroot with Onion & Sage
Chickpea, Pumpkin, Tomato & Coconut Cream with Herbs & Mild Masala
Broccoli, Parsnip, Green & Puy Lentils with Onion, Fennel, Tomato & Herbs
Brown Rice, Swede, Courgette & Kale with Onion, Garlic & Thyme
These pouches are full of goodness and flavours that my baby loved exploring! The Stage 2 ones are beautifully textured while Stage 1 ones are silky smooth. One of Baby No. 2's favourites was the Brown Rice, Swede, Courgette & Kale with Onion, Garlic & Thyme one but she's enjoyed all of them. She definitely loves her vegetables and I'm sure baby pouches like these have helped shape her preferences. We'll be buying more next time we're in Boots!
"It's so reassuring to see a nutritionally balanced, vegetable-led baby food option on the market which is great for parents looking to give their babies a healthy start in life.  Introducing savoury flavours at the start of the weaning journey is an important factor in ensuring little ones develop a taste preference for less sweet flavours, which will help reduce 'fussiness' later on.

Recent research indicates that introducing vegetables as first foods and repeated exposure to a wide variety of them during weaning, increases acceptance of these early in life and later into childhood.  Instilling good eating habits early on is crucial for setting a foundation for the future and influencing long term health."
— Charlie Parker, Nutritionist

Shop Babease
Babease is available to purchase from Ocado, Boots, Booths, As Nature Intended, Amazon.co.uk or from www.babease.co.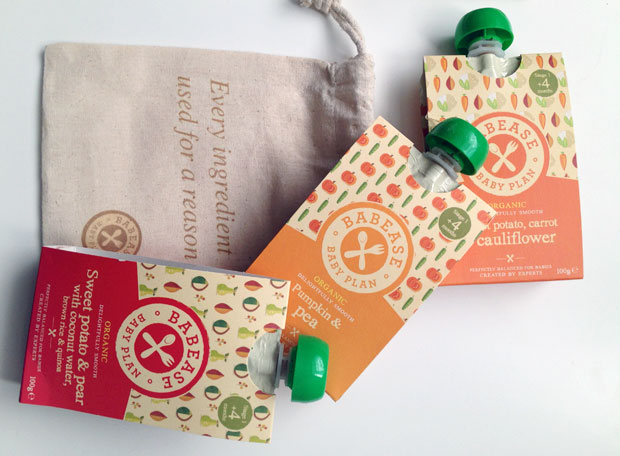 More about vegetable led weaning here on the blog next week!
Samples were provided to us for this review. As always, all my reviews are 100% honest and all thoughts and opinions are my own.