Baby's First Christmas Gift Ideas – Want, Need, Wear, Read
|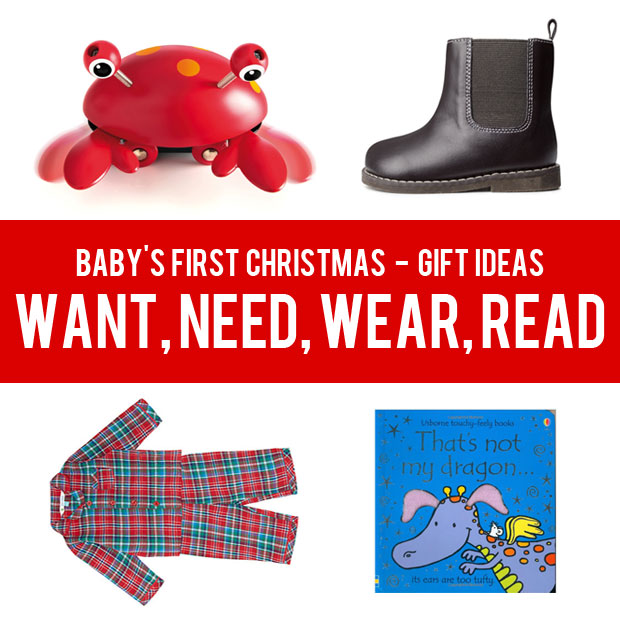 Baby's First Christmas Gift Ideas – Want, Need, Wear, Read
I know it's a bit early, but Christmas will be here soon and I have started thinking about gift ideas for my little girl. It will be our baby's first Christmas this year so it's a bit special for us.Even before I had a baby, I always liked the gift motto "Something they want, something they need, something to wear, something to read" when getting gifts for your children. It's a smart way to ensure you are not going crazy and spoiling your little ones a bit too much.
For babies it's difficult to decide what they want since they can't tell you, but I guess a toy they would enjoy (or a cardboard box!) would be a good choice. Need and wear are often the same for babies too. The only material things babies need are things to wear (and nappies/wipes/food).
Here are my Baby's First Christmas Gift Ideas and I will try to follow the Want, Need, Wear, Read method:
WANT: BRIO Push Along Crab. I love the look of BRIO toys and I'm sure our girl will like this funny looking crab.
NEED: It is nearly time for some first winter shoes! Our baby will be walking soon so she will need some boots to keep her feet warm when we are outside. Love the red ones here!
WEAR: I love the idea of getting the whole family new pyjamas for Christmas – a tradition I read about on the Bluebird blog last year. These are from John Lewis.
READ: I love books for babies, kids and adults! The 'That's Not My…' books are cute and babies love them. I like the look of this dragon one!
If you have a teenager instead, check out this guide with gift ideas for teenagers.
Have you started thinking about Christmas gifts? Have you tried "Something they want, something they need, something to wear, something to read"?