Beautiful Hemp Dresses from Thought Clothing
|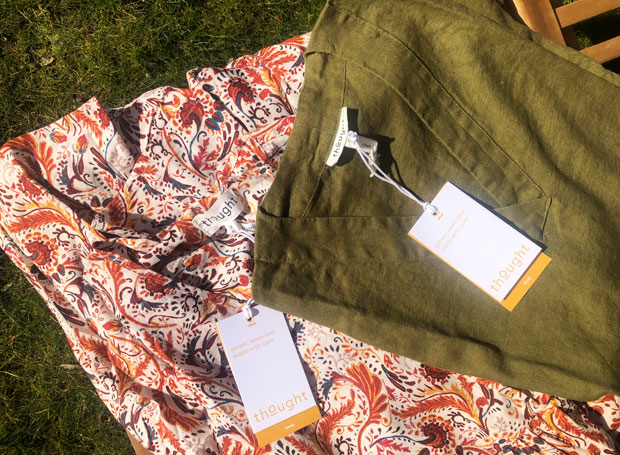 Beautiful Hemp Dresses from Thought Clothing | AD
Thought Clothing is a clothing company dedicated to providing sustainable products and having a positive impact on the planet. They have a wide range of natural fibre, easy-to-wear garments for men and women, as well as accessories, gifts and eco lifestyle items. The sustainable fabrics used for the clothes are bamboo, organic cotton, and hemp.
In this article, we are going to focus on a couple of beautiful hemp dresses from Thought Clothing that I have recently added to my minimal capsule wardrobe. Hemp is a carbon capture phenomenon so a great material to use. For every tonne of hemp produced, an amazing 1.63 tonnes of carbon is removed from the air. Hemp is also a durable material that gets better and softer with each wear.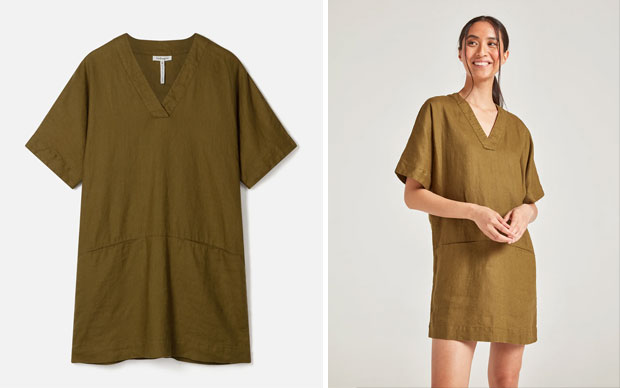 Since I have decided to have fewer clothes, I select each item carefully to make sure that it's something that will suit me and something that I will love and wear for a long time. I think about colours, materials, practicality, longevity and whether it's an item that will fill a gap in my wardrobe. I did need a few new dresses for spring and summer this year so I'm very pleased to have these new ones from Thought Clothing.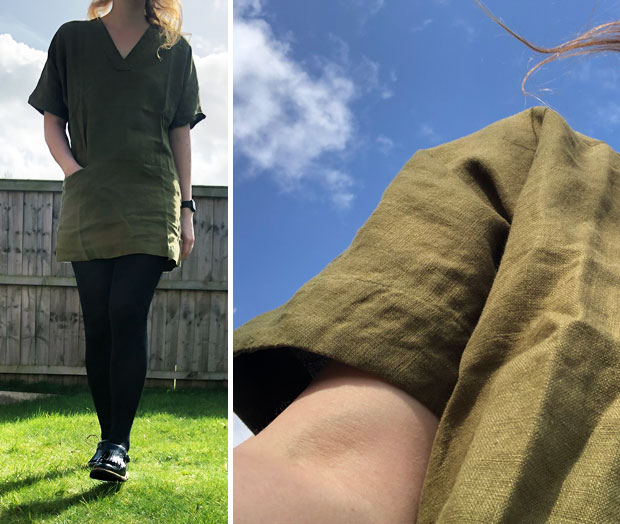 First up, the Easy Hemp Tunic Dress in Caper Green. This simple shift style dress is made from 100% hemp and is a lovely everyday dress with a relaxed, loose fit. It's available in sizes 6 to 18. I got the 12 and it's a good loose fit for me. I usually wear size 10-12 or Medium – I am tall and carry more weight on my lower half of the body than my upper half which is slimmer.
The cut and design of this tunic dress reminds me a little bit of the scrubs that doctors and nurses sometimes wear but in a very flattering and serene way! It has a v-neck, loose sleeves that go down to the fold of the arms, and two handy pockets at the front.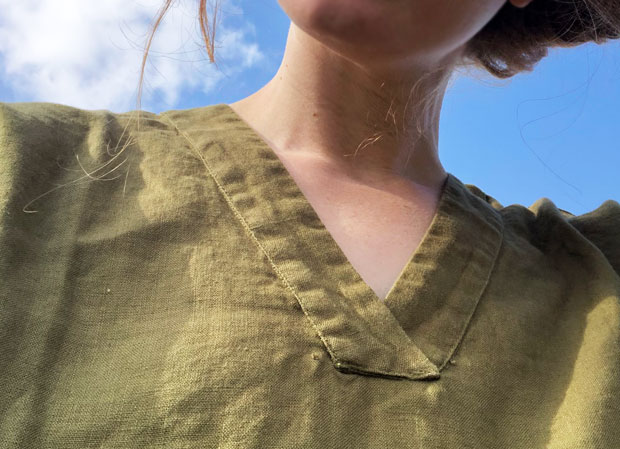 The green colour is stunning and one of my favourite shades to wear as someone with an autumn complexion and green eyes. Team it with bare legs, tights or slim-fitting trousers and choose different shoes to dress it up or down.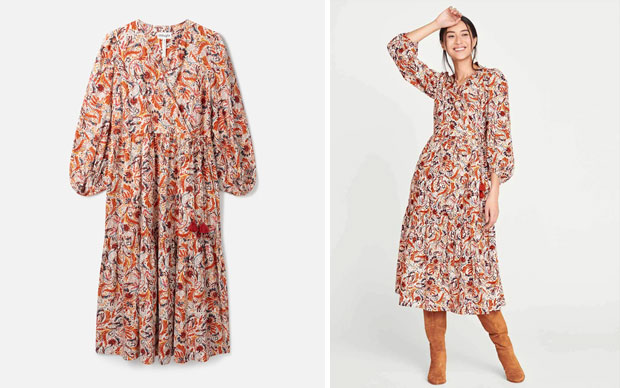 The second dress is from the sale section so you love this one as much as I do, go and get one quickly before they sell out. Though there are many other beautiful designs to choose from too!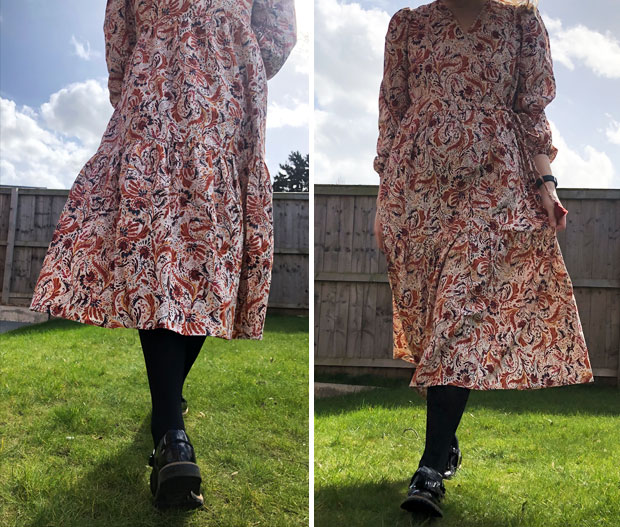 The Takakura Hemp & Organic Cotton Wrap Midi Dress in Multi is a gorgeous flowy dress made from 55% hemp and 45% organic, chemical free cotton. This is a great mix that creates a material that is soft against the skin and gentle on the environment.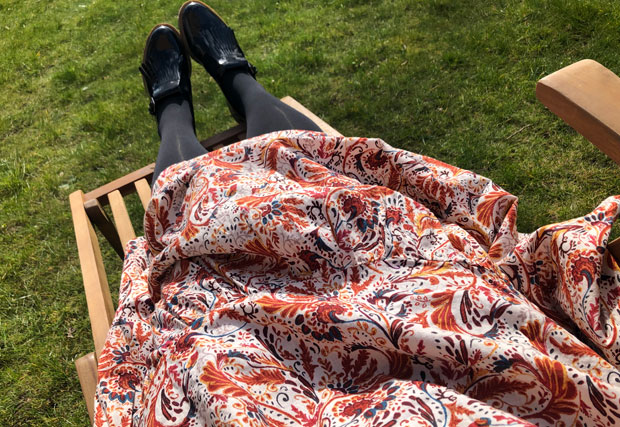 This dress is so comfortable to wear, it's long with a loose shape and a flattering adjustable tie waist. The ties even have tassels on them which is a cute detail! I love the fit of this dress – it makes me feel dressed up but without any discomfort, unlike most special occasion wear. Oh, and the pattern is spectacular!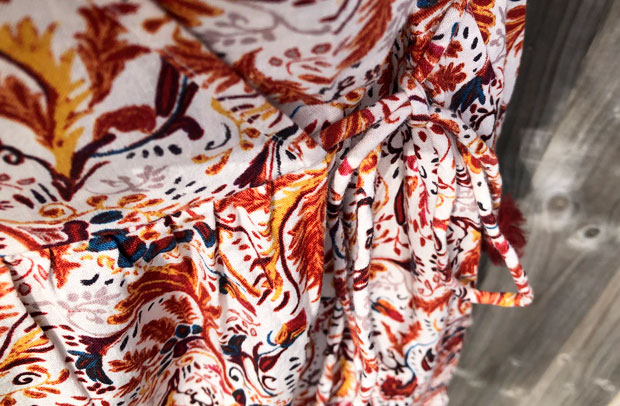 The puffy sleeves of the dress are 3/4 length which is practical and looks great too. It's a very feminine and sweet dress that is easy to wear for lots of different occasions. It can go from a boho style with hair in beachy waves and sandals, to office wear with a suit jacket and chunky heels or boots, to a dress for an evening occasion teamed with the right accessories. It would even work as a wedding guest dress for a summer wedding!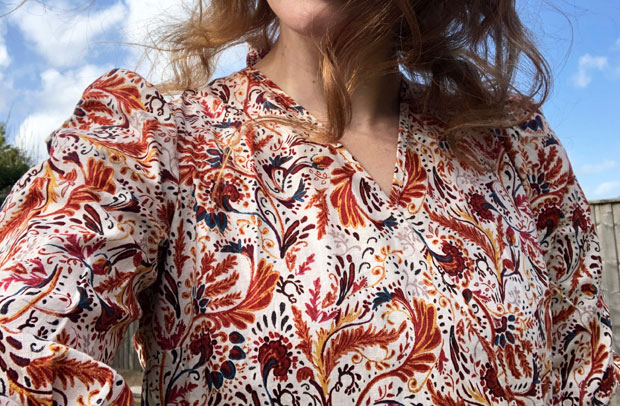 The material is breathable and light and feels lovely to wear. I wear it with tights now but it will be amazing in the hot weather in the summer, I'm sure. I ordered my usual size 12 for this too and am very happy with the loose and comfortable fit. I wouldn't normally go for a dress of this length but now that I have, I will definitely choose dresses of this length and style again. I've already browsed the brilliant selection on the Thought Clothing website and have found some more that I think would work well for me.
If you haven't tried hemp clothing yet, I highly recommend giving it a go!
Collaboration. Dresses gifted for this review.